Days after making a blatant call for violence against Muslims at the 'Hindu Jan Akrosh Morcha' in Mumbai, Telangana legislator T Raja Singh on February 19 took part in Shiv Jayanti celebrations in Latur, Maharashtra, and said if Shivaji had not been there, all Hindus would have been circumcised. He also urged Hindus to not be afraid of police action and teach a lesson to all 'descendants of Afzal' who indulged in 'Love Jihad' and 'killed and ate gaumata'. Singh had earlier announced through a video that he would visit Latur to attend this year's Chhatrapati Shivaji Maharaj Jayanti or Shiv Jayanti. Shiv Jayanti is a state festival of Maharashtra celebrating the birth of the first Chhatrapati and the founder of the Maratha Empire. Unlike the 'Hindu Jan Akrosh Morcha' this event did not have a political demand. In the video, Raja Singh, who had been sent a notice by the police for his hate speech after the 'Hindu Jan Akrosh Morcha', urged his viewers to make this year's Shiv Jayanti a historic event. https://vimeo.com/800450305   Like every year, the Shiv Jayanti in Latur had a bike rally that was supposed to start at 10 am. The rally got delayed and started at 11. It took the following route: Siddheshwar Ratneshwar chowk - Sai Naka - Old Renapur Naka - Nandi Stop - Rajiv Gandhi chowk - Basweshwar chowk - Shivaji Chowk, covering a distance of 13.3 kilometers. The rally reached Shivaji chowk around 12:45 pm.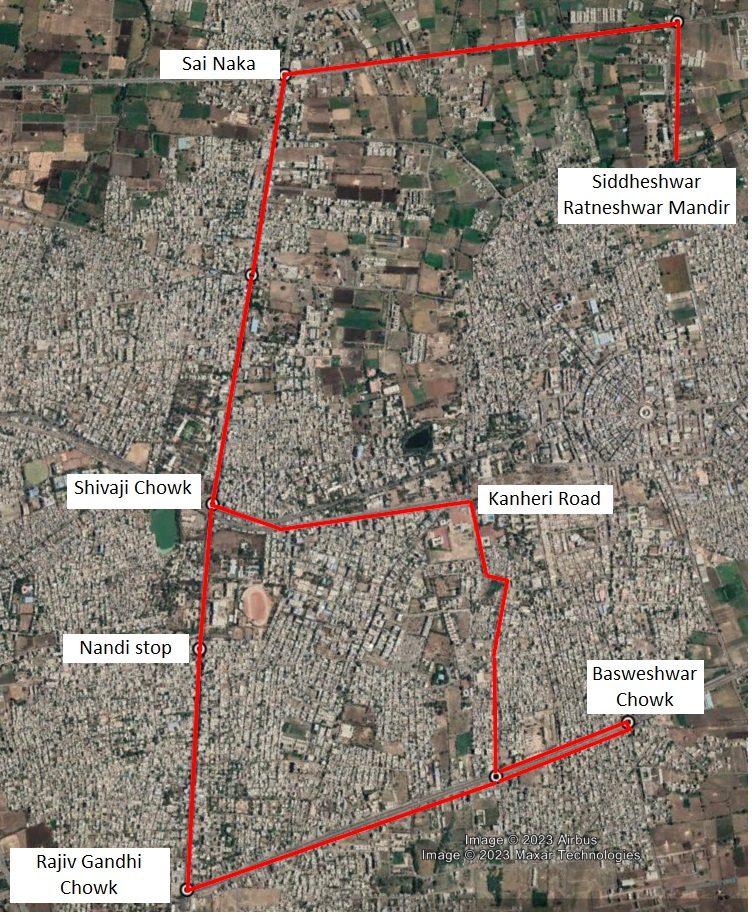 At the beginning of the bike rally, an individual got out of a vehicle's sunroof and garlanded the statue of Chhatrapati Shivaji attached to the roof of the car. Following this, the rally was flagged off from the Siddheshwar Ratneshwar chowk. It can be noticed in the videos that not a single participant in this bike rally was wearing a helmet. Some individuals can be seen sitting on top of cars or standing precariously on the sides of auto-rickshaws, sending traffic rules for a toss.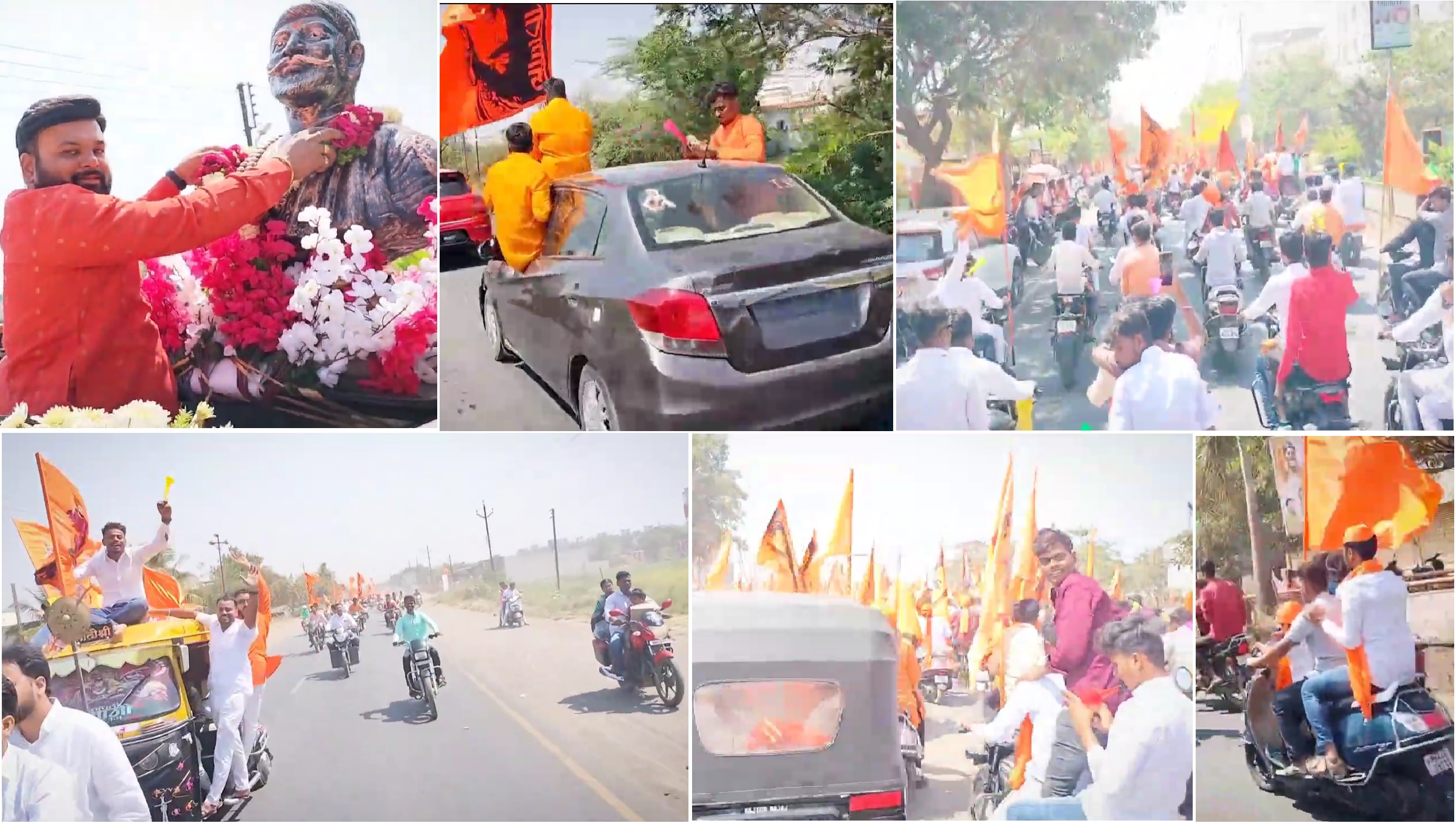 Around 1 pm, T Raja Singh entered the main venue i.e., the Chhatrapati Shivaji Chowk on a Jeep accompanied by Sambhaji Patil Nilangekar, a BJP leader and MLA representing the Nilanga constituency. Their grand entrance can be viewed in this YouTube video.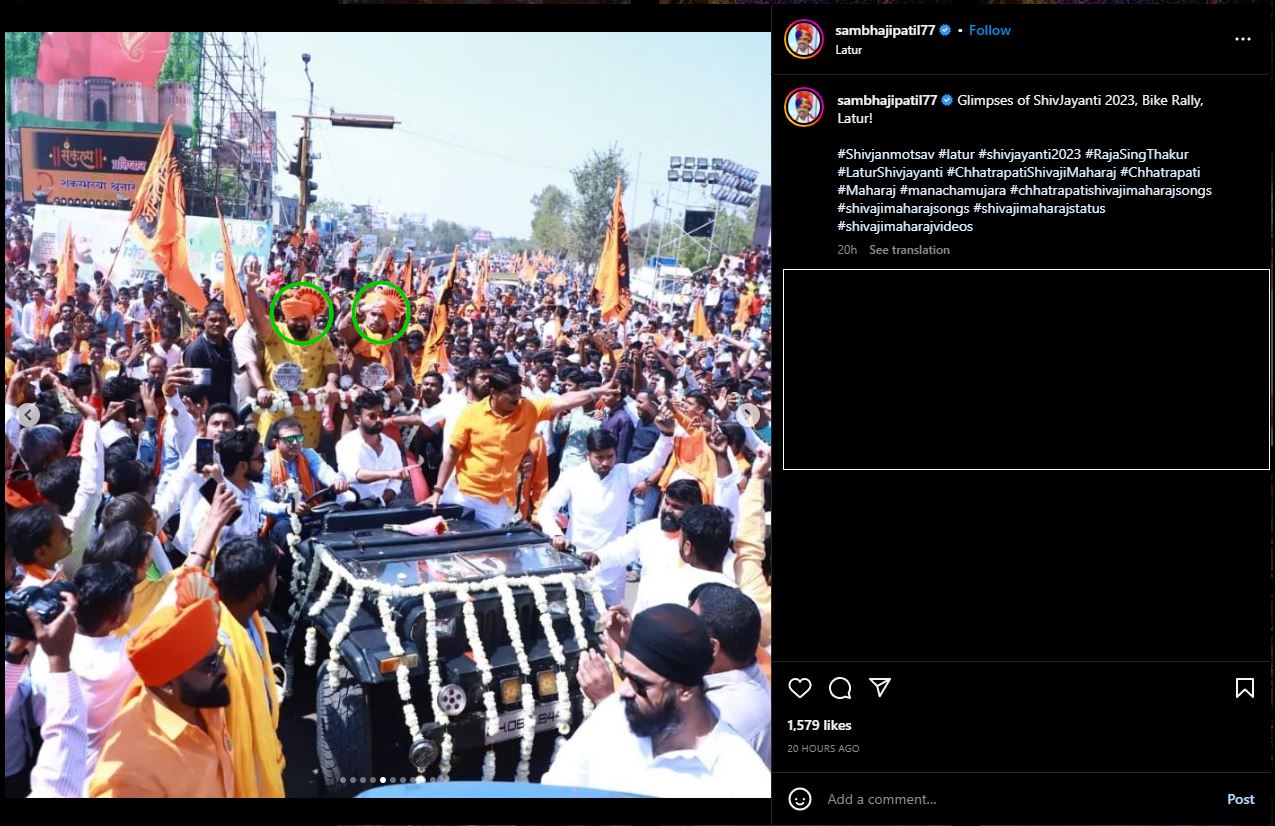 Singh then got on the top of an elevated mechanical platform to address the crowd. Like at the 'Hindu Jan Akhrosh Morcha', here too, he started his speech by asking a question. He said, "would Hindus have existed if there was no Chhatrapti Shivaji Maharaj?" to this the crowds responded with loud cheers. He then added that if Shivaji Maharaj had not been there, all Hindus would have been circumcised. Below is a summary of T Raja Singh's speech. A transcript of the speech can be read here. Summary: When Chhatrapati Shivaji was young, Aurangzeb used to rule this nation. Anyone who dared to talk about Hindus and their rights would get tortured by Aurangzeb and his army. They used to demolish temples and build mosques on top of them. That was all that Aurangzeb did. Once, Aurangzeb's convoy noticed a tiny temple on their way. He immediately ordered that the temple is demolished. His army followed this command and destroyed the temple. They also urinated on the shivalinga that was installed in the temple. Today, people only wish for their children to become doctors or engineers but Jija mata took an oath that her child, Chhatrapati Shivaji Maharaj, would grow up and teach Aurangzeb a lesson. Shivaji would protect the temples, the women, and the animals. Jija mata gave Chhatrapati Shivaji Maharaj the knowledge of all the texts. She prepared Chhatrapati Shivaji Maharaj to become a warrior. Shivaji had built his own group at the age of 12. Once a butcher was mercilessly dragging a cow, and Chhatrapati Shivaji Maharaj interfered and was threatened by the butcher. So, Chhatrapati Shivaji Maharaj gave it back to the butcher saying that the cow was like a mother and protecting it was his duty. "Whoever butchered the cow should be butchered by me," said Chhatrapati Shivaji Maharaj. Before this butcher could attack the young Chhatrapati Shivaji Maharaj, he took out a sword and cut the hands of the butcher. This was our Chhatrapati Shivaji Maharaj. Today's youth is scared of the police's baton. A small complaint against them deters them and they start to hide in their homes. This is the land of the brave; this is the land of Chhatrapati Shivaji Maharaj... Cows are being butchered in this land and the youth is simply protesting over social media. I want to ask the youth: Is the blood running in our veins the blood of Shivaji or not? It is the blood of Shivaji, right? Then take an oath that as long as you are alive no one can harm the gaumata (cow). The cow is the mother of all Hindus. These launde (referring to Muslim youth) kill and eat gaumata. Have some shame, Hindus. Despite there being a population of 100 crores, despite such a large Hindu population in Maharashtra, gaumata is still being butchered. What happened to the law against cattle slaughter? My message is to the current CM Eknath Shinde. If you wish to rule this land you have to take the path of Balasaheb Thackeray and talk about the rights of Hindus. And I don't have to remind you (the crowd) of what happened to those who left Hinduism. We dream of making this country an Akhand Hindu Rashtra. We have to fulfil the dream of Chhatrapati Shivaji Maharaj. If you wish to fulfil this dream, make sure you teach a lesson to all the descendants of Afzal. Chhatrapati Shivaji Maharaj tore apart the chest of Afzal and waved the saffron flag on top of him. At that time there was only one Afzal but today every road, every gully, every corner, and even the legislative assemblies have Afzals. Get ready to teach a lesson to the descendants of Afzal Khan. Get ready, Hindus. This is not a political platform but still I have to give a message to the authorities. I am not expressing my anger, this is the rage of the people. No 'Love Jihadis' should live in this land. Today they fool our daughters and sisters and trap them in Love Jihad.  They are turned into machines that can produce babies. And whoever denies, are chopped into 35 pieces like the one in Delhi (referring to the Shraddha Walkar murder case). Our daughters and sisters are being raped and killed. This is my message to all of you: When it comes to Hindus, you have to stay united. The day this unity will break, Hindus will vanish. Hit back at these Love Jihadis. Who will stop Love Jihad? Who will stop religious conversion? You. You live only once, so die creating history... And my message is to our secular brothers that we cannot be brothers. Can Shivaji Maharaj and Aurangzeb ever be brothers? Can Maharana Pratap and Akbar ever be one? Can a butcher of the cow and a cow-worshiper ever be one? We sing 'Vande Mataram' and you don't. Can we ever be one? I was served a notice by the police just moments ago and I was told that I cannot deliver a speech here. So I told them, absolutely, I won't say anything... https://vimeo.com/800474482 A summary of this speech was compiled and uploaded by Hindutva Watch on Twitter.
2/2 pic.twitter.com/CUTidfR3gO

— HindutvaWatch (@HindutvaWatchIn) February 20, 2023
After the event was over, a helicopter came and dropped flower petals at Shivaji square. A video of which can be found here. [caption id="attachment_148204" align="aligncenter" width="1600"]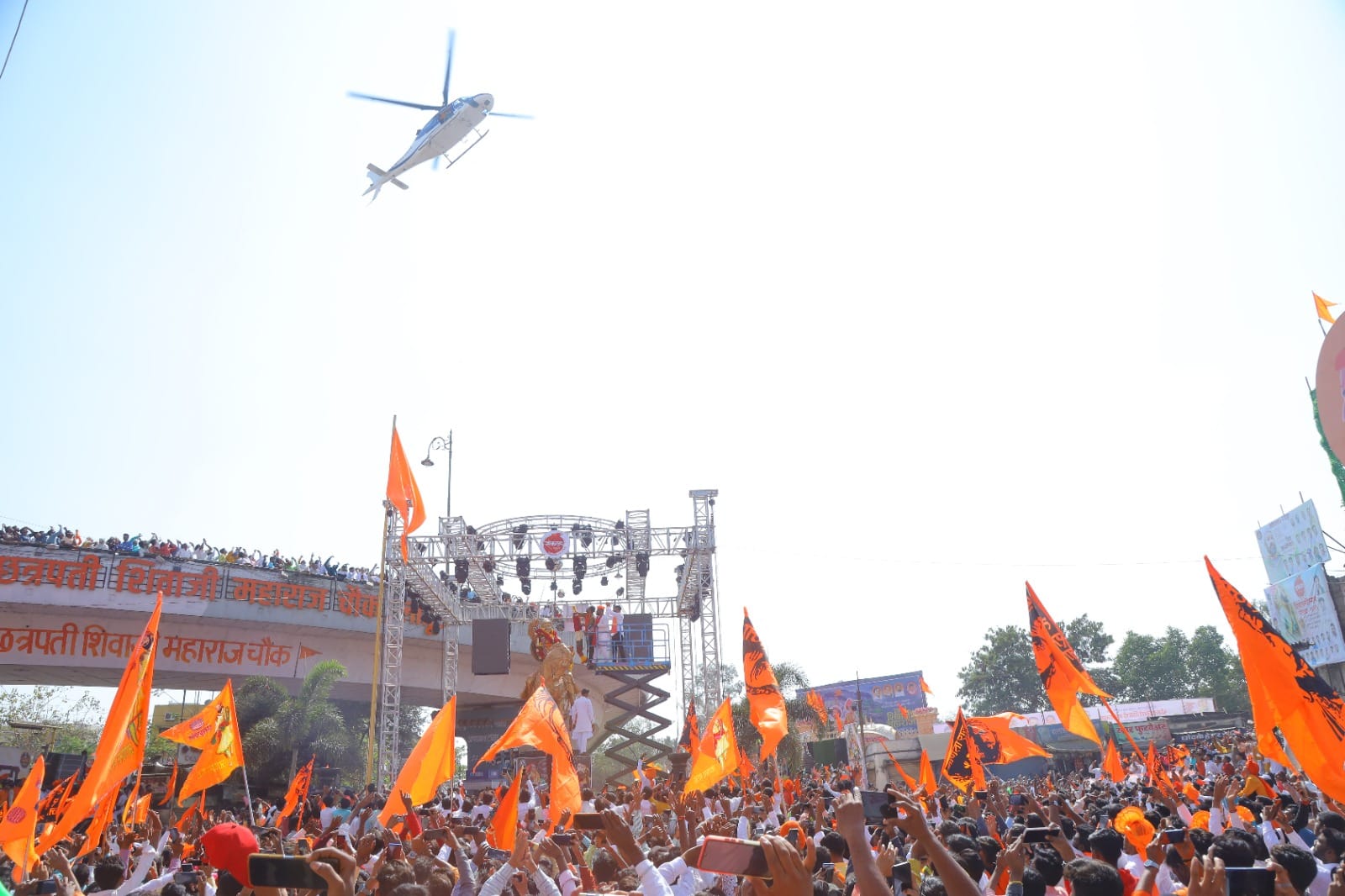 Image source: Lucky Gaherwar[/caption] T Raja Singh also visited the residence of former BJP MP Rupatai Patil Nilangekar, where Shankar Sudhakar Shingare, the general secretary of Yuva Morcha BJP Latur, and Prerna Honrao, state secretary of BJP Youth Wing Maharashtra, were in attendance. The photos of this visit were uploaded in the evening between 9:00 and  9:30 pm.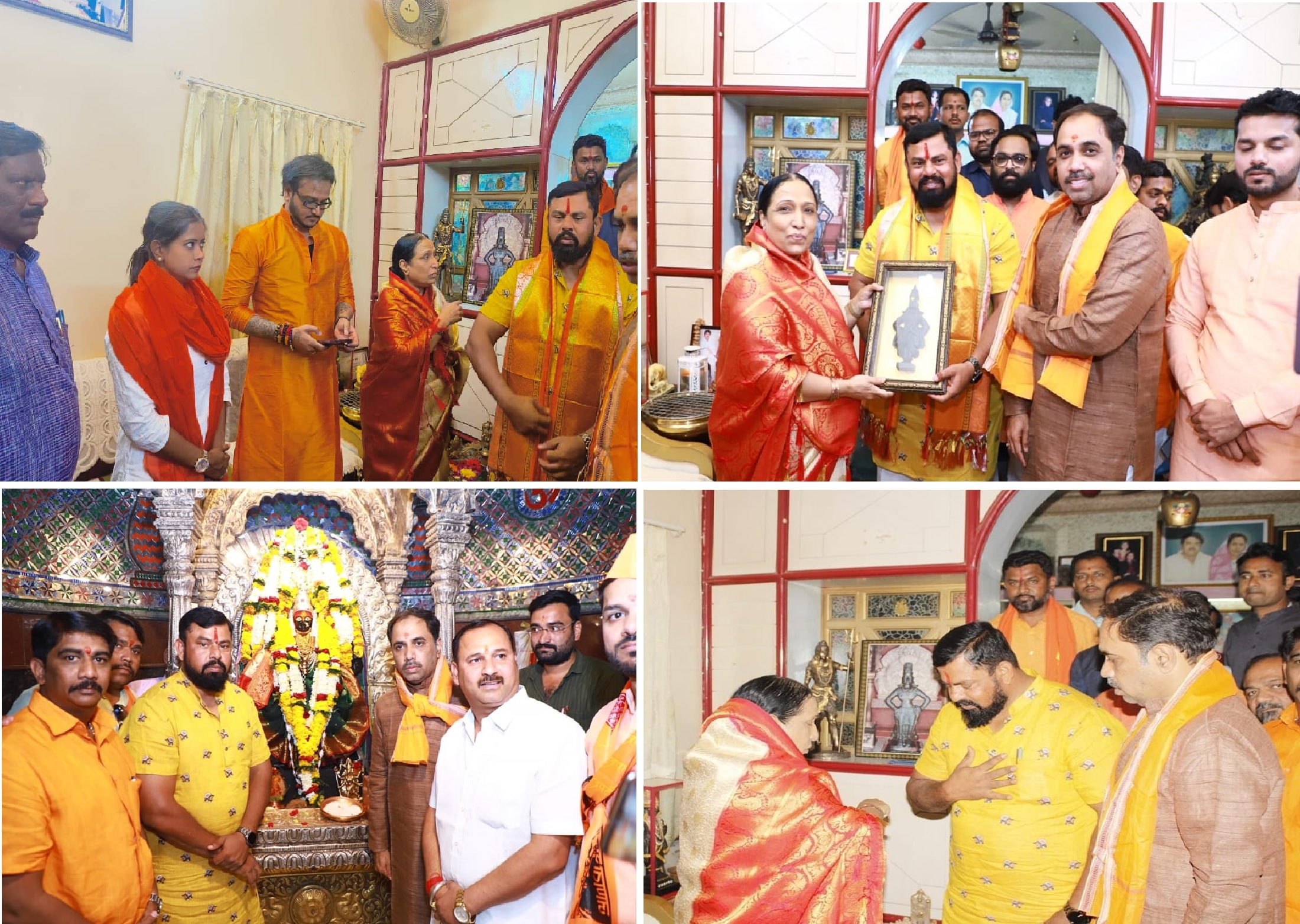 Alt News spoke with several police officers to confirm if a notice was served to T Raja Singh ahead of the event as claimed, and if police were looking into the matter. While senior officers refused to comment, a junior official told us that the matter was under investigation. Another officer told Alt News that a recording of Raja's speech and its transcript had been handed over to senior officials with a note that some parts of it were objectionable.