A 41-second long video clip where four individuals can be seen getting into a physical tussle over a sack of wheat is going viral on social media as visuals from Pakistan. Dr Shalabh Mani Tripathi, an MLA from Deoria, Uttar Pradesh, and former media advisor to chief minister Yogi Adityanath tweeted the video and wrote, "After Sri Lanka and China, now look at the condition of people in Pakistan fighting over flour. Thank yourself that you are in Mr. @narendramodi ji's India!!"
श्रीलंका और चीन के बाद अब आटे के लिए लड़ते पाकिस्तान की हालत देख लीजिए और चैन मनाइए कि आप श्री @narendramodi जी के भारत में हैं !! pic.twitter.com/26dZ4mlSPE

— Dr. Shalabh Mani Tripathi (@shalabhmani) January 10, 2023
Gaurav Sawant of India Today group tweeted the same clip and made a reference to an infamous speech by the former prime minister of Pakistan, Zulfikar Ali Bhutto. He also made a reference to slogans chanted in Kashmir in the early 90s.
Fighting for Flour in #Pakistan. Desperate times. Zulfiqar Ali Bhutto's dream comes true in @BBhuttoZardari's lifetime: Will eat grass but have atom bomb.

The generation in #Kashmir that chanted *Pakistan se Naata kya* through early 1990s is quiet. Pak begging to remain afloat pic.twitter.com/oxZPdfd1bD — GAURAV C SAWANT (@gauravcsawant) January 11, 2023
Others who have shared the clip with similar captions include, Major Surendra Poonia, journalist Shubham Shukla, Sagar Kumar of Sudarshan News, Dheeraj Sharma, and many more. [gallery type="slideshow" size="full" ids="143213,143214,143215,143216"] Media outlets have also reported on a food crisis using the same video. This includes Times Now, The Economic Times, InKhabar, DNA, and RSS mouthpiece Panchjanya. [gallery type="slideshow" size="full" ids="143221,143222,143223,143224,143225"]
Fact Check
We broke down the video into key-frames and performed a reverse image search using Google. This took us to a tweet from September 2022 by António Guterres, the secretary general of the United Nations. Guterres had tweeted a photo of a meeting Pakistan Prime Minister Shebaz Sharif, discussing the severe floods in Pakistan that occurred in September last year. His tweet had a reply that contained the same viral video. This establishes that the video is not recent and is at least four months old.
Dear Mr. Antoni Guterres, have a look of these video. This is sindh, from where Bilawal Bhutto won the NA Seat and became foreign minister. You know what people are fighting for? Food. Bilawal and his party ruling sindh for 30 years. I would like to visit Bilawal house also pic.twitter.com/uhZNwDC3JZ

— 😜 (@1on1____) September 9, 2022
We also found Reddit posts of TikTok videos of the same incident uploaded in September 2022. One of the comments on the Reddit posts also suggests that this was possibly due to the severe floods in the country.

Additionally, we found the same video uploaded on Facebook from September 6, 2022, which had a text superimposed on it that read, "So much fighting for the sake of one bag among the flood victims, may god have mercy on them".

There are other similar videos from the same time where people can be seen getting into physical altercations over bags of food.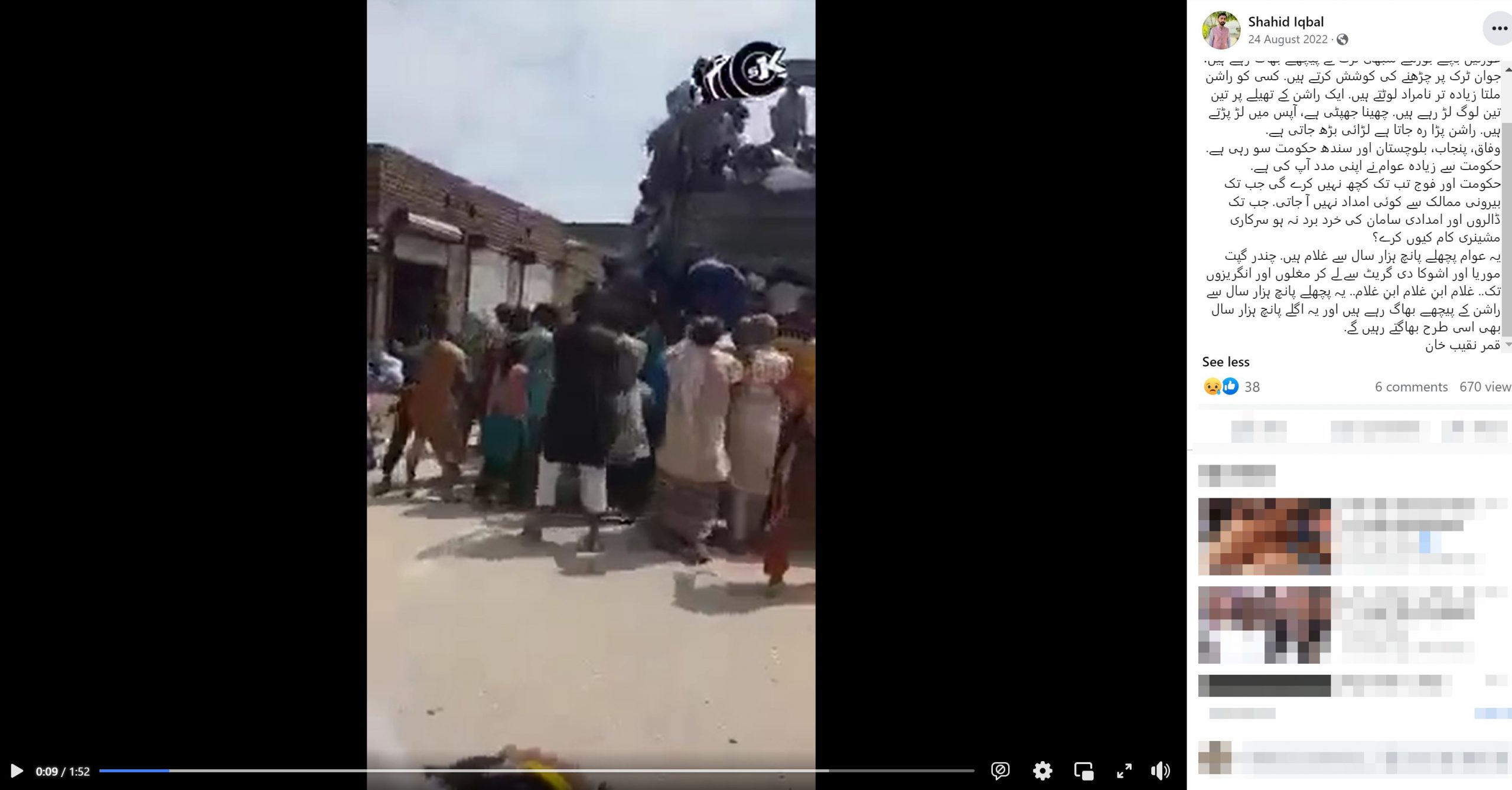 To sum it up, a video that is at least four months old is being circulated as visuals of the economic crisis in Pakistan. The country is indeed going through economic turmoil with high inflation and low foreign exchange reserves, however, the video is from 2022.