The 85th Indian National Congress plenary session was held from February 24 to February 26, 2023, at the Rajyotsav ground near Tuta in Naya Raipur, Chhattisgarh. This convention was attended by Congress president Mallikarjun Kharge and senior leaders such as Rahul Gandhi, Sonia Gandhi, Priyanka Gandhi, and several state-level leaders. Around 15,000 delegates from various regions attended the meeting. In the context of this event, a video has been going viral on the internet, where the host of the plenary session, Chhattisgarh chief minister Bhupesh Baghel, is welcoming party leaders. Social media users have shared this video claiming that the garlands used to greet the attendees were heavy gold chains. A Twitter user named Anup Kumar Singh shared this video with a similar claim. The tweet has over 2,000 views at the time of the writing of this article.
बहुत खुशी की बात है कि छत्तीसगढ़ में आलू से सोना बहुत ज्यादा बन गया है इस लिए #मुख्यमंत्री @bhupeshbaghel ने सभी अतिथियों का स्वागत #GOLD #chain पहना कर किया#छत्तीसगढ़ 🤔🤔🤫🤫 pic.twitter.com/h4SiaEdfhx

— Anoop Kumar Singh (@rashtrawadi_aks) February 25, 2023
Another Twitter user, @HiNdU05019434, also shared this video. The tweet has 2,700 views at the moment.
बहुत खुशी की बात है कि छत्तीसगढ़ में आलू से सोना बनना शुरू गया है । 🤣🤣🤣🤣🤣😂😭🤪 pic.twitter.com/gJx8BBI7s7

— राष्ट्रवादी 🇮🇳 🚩सनातनी🚩HiNdU (@HiNdU05019434) February 26, 2023
The video was shared by several Twitter handles in the last couple of days. These tweets were then deleted by the users. The screenshots of these will be shown in the slideshow below, and the archive links are as follows (1,2,3,4,5). The video has gone viral with the same claim. [gallery type="slideshow" size="large" ids="149179,149180,149181,149182,149183"]  
Fact Check
By using relevant keywords on YouTube, Alt News found a video report by The Indian Express containing the viral video. In this video, we can see CM Bhupesh Baghel greeting the attendees with some garlands. [youtube https://www.youtube.com/watch?v=YPNfbRJJUxs?controls=0] To fact-check the claim of these being gold chains, Alt News reached out to Congress leader and national executive member of AICC Manish Khanduri. Khanduri was at the convention and described these garlands as being handcrafts made by native tribes using special leaves. He added that these claims were 'nonsensical'. Alt News found a news report from Navbharat Times, which contained details about the garlands that were used to welcome Congress leaders. According to this report, these were made of bamboo trees in the tribal areas of Bastar in the Kankor district, in the forests of Abhujmarh.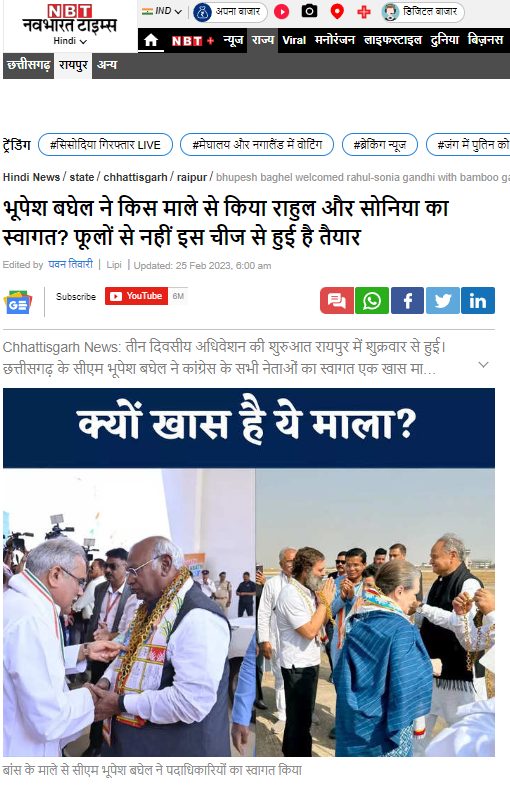 Somesh Patel, a journalist at Navbharat Times shared a video on Twitter, where CM Bhupesh Baghel could be seen addressing the speculation about the garlands. He said that these were made by tribals using special kinds of leaves and grass. He added that garlands made with flowers were very common and hence he wanted to welcome delegates using special garlands made by indigenous tribes.
'अडानी के मित्रों को सोना ही सोना दिखता है' नेताओं को पहनाई गई सोने की माला, वायरल हुए दावे का सच सीएम @bhupeshbaghel ने बताया सुनिए pic.twitter.com/04SiqSmipI

— Somesh Patel (@SomeshPatel_) February 27,
Therefore, claims and speculation by social media users suggesting that Bhupesh Baghel welcomed Congress leaders using gold chains are false. These were, in fact, handcrafted garlands made by indigenous tribes from a specific region. News report, Congress leaders and Chhattisgarh chief minister Bhupesh Baghel have confirmed this. Vansh Shah is an intern with Alt News.