On February 16, the charred bodies of two men Junaid (35) and Nasir (25), both residents of Ghatmeeka in Rajasthan's Bharatpur district, were found inside a four-wheeler in Bhiwani, Haryana. The family of the individuals alleged that the two men were attacked and abducted by members of the right-wing outfit Bajrang Dal. One of the accused is the district coordinator of Bajrang Dal (Manesar) Monu Manesar. The investigation is in progress and the Rajasthan Police has mentioned multiple individuals in the FIR. So far one person identified as Rinku Saini has been arrested. Police are on the lookout for at least eight others. In this context, a news report started circulating on February 23 that the Rajasthan Police had given a clean chit to Monu Manesar. News24 shared an update on Twitter in Hindi that read, "Names of Monu Manesar and Lokesh Singla removed from the wanted list of Rajasthan Police, police gave clean chit".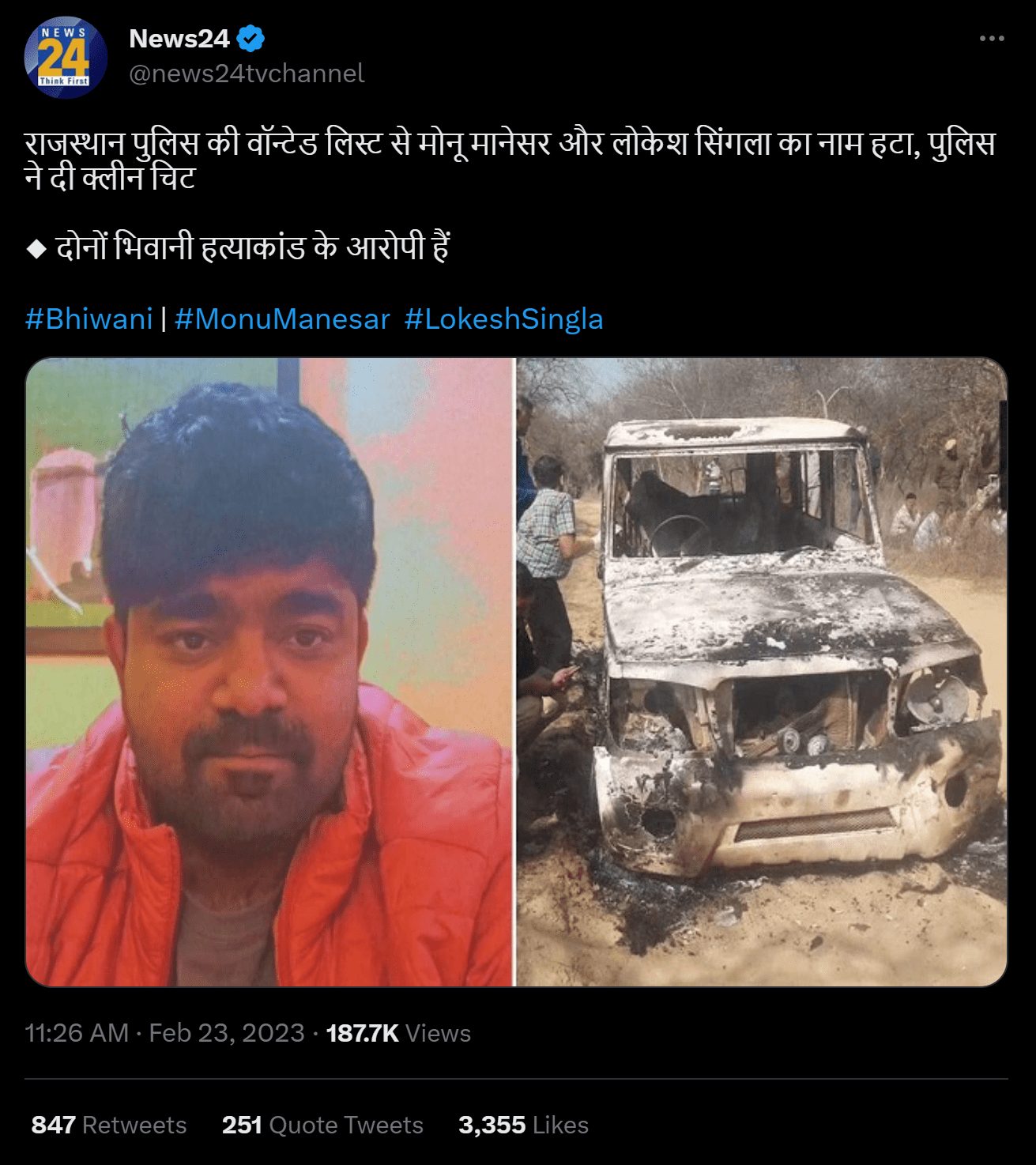 Pro-BJP propaganda outlet OpIndia English and OpIndia Hindi also amplified this claim based on News24's tweet.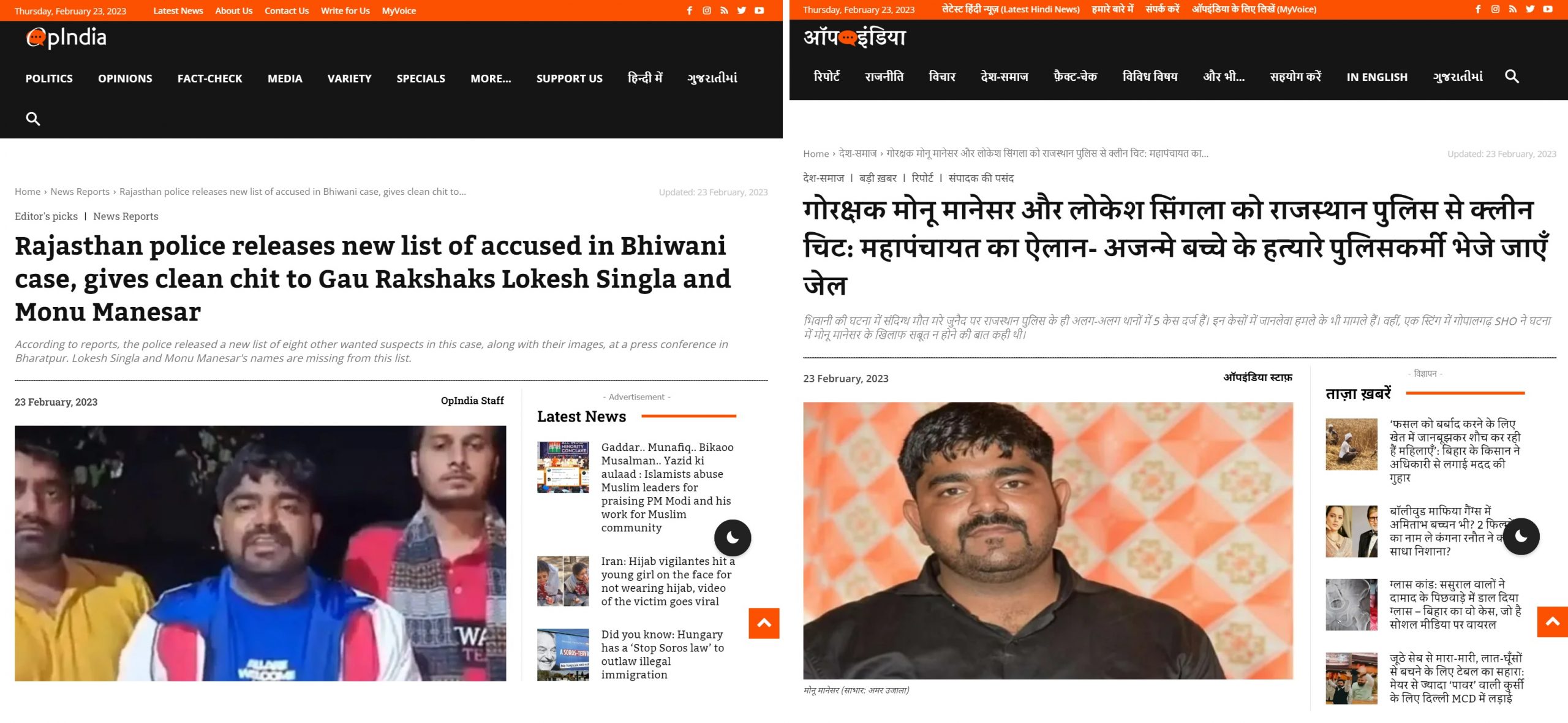 Navbharat Times too amplified this claim. The headline read, "Rajasthan Police gives clean chit to Monu Manesar in Bhiwani incident! Name removed from the wanted list".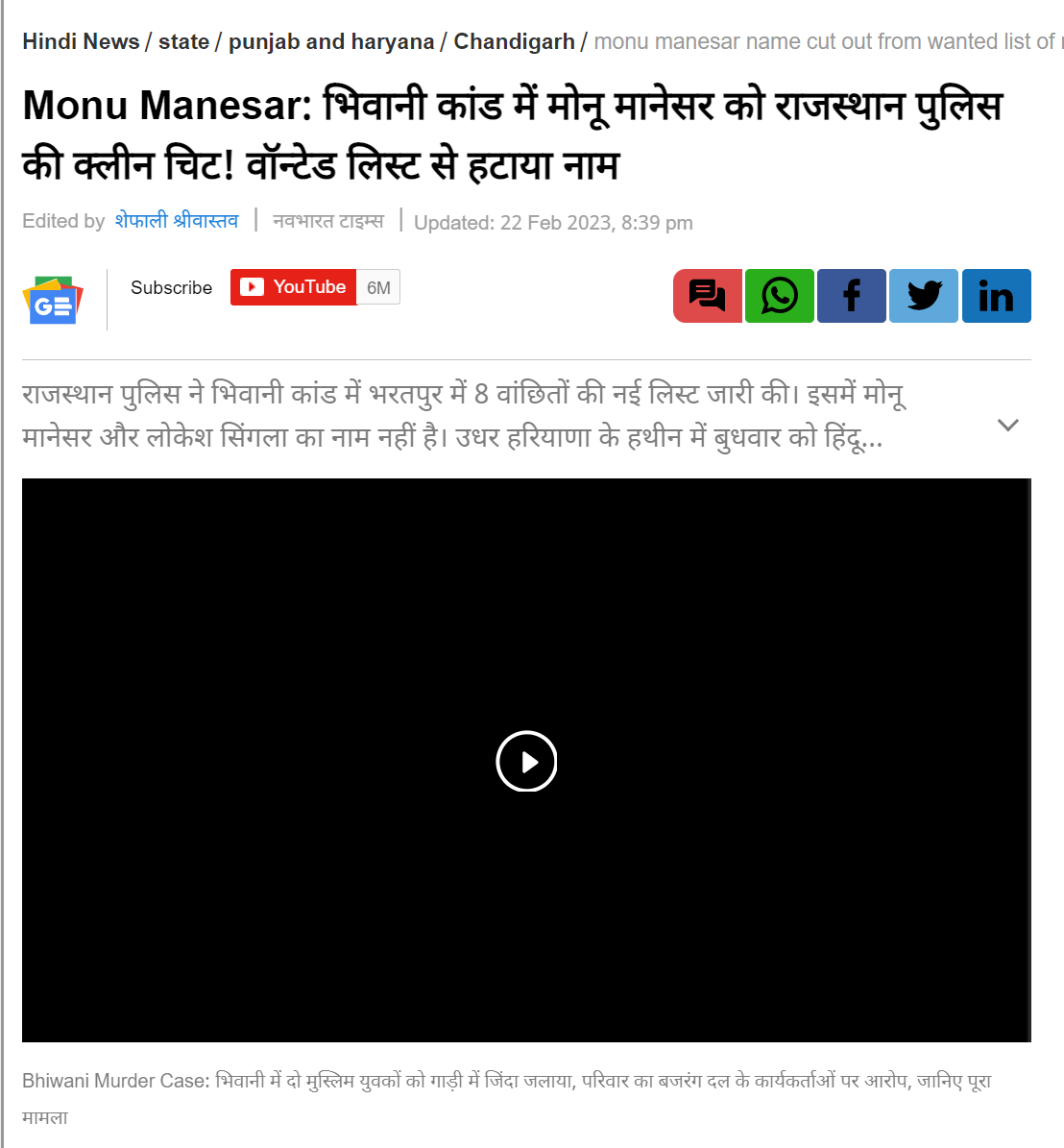 Based on News24's tweet, Newsroompost shared the same update. A handful of social media users also amplified this claim (here, and here).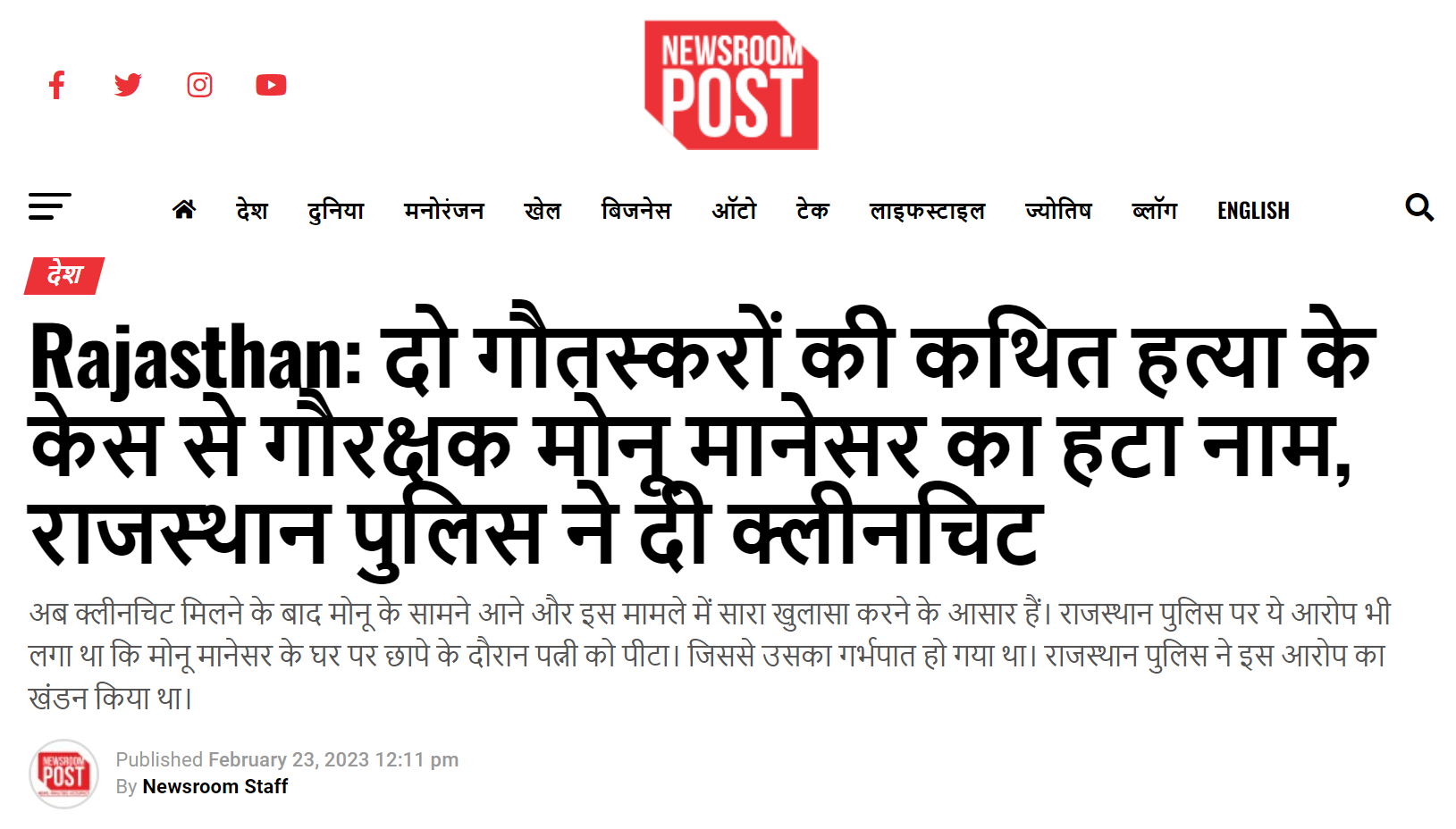 Fact Check
Alt News contacted a senior Rajasthan Police official who spoke on the condition of anonymity. As per the official, no clean chit has been given to anyone in this case. "We released 8 names for which we have clear evidence, there could be many more involved. We are investigating further," said the official. In addition to this, the Twitter handle of Bharatpur Police replied to a post on Twitter clarifying that they have released eight names in which they have clear evidence of involvement in the crime through their interrogation of Rinku Saini. It also said that the search operation with Haryana Police is still in progress. The police are also doing an in-depth investigation with regard to Monu Manesar, Lokesh Singla and all other individuals mentioned in the FIR.
#Bharatpur ➡️#गोपालगढ़ अपहरण व हत्या के प्रकरण मे गिरफ्तार रिंकु सैनी की पूछताछ एवं अब तक के अनुसंधान से प्रमाणित पाए गए 8 आरोपी ➡️हरियाणा पुलिस के साथ तलाश अभियान जारी ➡️FIRमें नामजद मोनू मानेसर व लोकेश सिंगला एवं अनुसंधान से सामने आए कुछ अन्य के संबंध में गहनता से अनुसंधान जारी pic.twitter.com/n2HcRJyidZ

— Bharatpur Police (@BharatpurPolice) February 23, 2023
It is quite evident from the graphic that the police have released eight names and below the photos a subsequent text reads that they're still investigating Monu Manesar's involvement. The Indian Express report also said, "The name of Mohit Yadav alias Monu Manesar, who was earlier named as an accused, wasn't on the list but the police maintained that he is still a suspect." In conclusion, as of February 23, 2023, the role of Monu Manesar and Lokesh Singla in the alleged murder of Nasir and Junaid is still being investigated and no clean chit has been given to them.