On January 24. 2023, the New York-based Hindenburg Research brought out a report titled Adani Group: How The World's 3rd Richest Man Is Pulling The Largest Con In Corporate History accusing the Gautam Adani-led company of 'stock manipulation and accounting fraud' spanning over decades. Hindenburg Research is an investor research firm founded by Nathan Anderson. Subsequently, the issue raised a huge row in the Parliament and the Congress launched a nationwide protest. In this context, several Facebook users claimed that Congress leader Rahul Gandhi had met Hindenburg founder Nathan Anderson and shared a photo. Some of the posts can be seen in the following slide-show. [gallery size="large" type="slideshow" ids="147160,147161,147163,147162"]
Fact Check
On simply reverse searching the image on Yandex, Alt News was able to get hold of several media reports from back in 2018 when Congress Leader Rahul Gandhi had visited Germany. The Times of India carried the photo with a report of Rahul Gandhi's meeting with German ministers in Hamburg. The Indian Express and The Tribune India also published similar reports. The image is from August 22, 2018 and the gentleman beside Rahul is identified in all these reports as Neils Annen, a minister of state and member of parliament. The following is a screenshot of a PTI story carried by The Indian Express.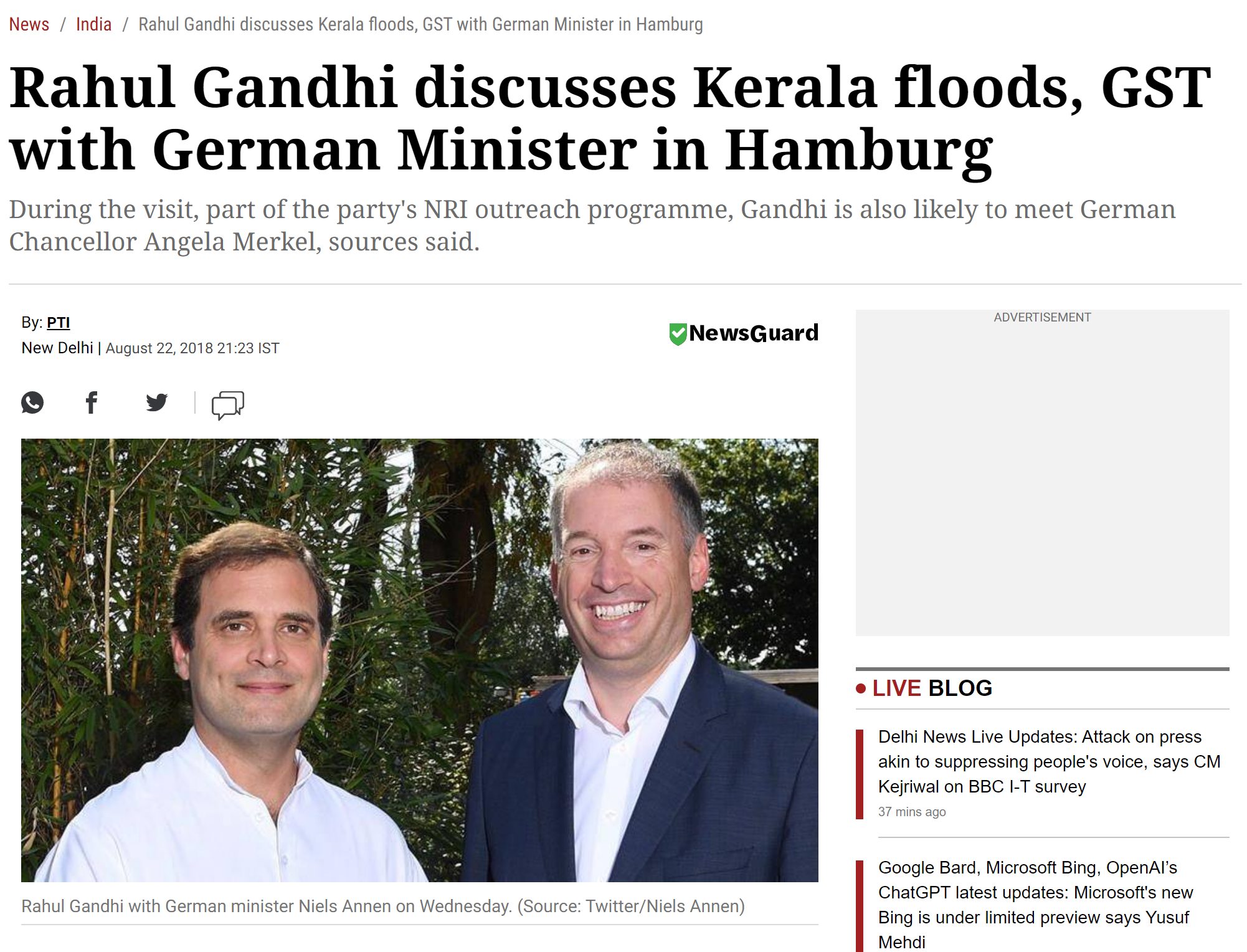 The official Twitter account of the Indian National Congress had tweeted the image and mentioned in caption that the person standing with Rahul was Neils Annen, one of the German leaders he met to discuss various issues.
Congress President @RahulGandhi met @NielsAnnen, Minister of State & Member of the Bundestag and discussed Indian & German politics, floods in Kerala, GST & Jobs.#WillkommenRahulGandhi pic.twitter.com/xLufHI3zY6

— Congress (@INCIndia) August 22, 2018
Hence, the viral image is not of Rahul Gandhi meeting Nathan Anderson. The image is from August 2018 when Gandhi visited Hamburg to meet German policymakers. The gentleman standing with Rahul is Neils Annen, German minister of state and member of parliament. Vansh Shah is an intern with Alt News.