Footballer Cristiano Ronaldo joining Al Nassar football club has made headlines worldwide. In this context, several social media users claimed that replying to a question in an interview, Ronaldo said he loved Islam the most. A Twitter handle named @YasmeenKhan_786 said that during this interview, Ronaldo was asked about what he loved the most, and he replied, 'Islam'. The caption suggests that the interview took place in Saudi Arabia. The tweet has over 20,000 views at the time of the publication of this story and has become viral.
सऊदी अरब की इस मुसलमान महिला ने क्रिस्टियानो रोनाल्डो से एक सवाल पूछा..#रोनाल्डो आप सबसे ज्यादा किससे प्यार करते हो, "क्रिस्टियानो रोनाल्डो ने कहा में #इस्लाम से प्यार करता हूं।#अलहमदुलिल्ला pic.twitter.com/TEH0MArStp

— Yasmeen Khan (@YasmeenKhan_786) January 5, 2023
Another Twitter handle @Juned__sidd used the very same image and made a similar claim. This claim and this image are circulating in WhatsApp group chats as well.
सऊदी अरब की इस मुसलमान महिला ने क्रिस्टियानो रोनाल्डो से एक सवाल पूछा..#रोनाल्डो आप सबसे ज्यादा किससे प्यार करते हो, "क्रिस्टियानो रोनाल्डो ने कहा में #इस्लाम से प्यार करता हूं।#अलहमदुलिल्ला pic.twitter.com/zIaBNsegtB

— Juned siddiqui (@Juned___sidd) January 5, 2023
Other Twitter users who shared the image with the same claim include @Mohd_Ikram_Khan, @RamaanSadik, @JABIR_KHAN85. This claim was circulating in the beginning of 2022 as well. (here and here). [gallery type="slideshow" size="full" ids="142996,142997,142998,142999"] This claim is also circulating widely on Facebook.
Fact Check
A reverse image search on Google Lens led to various news articles from January 2022 that described this image to be of the football star attending the Expo 2020 Dubai.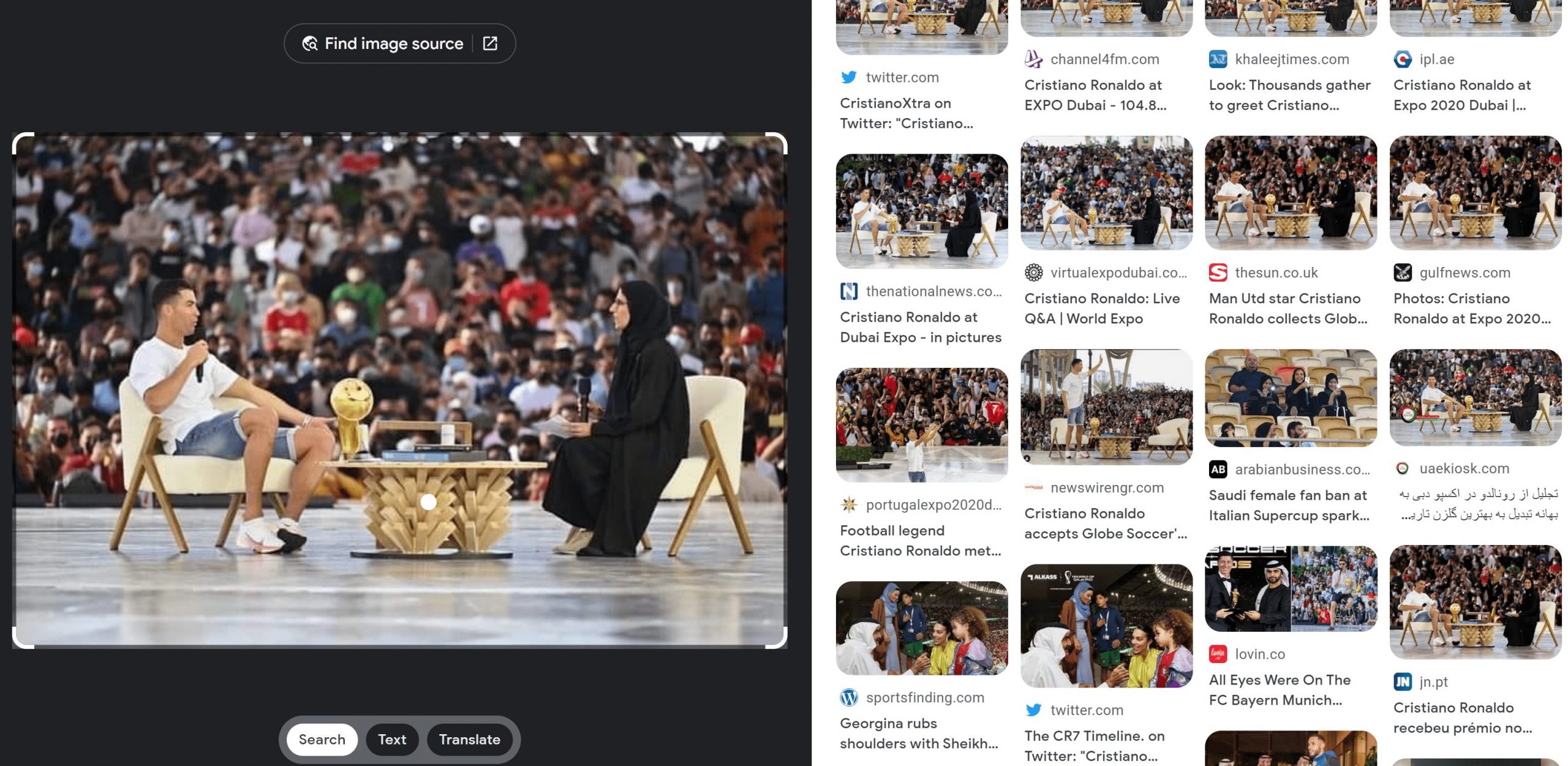 One such news report was from Gulf News, they made a gallery of pictures of the same event. In this report, readers can see 11 pictures of Expo 2020 Dubai where Cristiano Ronaldo was surrounded by fans at the Al Wasl Dome. The concerned image that has been going viral was of his Q&A session with a woman anchor. This is also available in this compilation.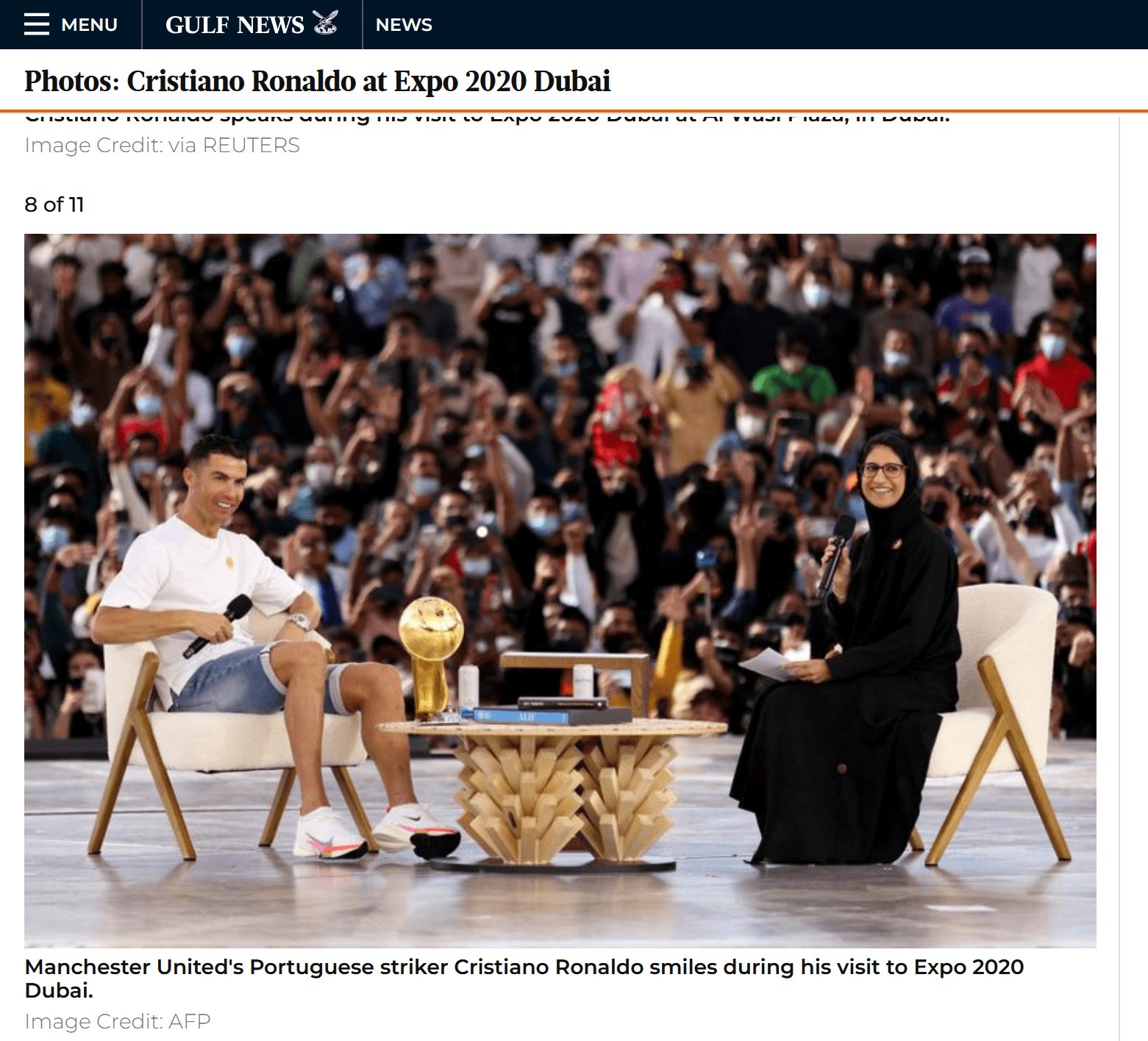 Taking this clue, we performed a Google search using relevant keywords and came across the full Q&A session available on the Expo 2020 Dubai website. We carefully listened to the entire session, nowhere during this interaction, the footballer talks about Islam. In fact, Cristiano mostly talks about discipline, health and the lessons to give to children.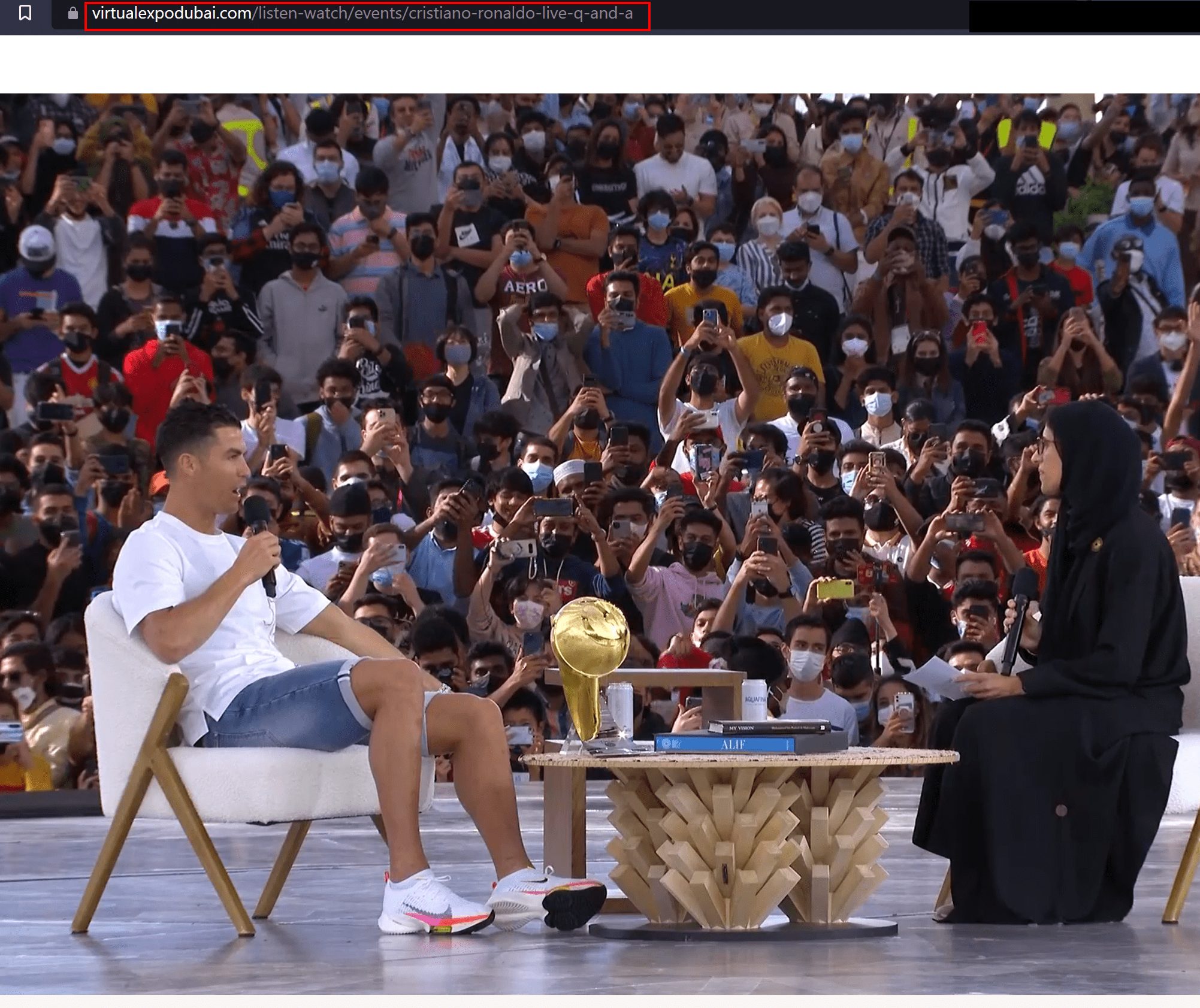 Alt News also looked up the host of the interview, Marjan Faraidooni, who was the chief experience officer, Expo 2020. Marjan is an Emirati, and not a Saudi citizen, as suggested in the social media claims.
Consul General H.E. Salem Alshamsi & Diplomats hosted a ceremony to honor UAE citizen, Marjan Faraidooni who is the first Emirati woman to participate in the annual #BostonMarathon. #bostonstrong #yearoftolerance #mofauae #uaeinboston@Marjan9781 pic.twitter.com/ohTw2uUyEc

— UAE Consulate Boston (@UAEinBoston) April 20, 2019
Therefore, the claim that Ronaldo spoke to the interviewer about his love for Islam is false. Moreover, neither did the interview take place in Saudi Arabia, nor was the interviewer a Saudi citizen as suggested on social media. Vansh Shah is an intern with Alt News.