A 44-second clip that shows a group of people from the Muslim community chanting slogans of 'Bharat Mata Ki jai' and 'Azadi' is viral on social media. The people, led by a woman in burqa, shout slogans targeting Opposition leaders. They chant 'Rahul Gandhi se azadi', 'Akhilesh se lenge azadi', 'Mamata didi se azadi' etc. BJP member Arun Yadav posted this clip on Twitter and wrote, "...These people want freedom from Rahul Gandhi 😂😂😂 They should be helped." This video gained over 12,000 views. (Archived link)
अबे नई चीज हो गई राहुल गांधी से आजादी चाहिए इन लोगों को 😂😂😂 इनकी मदद की जाए👍👍👍👍 pic.twitter.com/FeWFpSpJwj

— Arun Yadav 🇮🇳 (@beingarun28) January 15, 2020
BJP leader from Delhi Ravinder Gupta also shared this clip. He wrote, "अच्छे- अच्छों" में बदलाव आता है", which translates roughly to 'even the worst of them can be transformed', and lauded Uttar Pradesh chief minister Yogi Adityanath. (Archived link)
*शासन दमदार 💪💪🏼हो तो!!*

*"अच्छे- अच्छों" में बदलाव आता है!!* जय हो योगी महराज की @myogiadityanath pic.twitter.com/D1W7NZPfqm — Ravinder Gupta 🇮🇳 (@guptaravinder71) February 9, 2023
This video is widely shared across social media platforms such as Facebook and Twitter. Many users shared the video with the caption used by Ravinder Gupta — "अच्छे- अच्छों" में बदलाव आता है."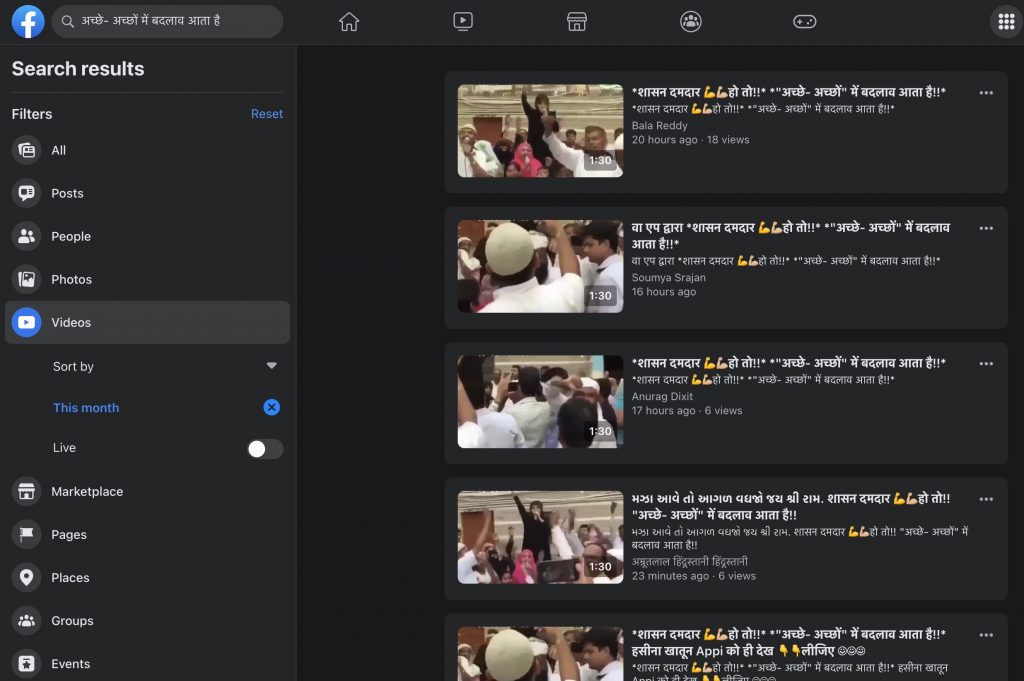 Alt News has received multiple verification requests for the video on its WhatsApp helpline (76000 11160) and app.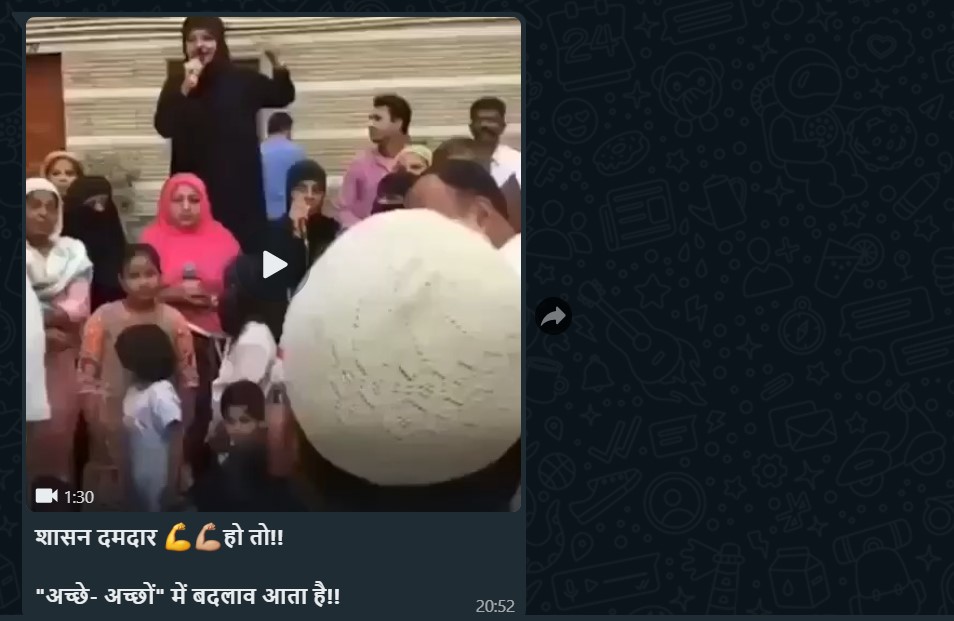 Fact Check
Performing a keyword search on Twitter, we found that the video was tweeted by BJP spokesperson Nighat Abbass in 2019. She wrote, "Along with me, the Muslim community raised its voice demanding freedom from Congress and Kejriwal."
मेरे साथ मुस्लिम समाज ने कांग्रेस व केजरीवाल से आज़ादी माँगने की आवाज़ उठाई। @narendramodi @AmitShah @ManojTiwariMP @gauravbh @NupurSharmaBJP @TajinderBagga @neelkantbakshi @PratyushKanth @naqvimukhtar @SushmaSwaraj @smritiirani @nsitharaman @HarishKhuranna @iSinghApurva pic.twitter.com/LBKW7Yrnkx

— Nighat Abbass🇮🇳 (@abbas_nighat) May 7, 2019
Here's a screenshot of Abbass' Twitter profile. Her bio says she is 'Spokeperson @bjp4delhi'.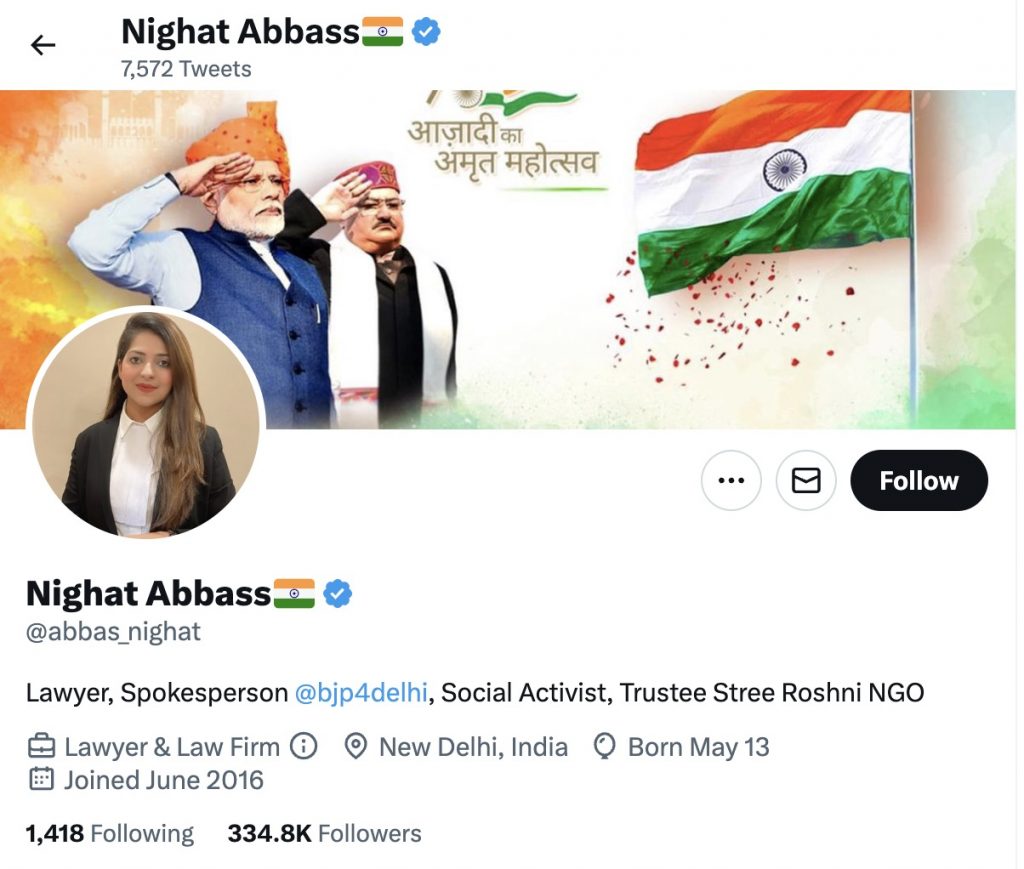 Her verified Facebook page is categorized as 'politician'. Her FB handle is 'nighatabbassbjp'. We also saw that she had quote-tweeted Arun Yadav's tweet and clarified that the video was made during 2019 campaign for BJP leader Manoj Tiwari.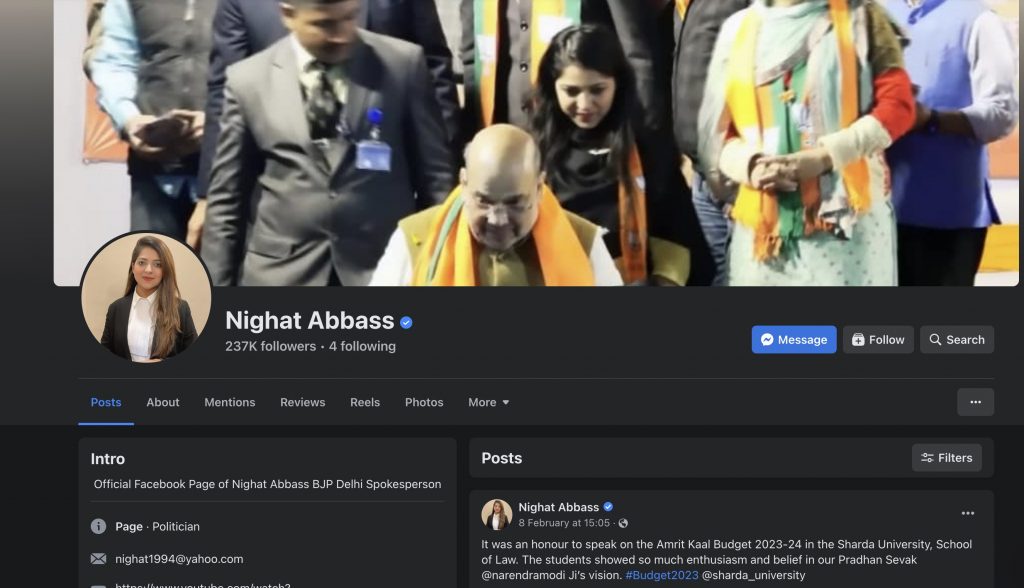 Last year in February, during UP-elections, Alt News exposed how TV9 Bharatvarsh had reported that 'Muslim voices' in UP's Bijnor were supporting BJP. We found at least seven out of the 11 'Muslim voters' interviewed by the channel were members or workers of the BJP. TV Bharatvarsh presented them as common Muslim voters.