"Bhaiyo yaha pe ek samadhan hona chahiye. Jo bhi Love Jihad karte hai, unki list humein de. Hum aur humari team unko maarenge bhai, khulla. Na toh hum kisi case se darrte hai kyunki naam toh main lena chahta nahi lekin apne bade bhai yaha baithe bhi hain wo hamari pairvi full karenge koi dikkat nahi hai aur jo Love Jihad karega, jo humari behan betiyon ko chherega, unko maarne ka kaam sirf aur sirf hum, humari team aur humari yuvasaathi karenge. Unse apna koi compromise nahi hai jo apni dharm pe ungli uthwane denge. Unko sirf aur sirf maarne pe hi hamara samadhan hoga, nahi toh koi samadhan nahi ho sakta. Yeh bhaashano se samadhan nahi hoga, unko maarna padega bhai. Jai Sri Ram!" (Brothers, we should find a solution here. Give us a list of names of people who indulge in 'Love Jihad'. Me and my team will beat them up openly. We are not afraid of police cases because our big brother is sitting here. I don't want to name him, but he will have our back. Those who will indulge in 'Love Jihad', those who will tease our girls, we --- our team and our young associates --- will beat them up. We won't compromise with those who will let fingers be pointed at our religion. The only solution is to beat them up. There is no other way to deal with this. Speeches will not work. They have to be beaten up. Jai Sri Ram!) Rounds of applause and a collective cheer erupted as Monu Manesar left the podium after making an open call for violence at the Hindu Mahapanchayat in Haryana's Pataudi on July 4, 2021. Monu, who leads a team of approximately 50 cow vigilantes or gau rakshaks in the Gurugram-Rewari-Nuh region, had earlier been introduced by the host as someone "who shoots and gets shot while protecting cows". [vimeo https://vimeo.com/798335835] Monu Manesar has made such open calls for violence not once but on many occasions. In November 2021, he issued violent threats against Muslims in the form of slogans at Gurugram's Sector 12. "Hindu ke gaddaaron ko, Goli maaro saalon ko" (Translation: Shoot the traitors of Hinduism) thundered Monu and other saffron-clad Hindutva compatriots, amid children who also chimed in. The gathering was meant to register a protest against Muslims offering namaz in public places on Fridays. Recently, Monu made headlines after the death of a man named Waaris in Haryana's Nuh area. Waaris's family accused Monu of chasing and attacking Waaris and his associates, Nafis and Shaukeen, on suspicions of cow smuggling in the early hours of January 28. The claims were refuted by the police who gave a clean chit to Monu. According to the law enforcers, the car that Waaris and his associates were travelling in crashed with a tempo on the Tauru-Bhiwadi Road in Haryana on Saturday around 5 am and the three suffered grave injuries. Waaris later succumbed to his injuries at the government medical college in Nalhar. The police statement, however, has gaping holes in the chain of events. According to their statement, Monu's team went live on Facebook after nabbing Waaris and his associates. A clip seemingly from the Facebook live-stream (which has since been deleted), purportedly shows Waaris and his two associates being questioned about their names and respective villages. (Archive)
The family member told that his video was made before the lynching. "We saw in the video that my son was brutally thrashed. My child had died, it was later revealed to us." pic.twitter.com/UCVjczfTNv

— Meer Faisal (@meerfaisal01) January 28, 2023
"In the video, it is clear that he has no serious injury. He is answering questions normally. How did he later succumb to internal injuries?" asks Waaris's elder brother Imran.
Who is Monu Manesar?
Mohit 'Monu' Manesar is a polytechnic diploma holder who claims that his true calling in life is saving Gaumata and protecting his Dharma. Monu and his team are actively involved in capturing alleged cow smugglers and handing them over to the police. Speaking to Alt News over phone, Monu talked about the deciding moment in his life when he realized that cow-vigilantism should be his true calling. "While returning home from college one day, my friends and I chanced upon a truck full of cow remains with blood dripping from it. We stopped the truck and informed the police. Two persons belonging to the Muslim community were apprehended. This was when I realised that Gaumata and our Dharam were being dishonoured." Often, Monu and his team live-stream the process of chasing a vehicle that is suspected of illegally carrying cattle. After the 'smugglers' are nabbed, Monu and his team post several images of the rescued cattle and the accused on their social media pages as 'conquests'. They also add an image of the entire team in all its glory, with some of the members standing atop trucks and some even carrying firearms. [gallery type="slideshow" size="full" ids="146502,146503,146504,146505"] Monu Manesar is the district coordinator of Bajrang Dal. During his second year of college in 2013, he was inducted into Bajrang Dal by Dharmender Manesar and Manjeet Babra. We asked Monu why he had joined the far-right organisation, to which Monu confidently replied, "Desh ka bal, Bajrang Dal". Explaining his modus operandi, Monu told Alt News, "Our work includes taking tip from people who usually work night shifts, like security guards and local dairy workers. Upon spotting a suspicious vehicle, the sources immediately alert my team. We, in turn, inform the police who reach the spot. On occasions when the police are unable to reach the location, me and my team do the needful and hand the apprehended persons over to the police." Apart from this, Monu is backed by the establishment. As part of its attempt at preventing cow smuggling, the Haryana government formed special task forces both at the state level and the district level. This task force involves several self-proclaimed gau rakshaks, including Monu himself.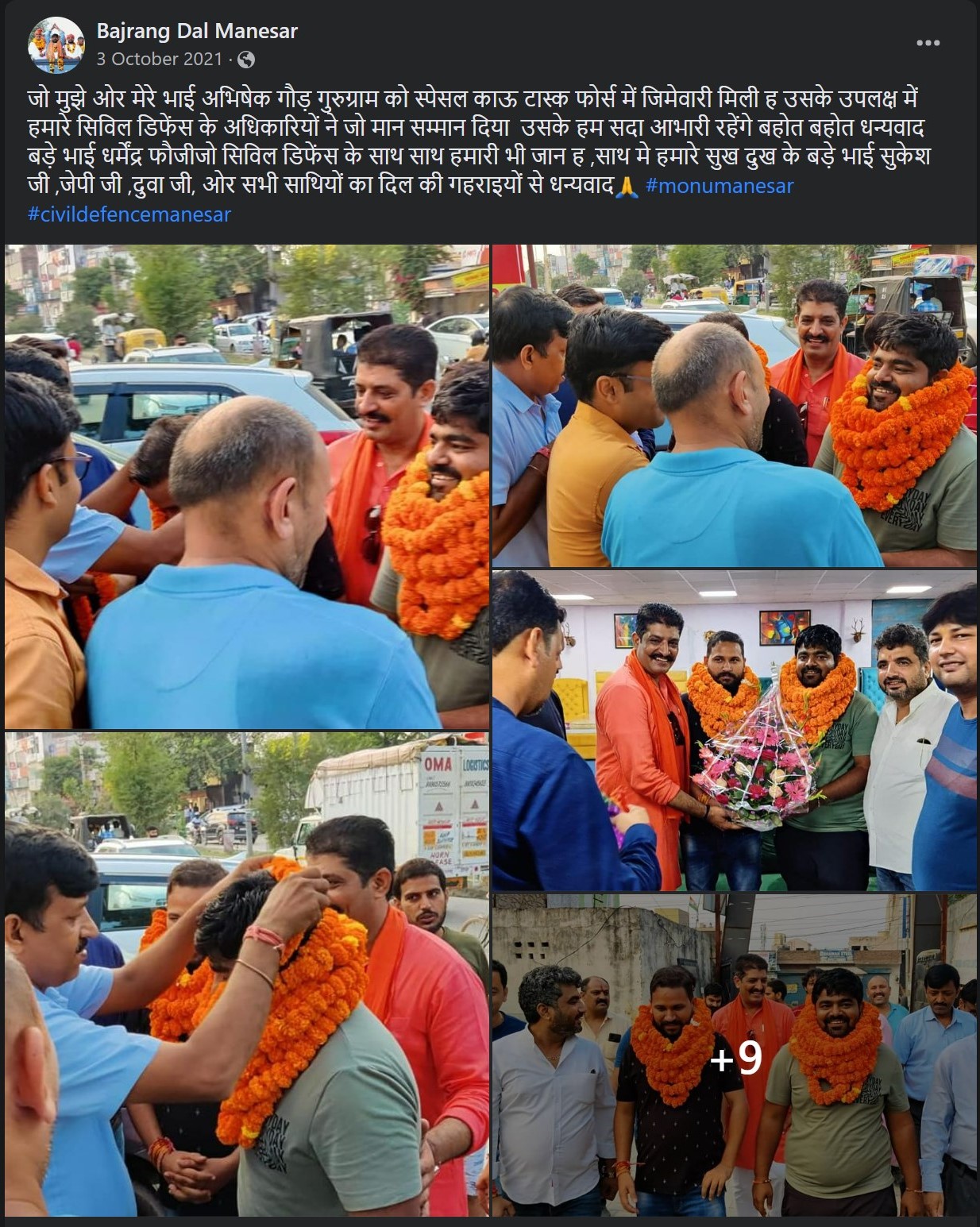 These Task Forces prevent illegal transportation, smuggling and slaughtering of cow progeny. They collect information about smuggling and slaughtering, take legal action, and rescue and rehabilitate stray cattle. Monu is also a member of the civil defence team of the district administration in Manesar. He told Alt News that he became interested in civil defence when he learnt that the team helped people regardless of their identity and religion. In the following photo, he is seen in the civil defence uniform.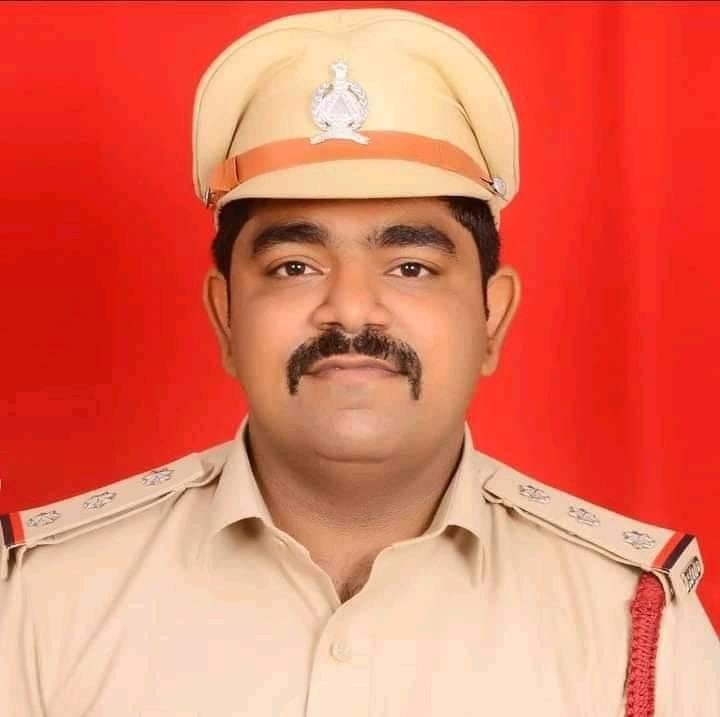 Apart from cow vigilantism, Monu and his team run businesses on the side. Some make an income renting out rooms while some work in transportation. According to an Indian Express report, Monu earns an income from subletting rooms to labourers in Manesar. On being asked if they get any funding from the government in an interview with ABP's Uncut, Monu says the society contributes all of the funds that are required for their work and that they don't take any money from the government. However, the laws against cow smuggling have made it easy for them to continue their work.
Monu Manesar's 'vigilantism'
Monu claims that in the process of capturing alleged cow smugglers, his team has never assaulted any of them. "We have been doing this for a long time and we have never hit the accused. Waaris's case was no different," claims Monu in the interview with Uncut. However, a lot of the pictures that they post after their successful 'operations' show the accused in a wounded state. In Waaris's case, Monu Manesar and the police affirmed that he died from injuries due to the collision. However, an undeniable pattern is seen in Monu and his team's modus operandi which is in direct conflict with Monu's claims of non-violence. In the early years of Monu's vigilantism, pictures posted on social media would often portray some of the members grabbing the accused person's hair. The same tactic was also practised by Dharmender Manesar, the person who introduced Monu to Bajrang Dal. [gallery type="slideshow" size="full" ids="146527,146525,146526"] A lot of the accused have injuries, as seen in the pictures. Their faces are often swollen and bloody, while some are even pictured unconscious. This pattern can be traced back to 2018. [gallery type="slideshow" size="full" ids="146538,146537,146536,146534,146533,146532,146555"] In June 2016, Gau Rakshak Dal forced two men, who they suspected were beef transporters, to eat a concoction of cow dung, cow urine, milk, curd and ghee. Admitting that they had forced the two men — Rizwan and Mukhtiar — to eat 'panchgavya' (cow dung concoction) on June 10, Dharmendra Yadav or Dharmender Manesar, the then president of the Gurgaon Gau Rakshak Dal, said in a statement to The Indian Express, "We had to chase the car for 7 km before we finally managed to stop them near the Badarpur border". "When we caught them, they had 700 kg of beef in their car. We made them eat the panchgavya to teach them a lesson, and also to purify them," he added.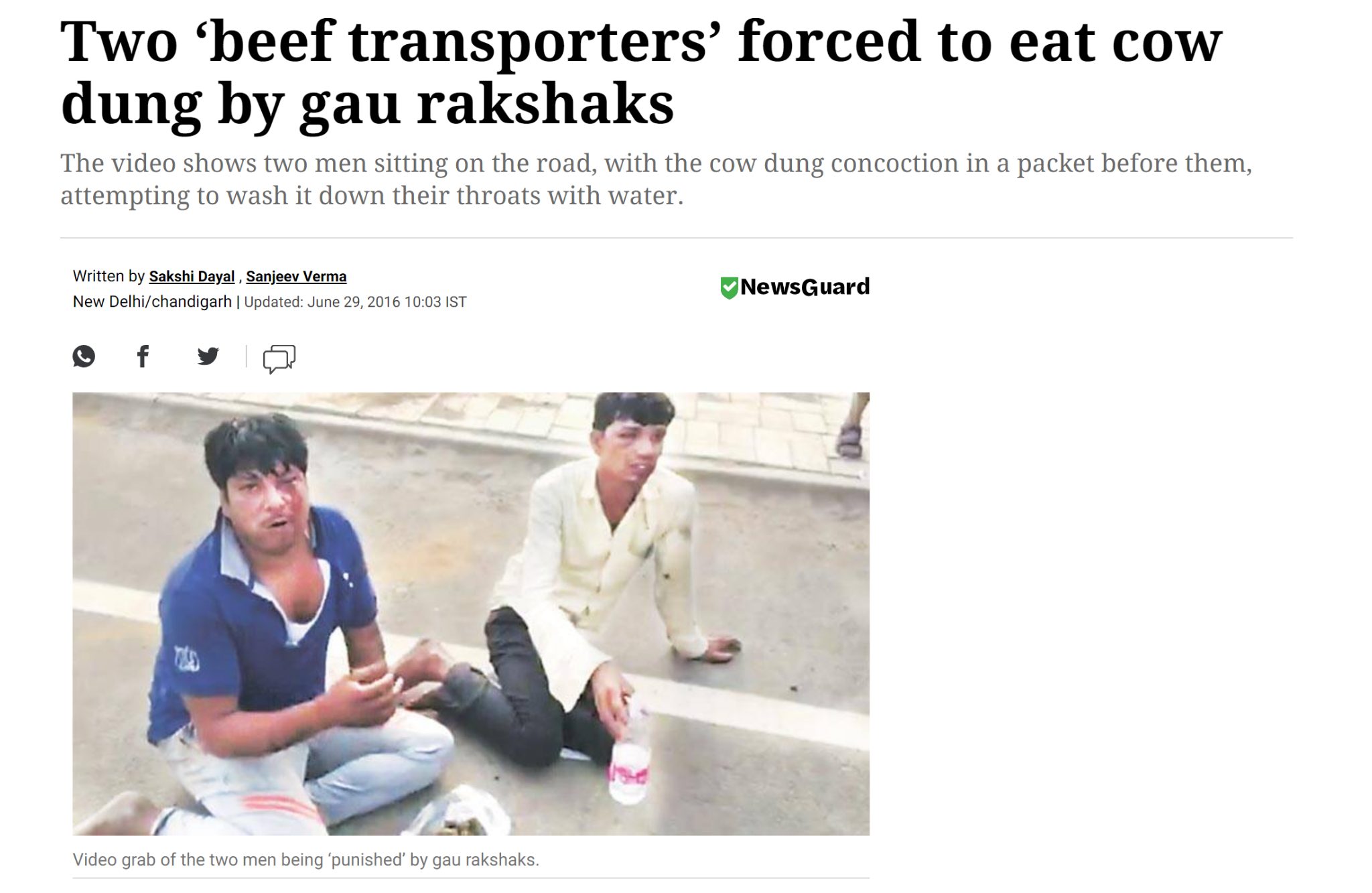 Alt News was able to procure several images from the incident. Monu Manesar was also present at the scene and can be seen posing with the rest of the Gau Rakshak Dal members with the alleged cow smugglers. The accused have swollen and bloodied faces. [gallery type="slideshow" size="full" ids="147513,147514,147515,147540"] We are also able to source a video of the incident. Monu and his team can be heard assaulting one of the accused persons while demanding that he chants 'Jai Sri Ram' and 'Jay Gaumata'. In the latter half of the video, the accused can be seen consuming the cow dung concoction. [vimeo https://vimeo.com/798687898] In April 2022, journalist Alishan Jafri tweeted a screen recording of a video from Monu Manesar's Instagram page. In the video, several men can be seen assaulting a scrap picker. The caption reads, "These are the scrap-pickers who throw stones at our soldiers and Hindutva supporters".
This video has been uploaded by Rambhakt Gopal's aide—Monu Manesar. The men can be seen assaulting a scrap picker and the caption reads, "These are the scrap-pickers who throw stones at our soldiers and Hindutva supporters."

He also shared Rambhakt Gopal's video.@DGPHaryana pic.twitter.com/i66DtvTju9 — Alishan Jafri (@alishan_jafri) April 24, 2022
Twitter page HindutvaWatch tweeted a video of Bajrang Dal members, led by Monu Manesar, using guns to fight a group of men belonging to a different community. According to the tweet, Mohin Khan, 20, a local who was passing through the area, sustained a gunshot wound in the stomach. (Archive)
Location: Babarshah, Pataudi, Haryana

Bajrang Dal members led by Monu Manesar used guns during a fight between a group of men belonging to different communities. Mohin Khan, 20, a local who was passing through the area, sustained a gunshot wound in stomach. pic.twitter.com/yZyLymL56E — HindutvaWatch (@HindutvaWatchIn) February 9, 2023
In Waaris's case, too, armed vigilantes can be seen posing next to Waaris and his associates in front of their damaged four-wheeler. (Archive)
Monu Manesar and others can be seen to keep hostage Waris along with Nafees and Shouqeen. The police have booked Nafees and Shouqeen in cows related to the case and jailed them. The family alleged that the police are trying to protect these Hindutva men. pic.twitter.com/GfEf9tAAc8

— Waquar Hasan (@WaqarHasan1231) January 30, 2023
Monu Manesar's Facebook page features several videos of high-speed chases. In a statement to The Indian Express, Monu says, "After a tip-off is received that cattle smugglers are transporting cattle in a pick-up truck or a van, we inform the police and set off on our SUVs to assist them. The chase often lasts long distances across districts and the smugglers either shoot or throw cattle on the roads to escape. We share information among vigilante groups on WhatsApp and coordinate with the police. In the instance that we nab the smugglers before a police team reaches, we intimate the authorities and hand them over to the police for further probe. We have never taken law into our hands or assaulted anyone. Only those whose business of cattle smuggling we have shut down bring up such allegations". Contrary to Monu's statement, we found several videos of Monu's team brandishing firearms and opening fire at vehicles that are suspected of smuggling cows. Expletives can be heard in the videos. We strongly advise viewers' discretion. The following video was shared on Monu Manesar's Facebook profile on January 27. A member of Monu Manesar's team can be seen opening fire at a truck in an attempt to blow its tyres. [vimeo https://vimeo.com/796636401] Somebody can be heard saying "use the siren" before the sirens go off in the following video. The viewer can hear gunshots as well. It must be noted that there are people seated in the open truck. Monu Manesar's team is seen randomly firing at them. Slogans of Jai Sri Ram can also be heard in the background. This video was shared through Monu Manesar's Facebook profile on January 22. [vimeo https://vimeo.com/796636646] The following is a similar video of Monu's team chasing a truck. They attempt to blow the tyres of the truck by shooting at it. This video was uploaded on Monu Manesar's Instagram page on January 26. [vimeo https://vimeo.com/796643986] The following video was uploaded on Monu Manesar's Instagram page on January 20. In the process of chasing a truck suspected of smuggling cows, the cow was thrown off the truck. Monu's team, however, did not stop to salvage the cow and continued chasing the truck instead. Monu's team can be heard firing gunshots while screaming expletives. [vimeo https://vimeo.com/796644358] During our interview, Monu informed us that in a few cases, his team had captured persons belonging to the Hindu community, although the majority of the accused are Muslims. He further added that his team of informants also involved people from the Muslim community.
Blessings from the top
Most of the gau rakshaks and organisations in the semi-urban areas are backed by local politicians and police. Monu's case is no different. Not only does he work closely with the police or is a part of the district civil defence team, he is often awarded and felicitated by law enforcement authorities as well. Below is a compilation of pictures wherein Monu is seen with police officials and bureaucrats. He was pictured with Superintendent of Police Rajesh Duggal, Additional SP Bipin Sharma, IPS officer Bharti Arora, IPS officer Naazneen Bhasin, and other police officials. He can be seen receiving awards and mementoes in several of these pictures. [gallery type="slideshow" size="full" ids="146575,146576,146577,146578,146579,146580,146581,146582,146583,146584,146587" orderby="rand"] Although Monu is a member of Bajrang Dal, he insists on not having any political affiliations. He has often been pictured with influential people. The list includes Union home minister Amit Shah, Union information and broadcasting minister Anurag Thakur, former Union minister of finance and corporate affairs, the late Arun Jaitley, and Baba Ramdev. [gallery type="slideshow" size="full" ids="146589,146590,146588,147315"] He was also pictured with Suresh Chavhanke, editor-in-chief of the pro-BJP propaganda channel Sudarshan News. Interestingly, Sudarshan News has covered Monu Manesar's 'vigilantism' for a significant amount of time, calling the accused 'Jihadis' in their reportage, a term Hindu fundamentalists use to target Muslims.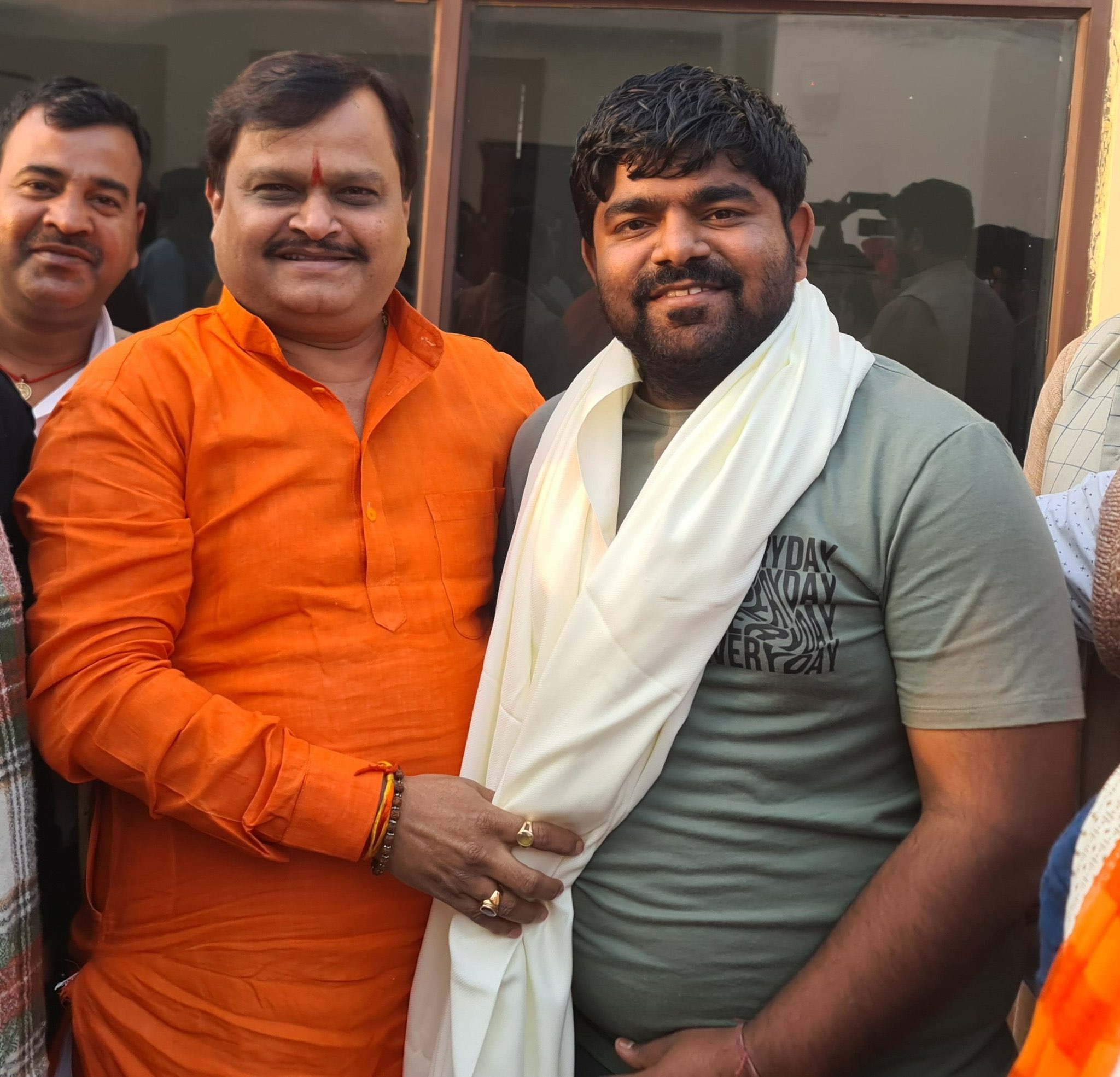 Alt News spoke to at least five senior police officers from Gurugram and Manesar and asked them what action had been taken against Monu Mansear for publicly brandishing firearms and shooting at vehicles carrying alleged cow smugglers on multiple occasions. We also asked them if police backed Monu's team as an extra-judicial body. They either disconnected the calls or refused to comment. In a video report uploaded on May 5, 2022, YouTube-based media outlet Haryana Tak spoke to villagers of Sheikhpur in Nuh's Firozpur Jhirka area. Talking about an incident involving Monu Manesar's team, the father of a youth named Sahib Hussain said his son had been assaulted by Monu Manesar's team. However, despite naming Monu Manesar in a complaint, FIR was lodged against some unknown persons. The Quint also reported on the incident. Their report quotes a villager as saying that Hussain had gone to the field one morning. When he saw the cow vigilantes, he ran. Then, they fired two shots in the air. Hussain fell to the ground and was roughed up and hit in the head with a pistol butt by the vigilantes.
Social media as a tool
With a social media presence of 83000 followers on Facebook and 205000 subscribers on YouTube, Monu's followers are ardent admirers of his vigilantism. If one were to go through the comments on his posts, one would find comments ranging from messages of gratitude for Monu and his team to ones suggesting that the accused be killed. Very few question the legality of their actions. Monu recently received YouTube's silver play button for crossing 100000 subscribers on YouTube.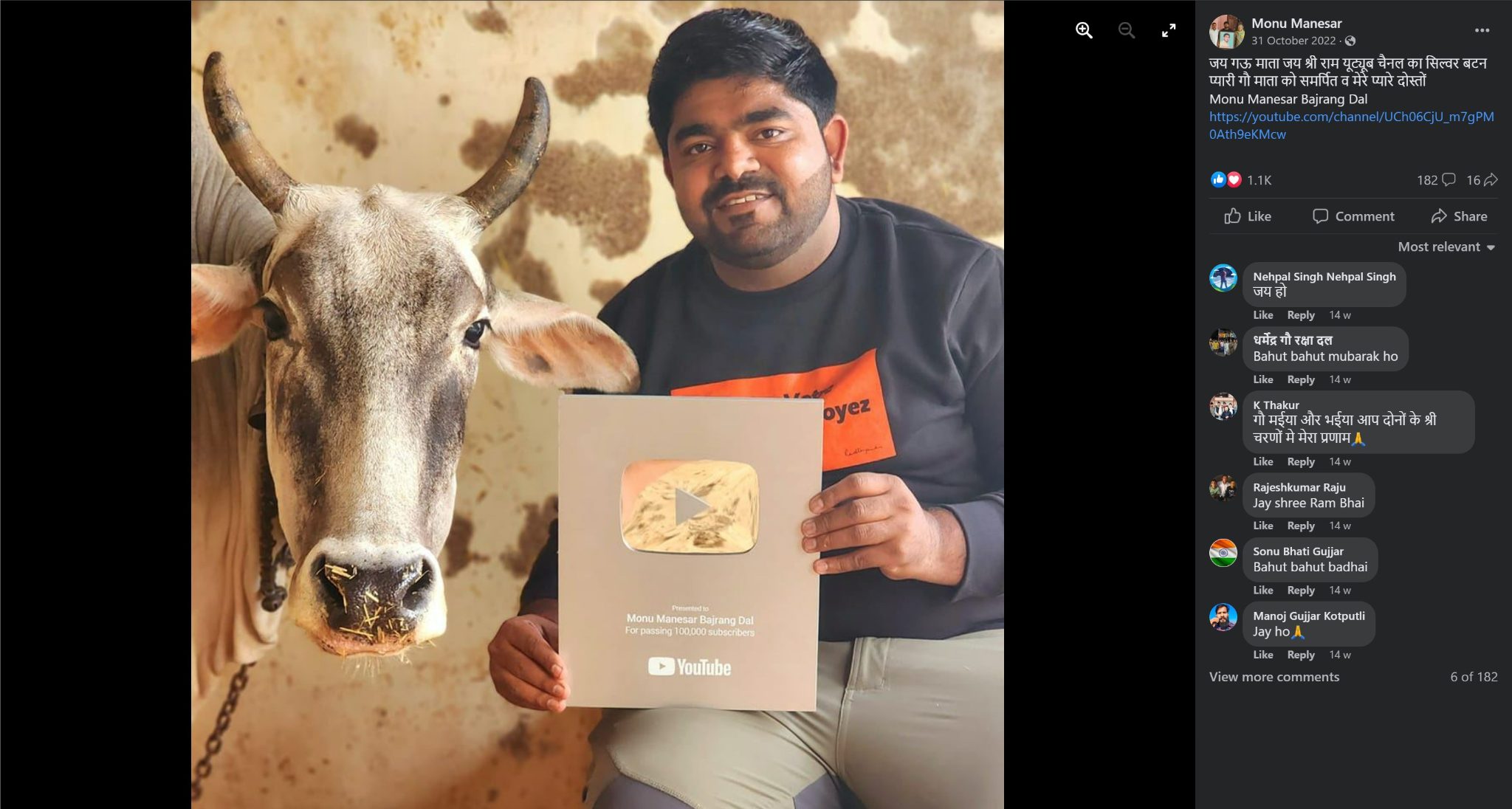 Monu Manesar is well-regarded in Haryana. He often updates his social media followers on being invited to programmes where he is garlanded and felicitated for his work as a gau rakshak. From flag-hoisting events on Independence Day to mass weddings, Monu's presence as a guest of honour is frequently seen in these programmes. He is seen with heaps of garlands around his neck, mementos and saffron pagdis bestowed upon him by the organizers as tokens of respect. [gallery type="slideshow" size="full" ids="146788,146789,146790,146791,146792"]
'Dharam ka Mamala'
Rooting out cow smuggling completely from society is Monu Manesar's mission in life. For his supporters, he is  a hero. On social media he is keenly followed by thousands of people. Some of his videos on YouTube have almost 10 million views. Gau raksha or cow vigilantism also involves considerable risk. In October 2019, Monu was shot in the chest while chasing alleged cow smugglers in Gurgaon's Sector 10. Monu and his friends had surrounded a stationary mini truck suspected of smuggling cows when one of the alleged smugglers shot at him. Monu Manesar, however, is undaunted in his pursuit of 'justice'. When asked about his family's reaction to his work, Monu tells Alt News, "My family often tells me to stop doing all this in view of the risks involved, but I can't. That's because this is now about our religion.. Dharam ka mamla ho gaya hai."