In March 2020, Meta (previously Facebook) announced a partnership with the International Fact-Checking Network (IFCN, set up in 2015 by US no-profit Poynter Institute) 'to reduce the spread of misinformation and provide more reliable information to users.' In an interview with American podcaster Joe Rogan, the founder of Meta platforms Mark Zuckerberg said in August 2022, "...we do not want to be deciding what is true or false... We also didn't want to be in the business of deciding which fact-checkers are professional and not. So we basically outsource that to this accreditation (referring to IFCN)... it's widely respected. It is sort of the best that there is, even though it's, you know, it's not without flaws..." In the first week of September 2022, IFCN announced that it had awarded $450,000 in grants to organizations working to lessen the impact of false and misleading information on WhatsApp. Out of 11 award-winning organizations, three were from India. One of them was Vishvas News, which received $50,000 (~40 lakhs). According to the announcement, Vishvas News intended to 'create a bridge of information between people who are facing a flow of misinformation and have no idea where and how to check for legitimacy.' Vishvas News is a subsidiary of MMI Online Limited, the digital arm of Jagran Prakashan Ltd, the parent company of 'Dainik Jagran' newspaper, which, according to its website, has a daily readership of over 50 million — one of the largest in India. It is worth noting that Bharat Gupta, the CEO of MMI Online Limited, is one of the 11 board members at the IFCN.
This report seeks to analyze if Vishvas News follows IFCN codes of conduct, and document instances of misinformation by its sister concern, Dainik Jagran, between January 2021 and July 2022.
Does Vishvas News follow the IFCN codes of conduct?
The IFCN has five code of conducts with multiple sub-points. The following sub-points in pertinent to this report:
Commitment to Standards and Transparency of Methodology 5.2 The applicant selects claims to check based primarily on the reach and importance of the claims, and where possible explains the reason for choosing the claim to check.
Commitment to an Open & Honest Corrections Policy 6.5 If the applicant is the fact-checking unit of a media company, it is a requirement of signatory status that the parent media company has and adheres to an open and honest corrections policy.
Alt News noticed that Vishvas News rarely mentions primary sources of misinformation such as prominent accounts or news outlets. As a result, it completely ignores the importance of the reach of the social media account making the claim. For example — [gallery columns="2" type="slideshow" ids="147872,147875"] Two years ago, Alt News reported that most Facebook fact-checking partners in India had failed to fact-check misinformation shared by pro-BJP users/organizations. Alt News had cited five sources of misinformation that came out on top as per our reports — BJP IT cell head Amit Malviya, BJP national spokesperson Sambit Patra, Sudarshan News' chief Suresh Chavhanke, and OpIndia. In order to find this data, Alt News performed a domain-specific keyword search on Google. Here, the domain would be the website of the fact-checking portal and the specificHow keyword is the source of misinformation. For example, site:vishvasnews.com "Suresh Chavhanke". Data showed that barring BoomLive, The Quint, and Alt News, most fact-checking portals looked the other way when false claims or misinformation were shared by these platforms/individuals. Between August 2019 and August 2020, Vishvas News mentioned only one of them on only one occasion.

As per the Alt News's 2022 year-ender report, BJP IT cell head Amit Malviya and the party's national spokesperson Sambit Patra were on the list of prominent politicians who shared misinformation in 2022.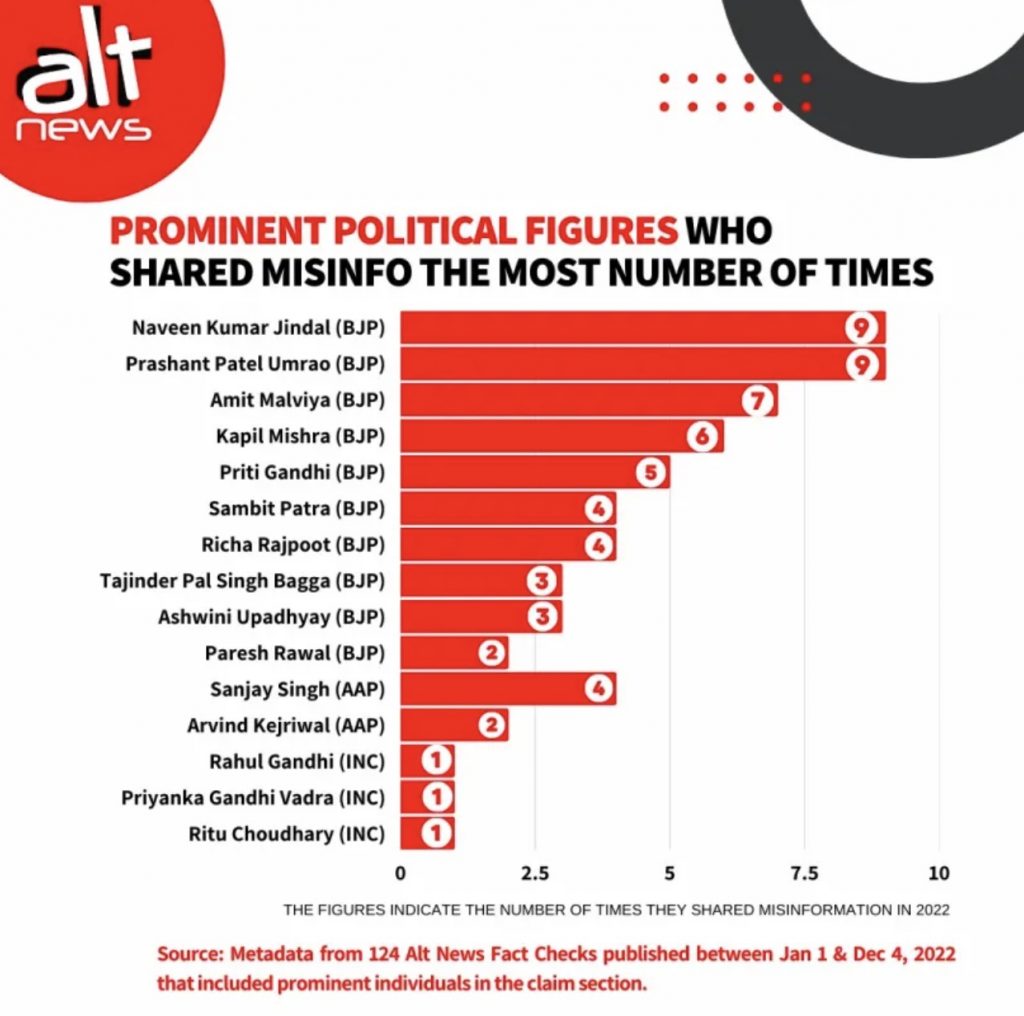 Similarly, prominent personalities who shared misinformation last year included Pakistani-Canadian author Tarek Fatah and Sudarshan News editor Suresh Chavhanke.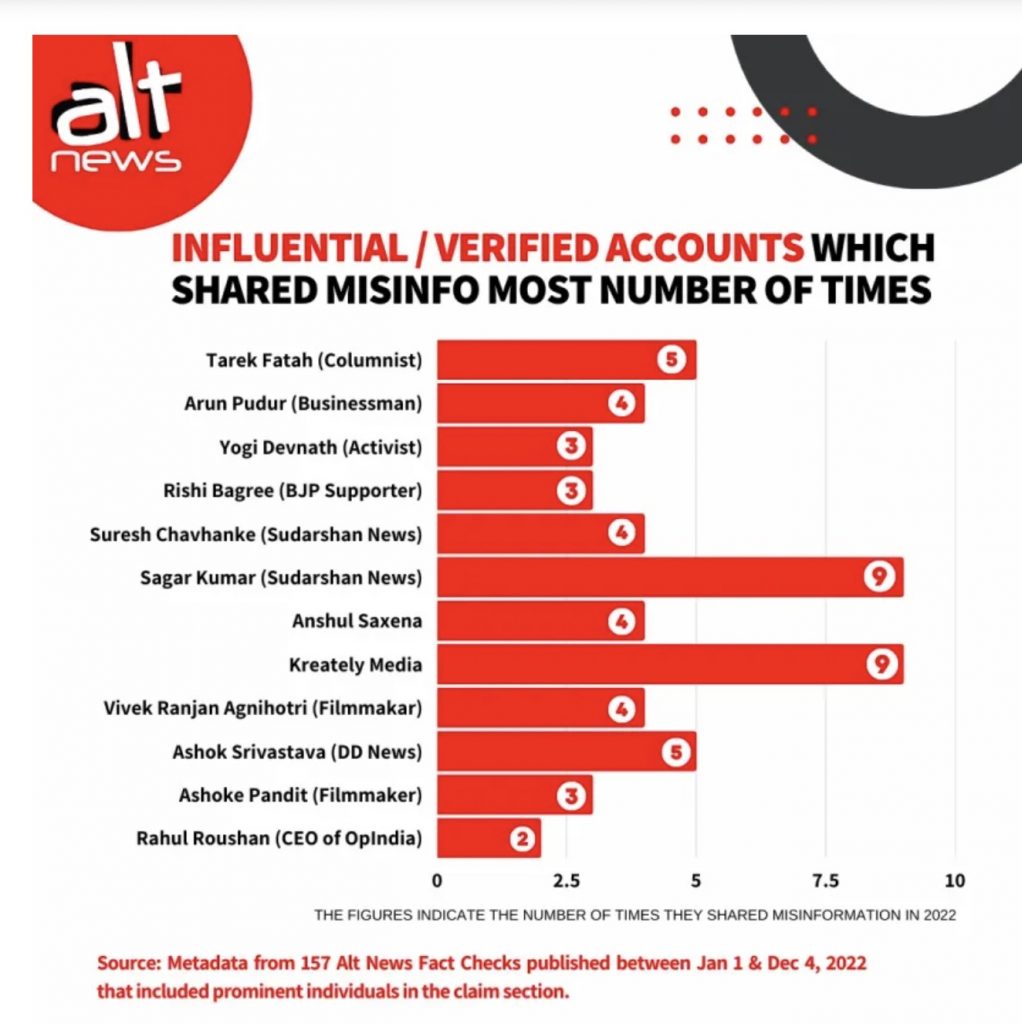 On December 7, 2022, Alt News found that as of February 20, 2023 —
Over the past few months, Alt News has read multiple fact checks by Vishvas News and found that they never mentioned prominent sources of misinformation. This is in violation of the above-mentioned point (5.2) of the code of conduct. Vishvas News does not consider 'reach and importance' when it selects claims for fact check. 
Does Dainik Jagran adhere to an open and honest correction policy?
Between January 2021 and July 2022, Dainik Jagran, a sister concern of IFCN member Vishvas News, published 17 instances of misinformation, as per our database. In the same time period, BoomLive and The Quint documented Jagran's misinformation seven and two times, respectively (view spreadsheet). We found that at least 6 out of 17 articles were not updated with corrections (view Jagran Corrections spreadsheet) — we tried establishing contact with Dainik Jagran for more clarifications. However, we didn't get any response. The readers should note that Alt News couldn't verify if corrections were made in two stories because they were print stories and the same story could not be found online. This is significant because clause 6.5 of the IFCN codes of conduct says "if the applicant is the fact-checking unit of a media company, it is a requirement of signatory status that the parent media company has and adheres to an open and honest corrections policy." By not publishing corrections, Vishvas News's parent media company is thereby violating IFCN codes.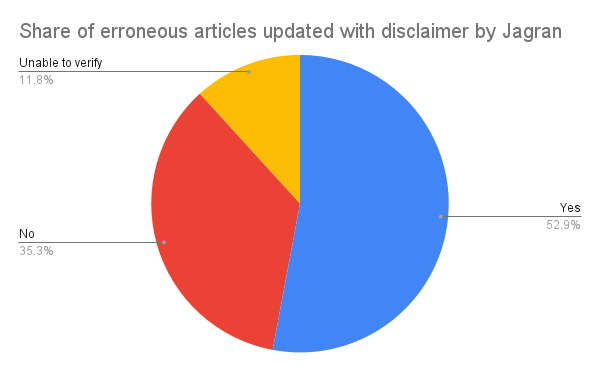 'Seal of approval on misinformation by IFCN'
Alt News spoke with Manisha Pande, the executive editor at Newslaundry. In addition to her extensive portfolio as a journalist, she has five years of experience in watchdog journalism in India. She is the writer and host of the YouTube show Newsance.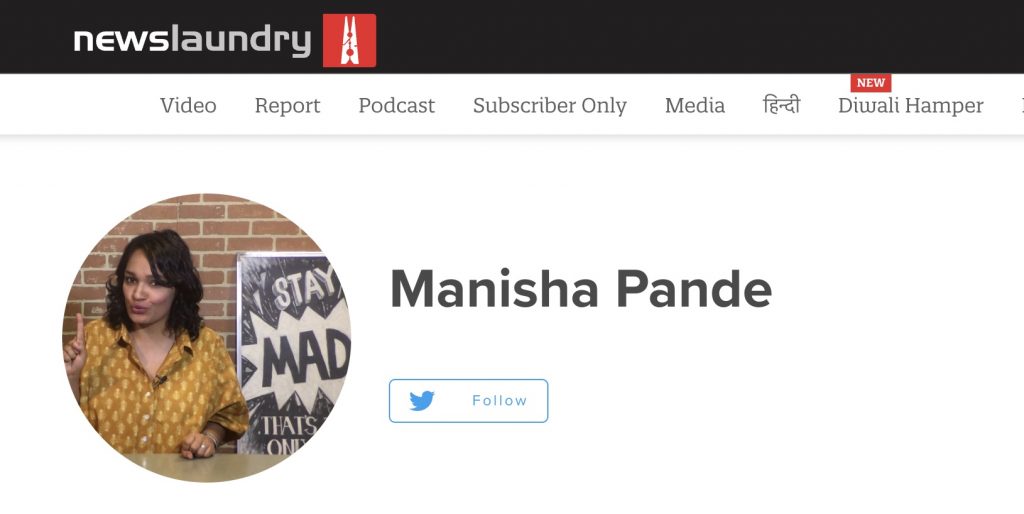 Manisha said, "One can understand editorial lapses where a media outlet misses out on certain information or they share videos without due diligence because it's a matter of number of clicks and volume of online traffic. But what makes it to their front page really makes a huge difference is when one gives prime space to conspiracy theories. The kind of misreport that is published on the front pages of Dainik Jagran is straight-up conspiracy theories at times." Manisha also pointed out that when in 2018 an 8-year-old nomadic girl was gang-raped and murdered in Kathua, Jagran claimed no rape had taken place (report by Alt News, Newslaundry). In 2020, when a Dalit woman was gang-raped in Hathras, Jagran claimed that she was murdered by her brother and mother. Referring to the 2020 rape cases, she added, "Without even verifying, Dainik Jagran reported that the victim was having an affair. Newslaundry has found multiple instances when Dainik Jagran relied upon dubious sources while amplifying the anti-Muslim conspiracy theory 'Love Jihad'. This isn't a question of developing stories. Basics of journalism such as finding credible sources and lack of triangulation within a report that are essential for a front page are simply absent at times." She added, "Thinking from IFCN's point of view, the logic behind including Vishvas News might stem from the fact that they are a part of the largest and most read Hindi-language media outlet. In my opinion, if Vishvas News is given a seal of approval not just as a fact-checker but also a place on the IFCN board, then they are indirectly giving a seal of approval to the misinformation put about by Dainik Jagran as well." Alt News reached out to the concerned officials at MMI Online Limited & Vishvas News, Poynter & IFCN Facebook, BoomLive and FactCheck.in and Facebook on October 19. The Facebook spokesperson replied saying, "We have no input to share." Last year, the Press Council of India took suo motu cognizance of Dainik Jagran's publishing advertisements in the garb of news in the New Delhi editions of the newspaper on June 10 and 16. In the same year, Newslaundry reported how Dainik Jagran published UP government ads with bylines of reporters on multiple instances. Last month, Newslanudry also published a detailed article capturing the nuances related to the ownership of the Jagran Group.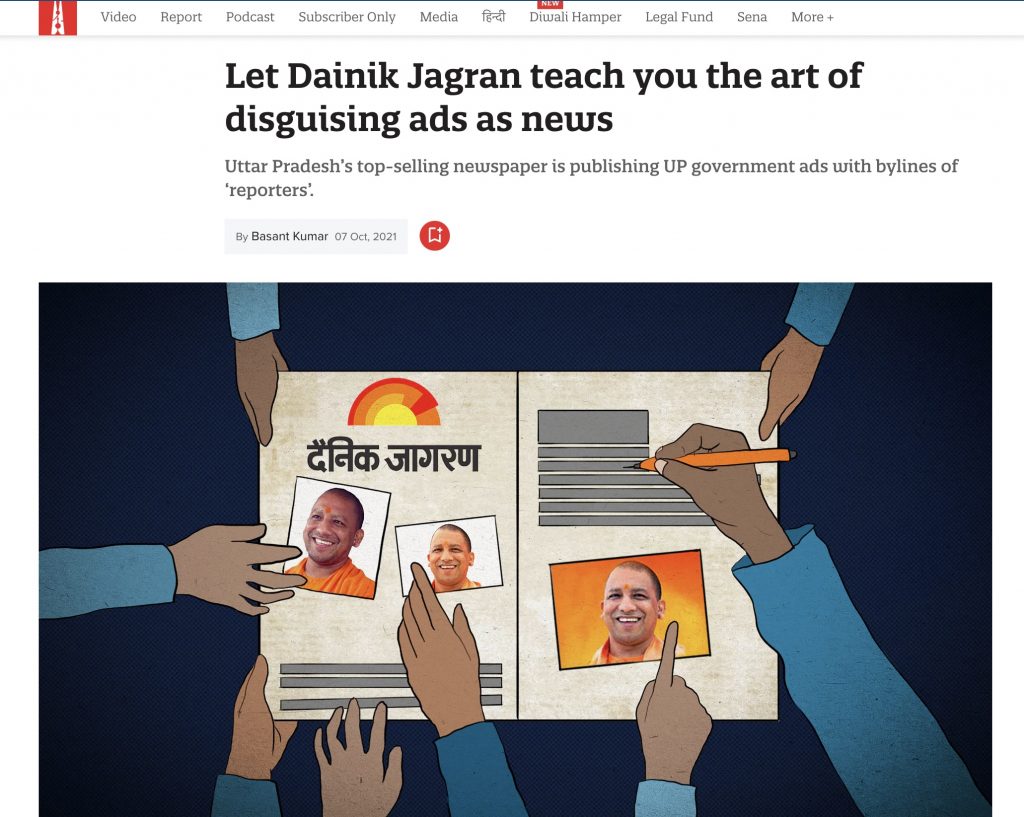 Misinformation by Dainik Jagran
Upon categorization of the 17 instances of the misinformation, we found that 42.1% targeted the Muslim community and 26.3% were pro-government.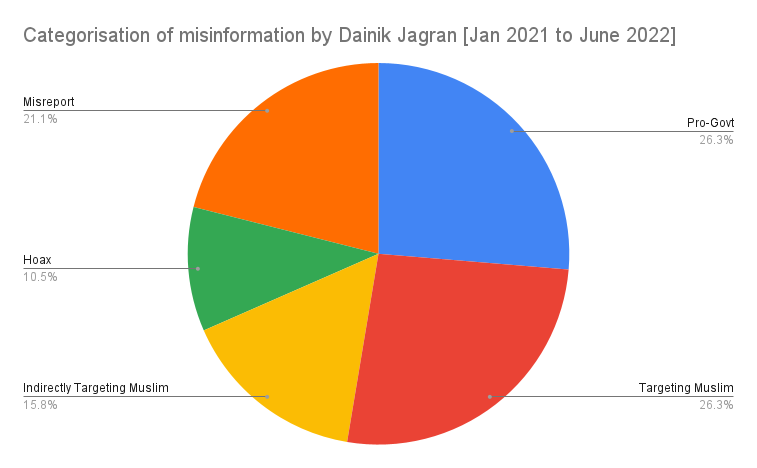 It is pertinent to note that in a 2019 report on government spending on newspaper ads, Indo-Asian News Service reported, "Leading the pack in the 2014-15 to 2018-19 period was Dainik Jagran that received government ads worth over Rs 100 crore in the given time frame." Haryana chief minister Manohar Lal Khattar had planned to hold a rally on January 10, 2021, in Karnal district's Kaimla village to intimate the public of the benefits of the Centre's new farm laws. That same evening,

Dainik Jagran

reported that the event was cancelled since Khattar was not able to attend due to bad weather. In their report, they stated that the CM could not reach the gathering because his helicopter had trouble flying in bad weather. However, other news outlets cited the farmers' protest against the new farm laws as the reason behind his cancellation. After being called out for publishing incorrect information, Dainik Jagran edited their reports to reflect that the CM was not able to address the rally in Karnal due to commotion created by a group of protesters. 

In January 2021, Jagran Josh

(Part of Jagran Prakashan Limited)

 claimed that

Suriname's Indian-origin president Chandrikapersad Santokhi would be the chief guest at the 2021 annual Republic Day parade. The report cited 'media reports' as the source.

The ministry of external affairs clarified on January 14, 2021, that

no foreign leader would be invited as the chief guest

this Republic Day. "There will be no foreign leader as Republic Day chief guest. The decision comes due to the global situation arising out of Covid-19", it announced. 

In April 2021, Dainik Jagran reported that a Harvard study had hailed the Yogi Adityanath government in Uttar Pradesh for handling the migrant crisis more effectively than other states. The study reportedly appreciated Yogi Aditynath's way of resolving the crisis of migrant labourers. Jagran quoted a so-called Harvard study to demonstrate the UP government's efforts in four focus areas including bus and train services and cooperation with railways. On probing further, Alt News found that the study in question was published by the Institute For Competitiveness (IFC) and not Harvard University. The cover page of the study, titled 'COVID-19 & the migrant crisis resolution: A report on Uttar Pradesh', had two logos --- those of IFC and 'Microeconomics of Competitiveness' (MoC), a course platform developed by the Institute for Strategy and Competitiveness at Harvard Business School (HBS), designed to be taught at selected universities around the world. We spoke to an alumnus of Harvard University who stated that there was no such thing as a 'Harvard study'. Studies were attributed to authors and not the university to create legitimacy. Alt News spoke to Katelyn B. Ahern, the competitiveness & economic development program manager at the

Institute for Strategy and Competitiveness

at HBS, who also said that it was

not accurate

to refer to a study by an MoC affiliate as a Harvard study.

Moreover, it was found that the external usage of 'Harvard' or any logo, seal, or other symbol, words, names, or devices that identify Harvard or any Harvard school for any purpose required written approval from the university. 

Furthermore, the inference that the study draws has been misrepresented in the media reports. Amit Kapoor, honorary chairman at IFC, spoke to Alt News and said that the study did not conclude UP government had handled the migrant crisis more effectively than other states. He added that the document was for internal consumption and was not intended to be made public.

Thus, a study by IFC was falsely dubbed as a Harvard study by the UP government and media. Furthermore, Amit Kapoor, honorary chairman at IFC, told Alt News that MOC's logo would be removed from the report. This was also reported by

BOOMLive

.

After the results of the gram panchayat elections in Uttar Pradesh, Dainik Jagran published an article on May 5, 2021, with the headline 'Pakistan zindabad slogans echoed in Bahraich near the Nepal border, video viral on internet media (बहराइच में नेपाल सीमा पर गूंजा पाकिस्तान जिंदाबाद का नारा, वीडियो इंटरनेट मीडिया पर वायरल)'.

Alt News found that the supporters of Haji Abdul Kalim were not raising 'Pakistan zindabad' slogans but shouting 'Haji Saab Zindabad', which is clearly audible if one carefully listens to the chants. Bahraich police also put out a

tweet

rubbishing the claims that Pakistan Zindabad slogans were raised at the procession. "The truth is that in the victory procession, the supporters of the newly-elected pradhan only raised slogans of 'Haji Saab zindabad' NOT Pakistan zindabad. This is clear upon closely listening to the audio of the viral video clip," the police statement said. Alt News reached out to Haji Abdul Rahim, the brother of Haji Abdul Kalim, who also refuted the claims.

Alt News found that Dainik Jagran had published a series of reports attempting to downplay the severity of the second wave of COVID-19.

On May 26, 2021

, the Hindi daily

published an image of mass burials

and claimed it was taken in 2018 asserting that most pictures of mass graves at Shringverpur ghat in Prayagraj were old. It then attempted to normalize the number of deaths by portraying there had been no increase due to the pandemic and that such mass burials had always been taking place.

That same day

, Jagran

published

another report in its print edition headlined, 'There was no corona three years ago, but pictures of the banks of Ganga from three years ago were the same.' This report, also published in Jagran's New Delhi edition, highlighted three points (marked in red) – 1) Several Hindu communities practice cremation by burial; 2) the digital media sensationalized the issue; 3) People who died due to leprosy and snake bites were buried on the ghat. A similar report was published in Jagran's

Prayagraj edition

on

May 28, 2021

. No national media outlet had reported on mass burials on the banks of Ganga between March 2018 and December 2018, as claimed by Jagran. 

Strangely enough on May 15, about 10 days before these reports were published, Jagran published an image of dead bodies buried at Shringverpur ghat and reported that 100 corpses were cremated every day since the last week of April. On a usual day, 20-25 bodies are cremated, the outlet said. 

Local independent photojournalist Prabhat Kumar Verma told Alt News that the number of burials in April-May 2021 was the most he had seen, not just at Shringverpur ghat but other ghats as well. Singh also spoke to local priests who corroborated that there had been a massive increase in the number of deaths during said time. 

BJP state minister and UP coordinator

Anamika Chaudhary

and UP co-coordinator Sunil Nishad confirmed to Alt News over a phone call that burials at Shringverpur ghat and Phaphamau ghat had increased during the pandemic.

Shortly afterwards, Dainik Jagran accused Alt News of defamation and filed a petition in a Delhi-based court. They claimed that the fact-checking website had carried false and disparaging statements in its article. In November 2021, civil judge Chitranshi Arora dismissed Jagran's petition and said, "There is no reason for the court to intervene at such an initial stage and stifle the ever-widening contours of free speech, as developed by the higher courts." As of February 2023, Dainik Jagran has not made a correction to their report.  A video of a shadowy figure walking on a highway at night took both media and social media by storm. The 30-second clip had been shared with the claim that an 'alien' or a 'ghost' was spotted in India. The video was amplified by mainstream media channels including Dainik Jagran. The Jagran article titled, "हजारीबाग में विचित्र मानव को देख सहमे लोग, किसी ने कहा एलियन तो किसी ने भूत" was published on May 29, 2021. Jagran did not attempt to find out the real story behind this sighting.

Alt News found that the video had been shot at Seraikela and not Hazaribagh, as was claimed. Local channel Jan Doot News interviewed the two youths who recorded the viral video and said that while returning from Chakradharpur to Seraikela via Kharsawan Road, they spotted a strange woman walking naked. One of the youths was identified as Deepak. They posted a 30-second Whatsapp status which was amplified on social media. Alt News reached out to Deepak who further confirmed that the so-called 'alien-sighting' was actually a naked woman walking down the street. Deepak also sent the original video to Alt News and it can be accessed in the article.

As of February 2023, the report has not been updated with a correction by Dainik Jagran.  In their coverage of Hizbul Mujahideen commander Mehrajuddin Halwai's assassination on July 7, 2021, Jagran used an image of IS terrorist, Omar Hussain. Alt News found that the picture of an ISIS fighter Omar Hussain was used by journalists and carried by media portals in India as Hizbul commander Mehrajuddin Halwai, who was gunned down recently. A video went viral in August 2021, where a man can be heard alleging, "Pakistan's flag is imprinted on the tanga owned by Noor Alam and Wasir that they have been using for 20 years and they claim they are unaware (that Pakistan's flag is imprinted on the tanga). They have a problem saying 'Hindustan Zindabad' but have no shame saying 'Pakistan Zindabad." The man in the video then harasses two poor tanga drivers from the Muslim community, forcing them to chant 'Hindustan Zindabad', 'Bharat Mata ki Jai', and 'Pakistan Murdabad'. He continues to hound them even after the drivers shout the chants. Angered by the unreasonable coverage, Wasir questions the man why they should make the chants and ends the conversation by saying that he will hail both countries. Dainik Jagran also carried a story claiming that the tanga was painted with the flag of Pakistan. On August 25, 2021, Jagran published a report based on the viral video with the headline, "लखनऊ में लगे पाकिस्तान जिंदाबाद के नारे, इंटरनेट मीडिया पर वीडियो वायरल" (Translation: Pakistan Zindabad slogans raised in Lucknow, video viral on internet media).

The police spoke to both parties – the tanga driver and the people who accused him of driving a tanga with Pakistan's flag – and the matter was sorted after it was concluded the tanga adorned an Islamic symbol. Lucknow police confirmed the same to Alt News.

As of February 2023, Dainik Jagran has not made a correction to the story.  Shortly after Neeraj Chopra won the gold in August 2021, Union minister for civil aviation Jyotiraditya M Scindia congratulated him and wrote, "He exhibited the true Maratha spirit & skill!". Several news outlets, including Dainik Jagran, reported about Neeraj's alleged Maratha lineage. According to an August 9, 2021 Jagran article titled "मराठाओं से है नीरज चोपड़ा का नाता, योद्धा बनकर भाले से जीती दुनिया", Neeraj Chopra associated himself with the same Marathas who fought the third battle of Panipat. 

In reality, Neeraj Chopra hails from the Ror (pronounced Raud) community. Based on our interaction with members of the Ror community, it appears that there are two schools of thought --- one section of the community believes that their lineage is closely linked with the Marathas and the other, including Neeraj's family, doesn't believe in the Maratha lineage theory. 

As of February 2023, Dainik Jagran has not made a correction to the story. In January 2021, Dainik Jagran reported that former Pakistani diplomat, 'Agha' Hilaly has admitted that the 2019 Balakot airstrike saw 300 casualties on the Pakistani side. According to the report, during a debate on a Pakistani Urdu channel,

Hilaly said, "India crossed the international border and did an act of war in which at least 300 were reported dead. Our target was different from theirs. We targeted their high command. That was our legitimate target because they are men of the military. We subconsciously accepted that a surgical strike — a limited action — did not result in any casualty. Now we have subconsciously told them that, whatever they will do, we will do only that much and won't escalate,". Jagran cited the news agency ANI in their report.

We found that the report was based on a clipped and doctored video of a panel discussion shared on social media. In the original video, Hilaly states that India had intended to kill 300 people, but in reality, the Indian operation had failed and a football field had been bombed. This was also reported by

BOOMLive

.

On January 25, 2022, a large number of the applicants of the RRB-NTPC exams in UP gathered to

protest on railway tracks

in Prayagraj against the Railways' decision to hold the exam in two stages. During the protest, the students were chased down by the police, and some students allegedly responded by pelting stones. In response to this, the police forcefully entered a nearby hostel and lathi-charged students. A video of the police excess went viral on social media after which six policemen were suspended. Reporting on the protest on January 28, 2022, Dainik Jagran published an article that carried a purported photo of a student injured in police violence.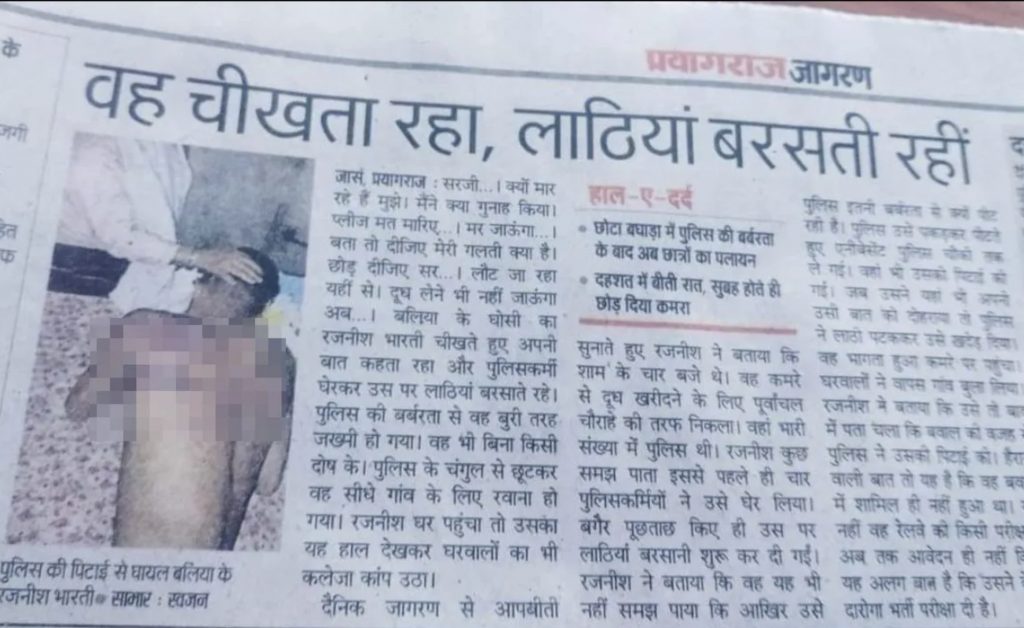 An Alt News fact check revealed that the image used by them was unrelated to the RRB-NTPC protest, and was at least two years old. It first went viral on
Facebook in Bangladesh
with the claim that the person in the photo had violated COVID lockdown guidelines and as a result, the police thrashed him. It was shared with a series of photos that suggests how the incident unfolded. The same photo of the injured youth was viral in Malaysia in 2020 with the claim that the soldiers of the Malaysian Armed Forces assaulted a boy while enforcing the movement control order (MCO). It was
debunked
by the Armed Forces saying that the photo is originally from Bangladesh and was uploaded in 2019.
A video shot during the nomination of Mukhiya candidate Shakir Hussain in Dokidih panchayat of Giridih district in Jharkhand went viral with the claim that slogans of 'Pakistan Zindabad' were raised in the nomination rally. Dainik Jagran published an article on April 23, 2022 in this regard with the headline "गिरिडीह में पाकिस्‍तान जिंदाबाद के नारेबाजी मामले में मुखिया प्रत्‍याशी को भी भेजा गया जेल, 50-60 अज्ञात पर केस" (Translation: In Giridih, the chief candidate was also sent to jail in the case involving sloganeering of Pakistan Zindabad, 50-60 cases on unidentified individuals".
The report is based on a Facebook live stream that went viral. The video portrays the head candidate reaching the block headquarters gate. Jagran claimed that while sloganeering, the Pakistan Zindabad slogan was raised and repeated several times consecutively. Nobody raised any objection. 
Alt News had contacted local residents of Dokidih who said that 'Pakistan Zindabad' slogans were not raised during the procession. Alt News also watched the video carefully in slow motion and analyzed the video in detail. We concluded that slogans of 'Pakistan Zindabad' were not raised but 'Shakir Hussain Zindabad' slogans were raised during the nomination procession of Shakir Hussain, the Dokidih Mukhiya candidate of Giridih district of Jharkhand. Jagran ran the story without verifying the facts.
As of February 2023, Dainik Jagran has not made a correction to the story.
A video of a group of Muslim demonstrators raising slogans outside a mosque had gone viral on social media with the claim that Muslims had staged a demonstration in Saharanpur, Uttar Pradesh after they were stopped from offering prayers on the street. According to a tweet by Dainik Jagran on April 29, 2022, Muslim devotees created a ruckus outside the Jama Masjid in Saharanpur. ("सहारनपुर में सड़क पर नमाज पढ़ने के विरोध के बाद जामा मस्जिद के बाहर हंगामा, मौके पर डीएम तथा एसएसपी").
The official Twitter handle of the Saharanpur Police had issued a statement by SSP Akash Tomar in connection with the viral video which read, ".....when people were returning after offering prayers at the mosque, some media persons asked them provocative questions during which some young boys created a ruckus. But the situation was later resolved. It is now calm and normal….". Alt News had also procured a video by the Imam of Jama Masjid Saharanpur who corroborated the police's statements. Alt News spoke with another journalist who was present on-ground, who revealed that the news being broadcasted over the news and social media was false. To sum it up, an Alt News fact-check revealed that devotees in Saharanpur did not raise slogans after the administration 'prohibited them from offering prayers on the road'.
As of February 2023, the story has not been updated with a correction.
A video had gone viral on social media with the claim that pro-Pakistan slogans were raised in Katni, Madhya Pradesh, following the victory of a Muslim leader in sarpanch elections. Subsequently, Dainik Jagran tweeted on July 2, 2022, 'Slogans of 'Pakistan Zindabad' after Muslim becomes sarpanch: Supporters in Katni chant, 'Pakistan won'. An article on this issue published by Jagran was attached to the tweet.
We examined the viral video carefully and noticed that the slogans being chanted were 'Wazid bhai won – Wazid bhai won' (जीत गया भाई जीत गया – वाज़िद भाई जीत गया) and 'Long live Wazid bhai' (वाज़िद भाई ज़िंदाबाद). We also slowed down the video and could not hear any pro-Pakistan sloganeering. Sheikh Saeed alias Wazid is the husband of Rahisha Begum, the candidate who had won the sarpanch election from the Chaka Gram Panchayat in Madhya Pradesh's Katni district. We reached out to Wazid who also said that there were no slogans raised in support of Pakistan. Sheikh Saeed alias Wazid also shared three videos of the incident with Alt News. After listening to all of these carefully, it became evident that the slogans being chanted were not 'Pakistan Zindabad' but 'Wazid bhai Zindabad'. This was yet another instance of Jagran publishing misinformation without basic verification.
While reporting on the Assam floods in June,
NewsX called the flooding in Silchar '
flood
jihad
' and blamed Assam's Muslim community for the disaster.
Hindi media outlet Dainik Jagran didn't use the phrase 'flood jihad' but its report in July, 2022 stated, "There are signs of a deep conspiracy behind this." An Alt News fact check found that
the communal spin was refuted by the Assam chief minister and the police.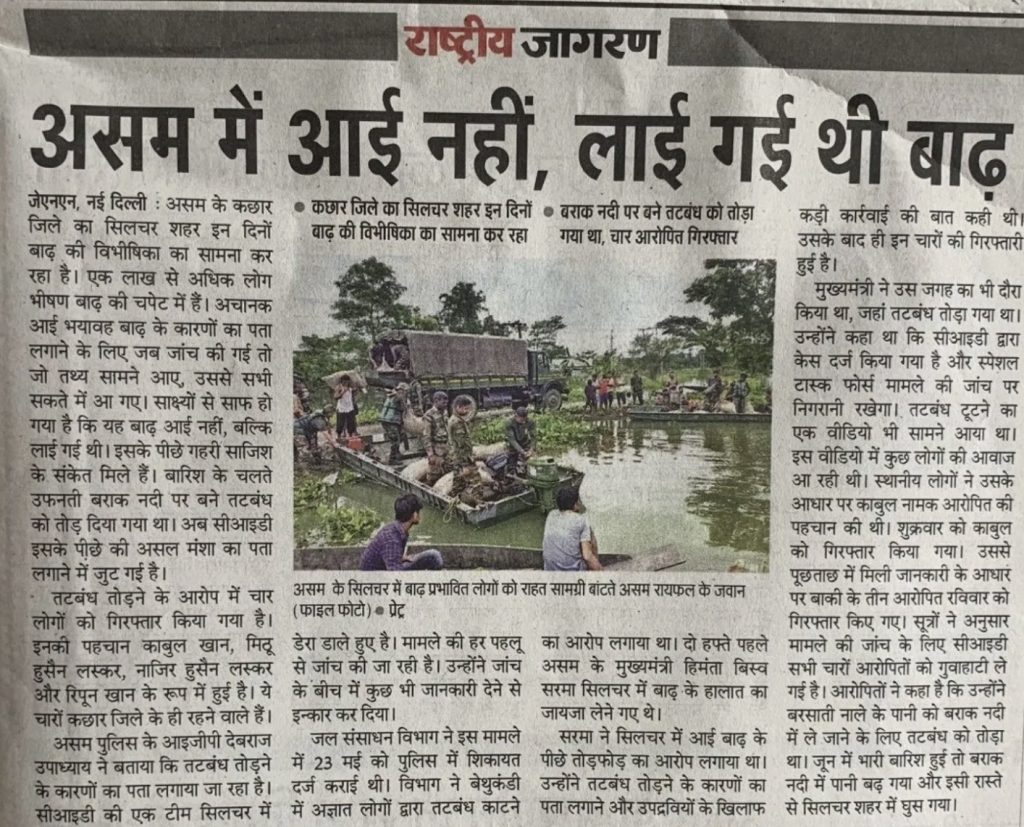 A video purportedly from a wedding had been shared widely on social media. In the video, the groom, who appears to be in an inebriated state, offers the wedding garland (

varmala

) to the woman standing next to the bride. The woman with the garland subsequently slaps the groom in anger. The online portal of

Dainik Jagran

amplified the claim in their report titled, "नशेड़ी दूल्हे ने दुल्हन की बजाए उसकी छोटी बहन को पहनाई वरमाला, गुस्साई साली ने ताबड़तोड़ बरसाए चांटे", published on June 25, 2022.

In reality, the video was scripted. Alt News performed a keyword search on YouTube and found the source video uploaded by a YouTube channel called

Mithila Bazaar

on May 16, 2022. The video description reads, "All characters and story in this video are fictional and intended for entertainment purposes only". The description also mentioned the names of the artists. On checking the timeline of this channel, we found that they often make staged videos for entertainment.

A social media uproar ensued following the alleged ruling by a division bench of the Madras High Court in an appeal filed against a divorce petition. "मद्रास हाई कोर्ट का बड़ा बयान, कहा- गले से मंगलसूत्र उतारना पति से मानसिक क्रूरता की पराकाष्ठा" read the headline of the Jagran article published on July 14, 2022.  Alt News had shown in its fact-check that a PTI story was misinterpreted by a number of media houses.  (This report will be updated if there is a response from any of the concerned parties.)