An open letter reportedly written by physician Devi Shetty, the founder of Narayana Hospitals, is circulating on social media. The letter has been addressed to the Aam Aadmi (Ordinary people) with the subject line 'About Misery Tax'. It claims that the government has introduced 5% service tax on healthcare in the recent budget that will have drastic consequences for the pockets of ordinary citizens, and urges people to assemble on March 12 at the Governor's house of every state with a petition to roll back this 'Misery Tax'. Below we have attached the full letter.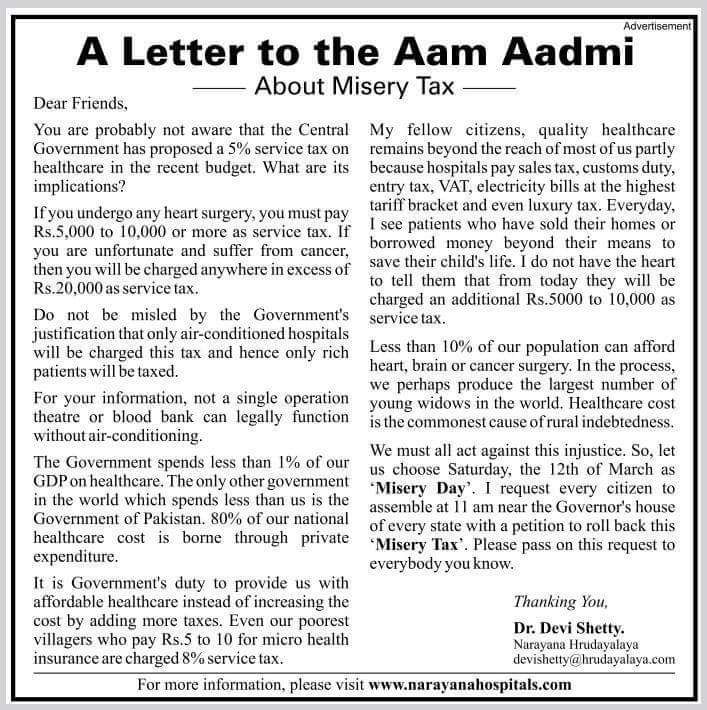 On Twitter, this letter was shared by Karnataka Congress Seva Dal who wrote, "An appeal to PM @narendramodi and FM @nsitharaman to WITHDRAW the inhumane SERVICE TAX on HEALTHCARE"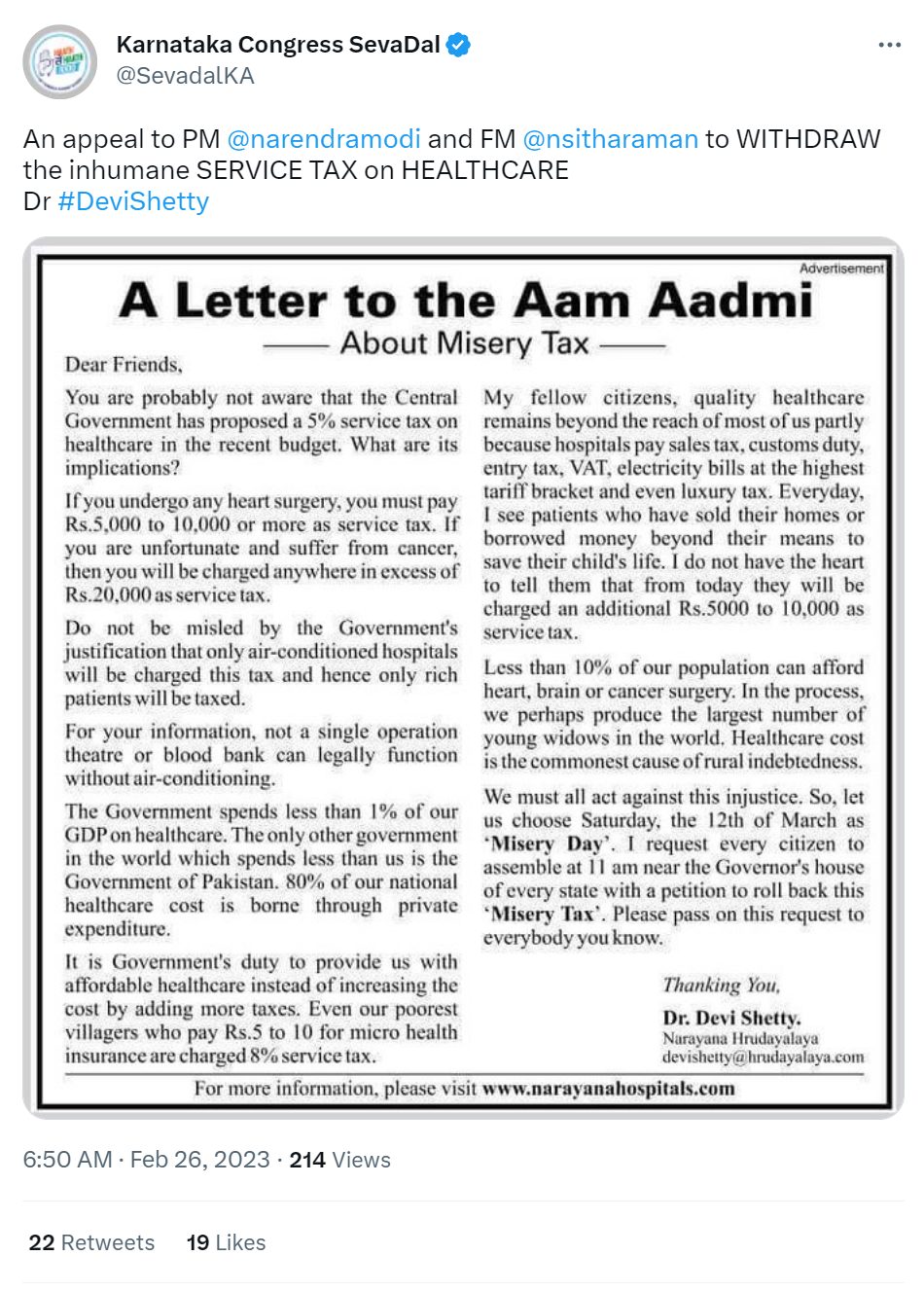 Trinamool Congress MP Jawhar Sircar too shared the claim on Twitter and later deleted his tweet. However, an archive of it is available in the public domain. Mr Sircar's tweet was also quote tweeted by Congress leader and MP Digvijaya Singh before it was deleted.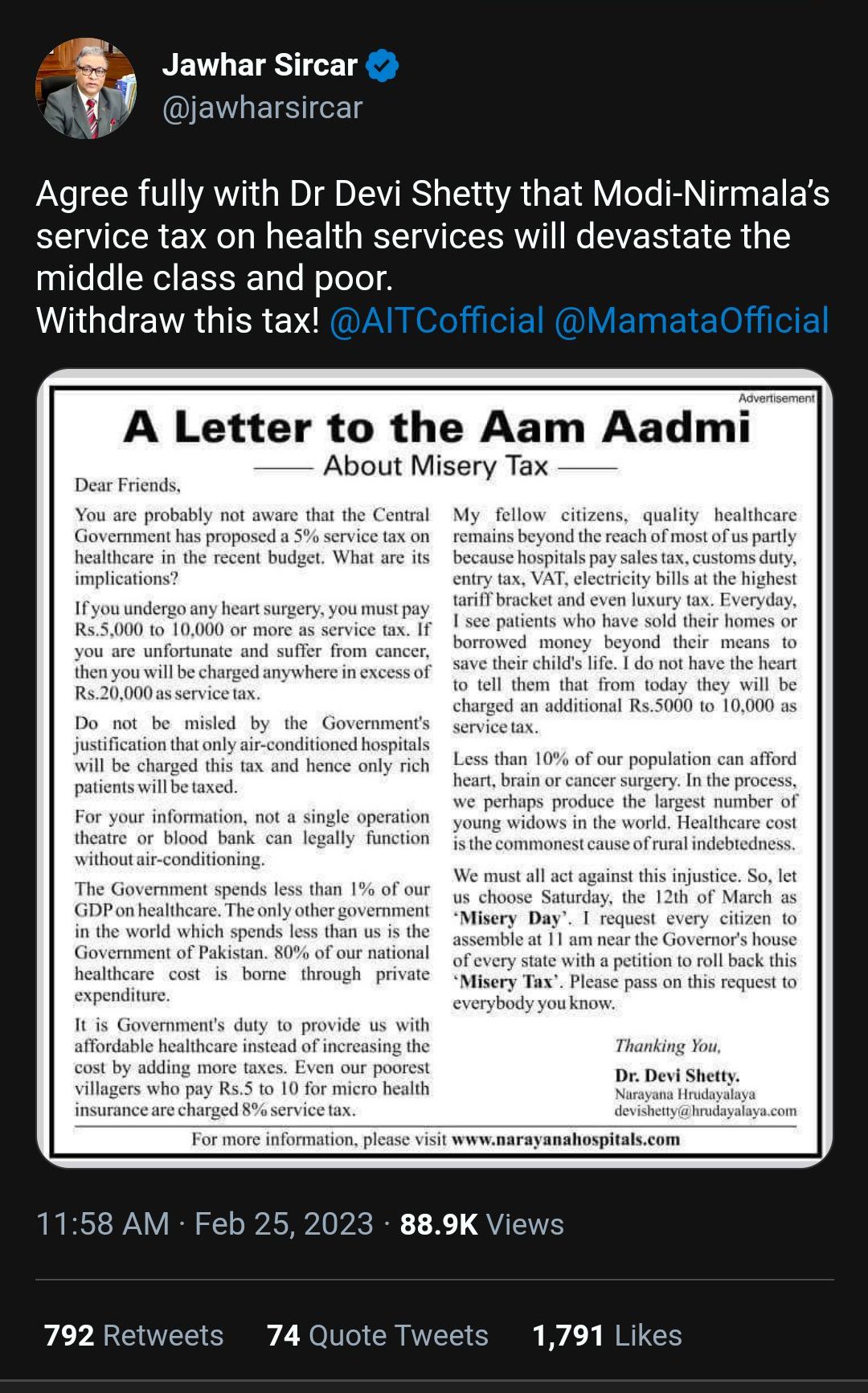 Surjya Kanta Mishra, a Politbureau member of the Communist Party of India (Marxist) and former health minister of West Bengal, too, shared the letter on Twitter. He wrote, "Assemble, Protest to demand and achieve withdrawal of Misery Tax on 'Misery Day' 12 March 2023."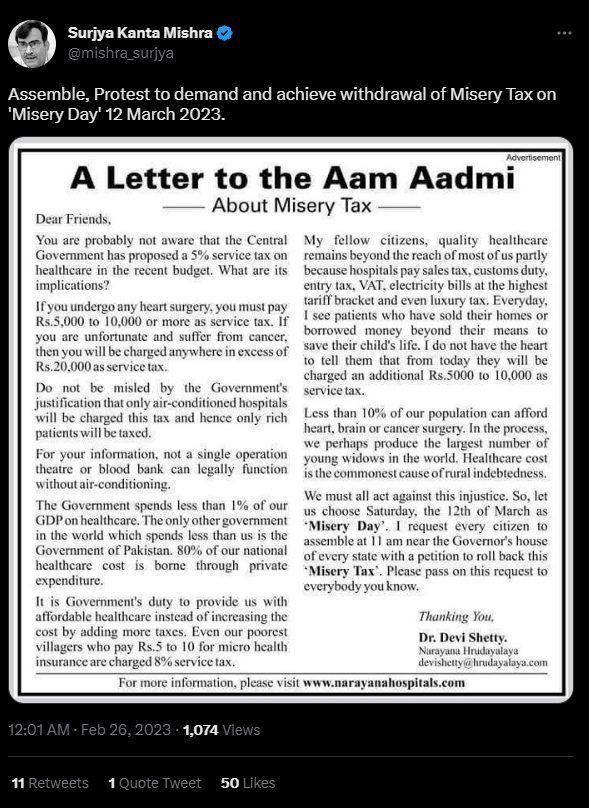 Fact Check
A close reading of the letter suggests that it is unrelated to the recent budget announced by Union minister Nirmala Sitharaman. The purported letter talks about '5 per cent service tax'. Any individual aware of India's contemporary Tax regime would know that Service Tax and various other levies were subsumed under GST and have been phased out since the introduction of GST in 2017.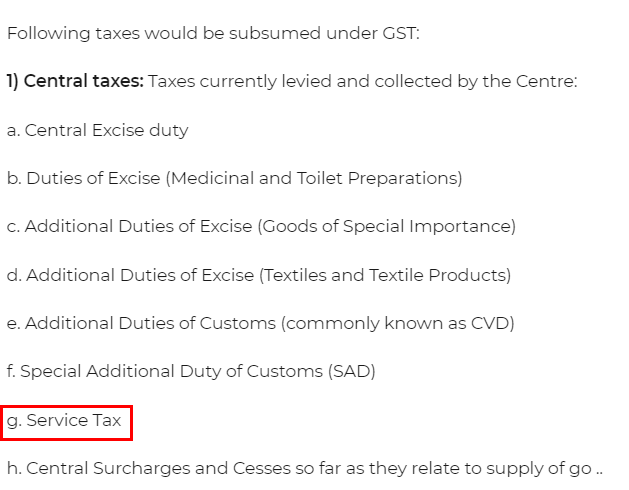 Taking note of this, we performed a keyword search and came across various news reports from 2011. As per these reports, in Union Budget 2011-2012, then finance minister Pranab Mukherjee of the UPA II government had proposed a service tax which was labelled as 'Misery Tax' by Devi Shetty. A Times of India report from 2011 quoted Devi Shetty as well as other senior medical professionals as opposing the tax.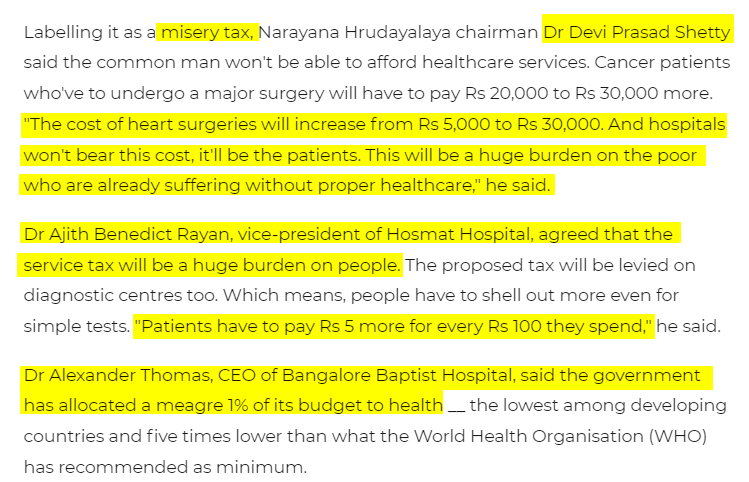 On March 10, 2011, Money Control reported that Devi Shetty met Pranab Mukherjee to seek the withdrawal of the 5 per cent tax on health care services provided by centrally air-conditioned hospitals. Almost a month later, on April 1, 2011, Business Line reported "'Misery tax' is off, following vociferous opposition from the country's leading healthcare representatives".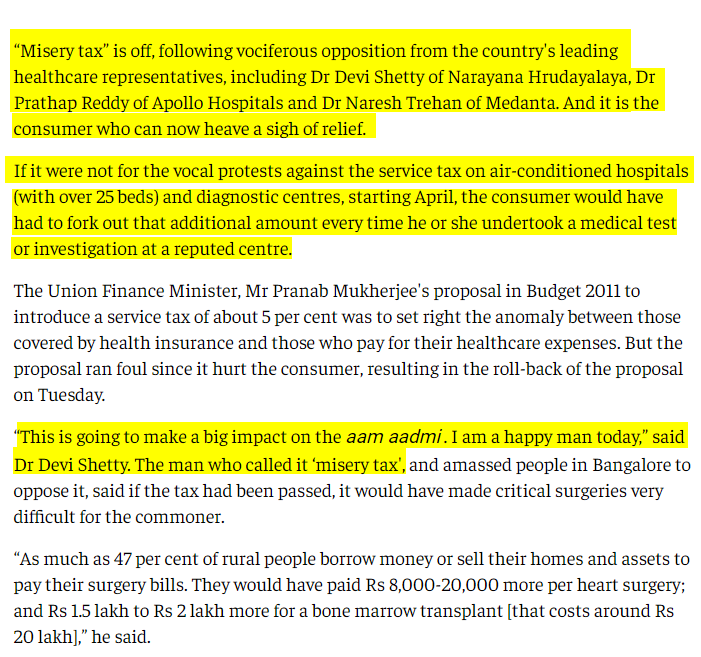 Additionally, with a simple keyword search, various Facebook posts from 2011 can be found where people can be seen sharing the same letter urging fellow citizens to join the demand for the withdrawal of this service tax. A similar letter was allegedly issued by the Indian Medical Association (IMA) in 2011. The IMA's stand on this was reported by The Indian Express.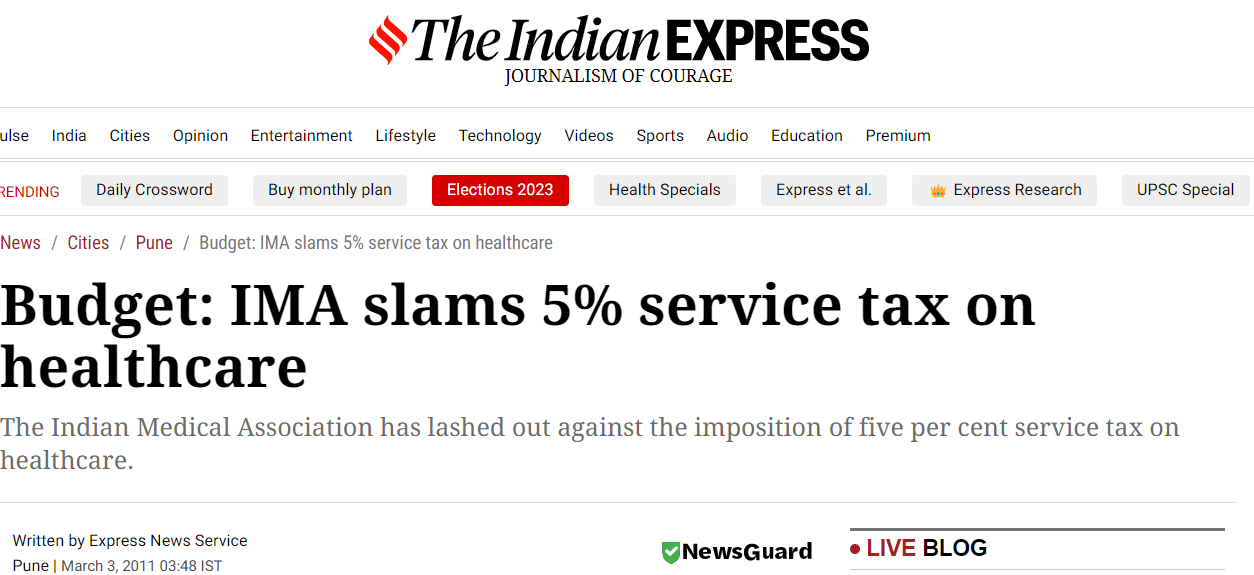 Alt News could not find a reference to a 5 per cent tax on healthcare services in the Union Budget 2023-2024. A copy of it can be found here. However, we did find that during the 47th GST Council meeting in Chandigarh last year, the government reached the decision of charging a 5% GST rate on non-ICU hospital rooms with a rental value above Rs 5000 per day. Later that month, revenue secretary Tarun Bajaj said during an interactive session that the impact of 5 per cent GST on non-ICU hospital rooms would not be significant. To summarise, an open letter written by Devi Shetty, founder of Narayana Hospitals, in 2011 opposing what he termed as 'Misery tax' was falsely shared on social media in the context of the recent Union Budget that was placed on February 1, 2023. A 5 per cent GST rate on non-ICU hospital rooms was introduced last year but it is not related to the content of the viral letter.