A seven-second-long clip of Rahul Gandhi speaking at a press conference is going viral on social media. In this clip, the Congress leader can be heard saying in Hindi, "This country belongs to ascetics, this country is not of priests". Amit Malviya, the in-charge of BJP's national information & technology department, shared this clip on Twitter, and wrote, "Now they have a problem with the priests too…"
अब इनको पुजारियों से भी तकलीफ़ है… pic.twitter.com/zcWnNrVx1Y

— Amit Malviya (@amitmalviya) January 8, 2023
Saurabh Marodia, the social media convenor of BJP Uttar Pradesh, shared the video on Twitter with similar captions.
अब इनको पुजारियों से भी तकलीफ़ है… pic.twitter.com/rSuU3e7sTq

— Saurabh Marodia (@SaurabhSMUP) January 8, 2023
Deepak Prakash, the state president of BJP Jharkhand shared the clip and wrote, "Now they have a problem with the priests too… That's why the country has a problem with Congress."
अब इनको पुजारियों से भी तकलीफ़ है…

इसीलिए देश को कांग्रेस से तकलीफ है.... pic.twitter.com/olQvg3zGFF — Deepak Prakash (@dprakashbjp) January 8, 2023
Other Twitter users who have shared the video with similar captions include @MahantYogiG, @Moresachin8009, @bankim_jani, @ptravidwivedi, @Kanchan000222, and more. [gallery type="slideshow" size="full" ids="142674,142673,142672,142671"] The clip has also been shared on Facebook by several users.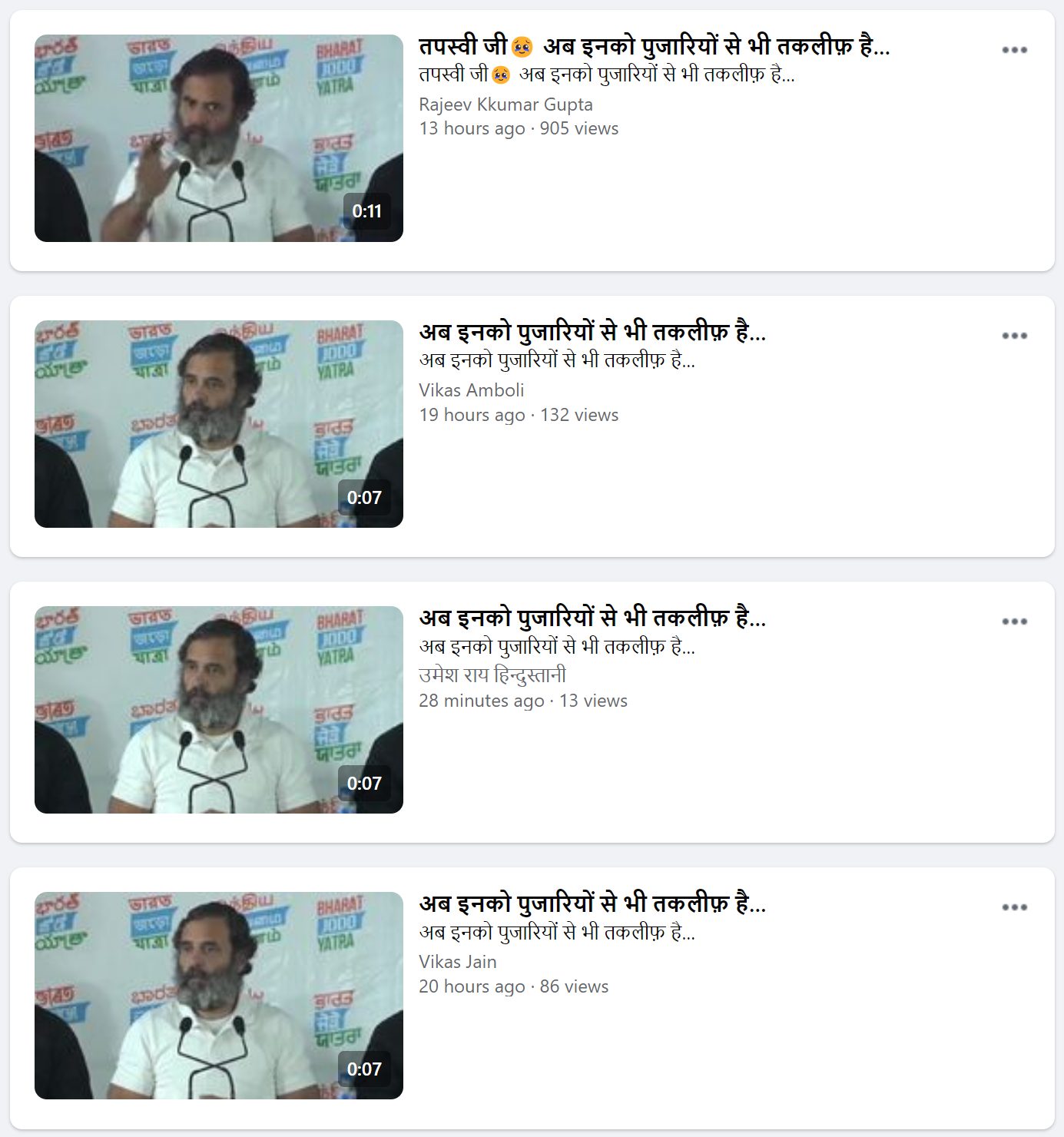 Fact Check
We checked the Twitter account of Bharat Jodo Yatra (@bharatjodo) and noticed that the Congress leader had done a press interaction in Haryana on January 8 around 1:26 PM IST. A quick comparison of the video with the one shared by Amit Malviya suggested that the viral clip has been taken from this press event.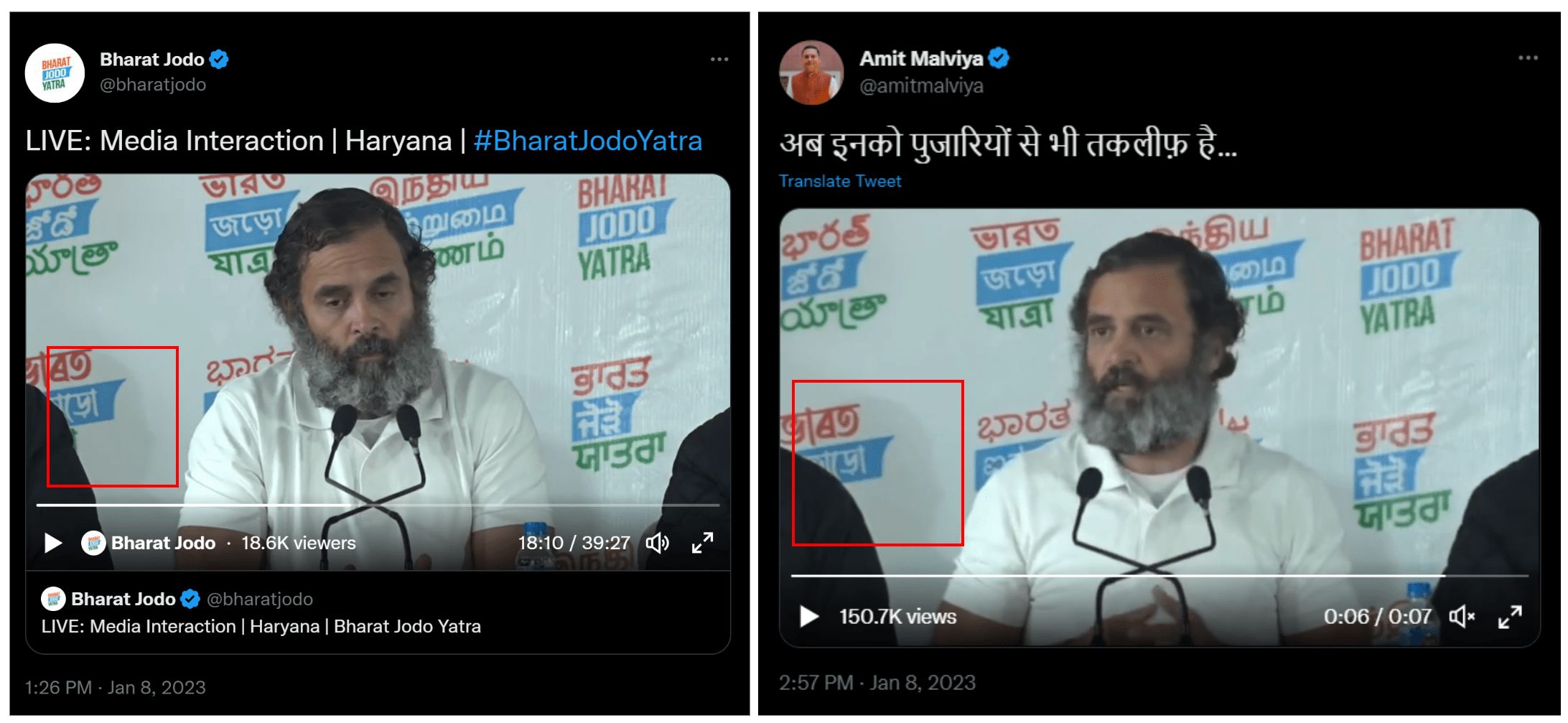 Taking a cure from  this, we checked the full press meet on YouTube. We noticed that the Congress leader spoke about 'Tapasya' (penance) and 'Puja' (worship) to distinguish between the ideologies of the Congress and the BJP. This discourse starts around the 28-minute mark. He says, "If you look at the history of Congress... you just said there is an energy within the workers... this (Congress) is an organisation built on penance (Tapasya). If you ask it (the party) to observe penance, its energy increases. The BJP is an organisation of worship (Puja). If you ask the party to take part in worshiping, its energy increases. Worship can be of two kinds.. I am talking about religion... Normally, worshiping means I go to the gods and I ask for something. The person who is worshiping the god, takes the initiative. The RSS's idea of worshiping is different. The RSS wants that people are forced to pray to them. Modiji wants --- and that's why he doesn't meet you --- that people pray to him forcibly. And that everyone in the country prays to them. There can be only one response to this, and that response is penance. And that is the reason this march has been so successful. Because in this march, not only the Congress party, not only one person,  but lakhs of people are also doing a penance." [youtube https://www.youtube.com/watch?v=hj0PkfL0LhI] He then adds (from 29:55), "...Skills should be respected, hard work should be respected. This is what the Congress party says, historically. The BJP-RSS says there should be no respect for penance. Whoever prays to us, should be respected. Now look at demonetisation through this framework. Did demonetisation respect the penance of the poor? Not at all. It was an attack on penance. Its message was to the farmers, the menial labourers, to the small business owners that no matter how much penance you do, nothing will change..." At 37:15-minute while answering a question, Rahul says "...This is a country of ascetics. The way some people say, 'see Rahul Gandhi has walked so many kilometres'. Why don't they talk about farmers? There is not a single farmer or labourer in this country who has walked less than me. Why don't we talk about them? Because we don't have respect for penance. I respect it. This is the change we want to bring. This country is of ascetics and not of worshipers. This is the reality of this country. And if this country wants to become a superpower, then we will have to respect the ascetics, the producers. We will have to meet them, we will have to open the doors of banks to them and protect them." Below we have added a video comparing the viral clip to the original press conference. https://vimeo.com/787559987 After looking at the full context it could be understood that Rahul made an analogy between Congress and the BJP. Where he compared Congress party workers, farmers, menial labourers, small business owners, and others to that of an ascetic. And the BJP-RSS to those who demand that people come and pray to them. Amit Malviya and BJP leaders yet again shared a video of Rahul Gandhi that has been taken out of context to attack him.