On January 4, a 57-year-old Delhi Police assistant sub-inspector (ASI), Shambhu Dayal, was stabbed multiple times while trying to nab a man accused of snatching a phone earlier that day. He sustained serious injuries and was admitted to Delhi's BLK Hospital. The ASI succumbed to his injuries on January 8. The Delhi Police tweeted, "On January 4, ASI Shambhu Dayal posted at Mayapuri police station was seriously injured after being attacked with a knife while catching a snatcher. Today he was martyred while undergoing treatment at BLK Hospital. We are proud of the courage and devotion to the duty of our brave officer. A heartfelt tribute to him."
बीती 4 जनवरी को मायापुरी थाने में तैनात ASI शंभु दयाल एक स्नैचर को पकड़ने के दौरान चाकू से हमला किये जाने से गंभीर रूप से घायल हो गए थे। BLK हॉस्पिटल में इलाज के दौरान आज वे शहीद हो गए। हमें अपने इस बहादुर अधिकारी के साहस और कर्तव्यनिष्ठा पर गर्व है। उन्हें भावपूर्ण श्रद्धांजलि। pic.twitter.com/uyaEj80vPn

— Delhi Police (@DelhiPolice) January 8, 2023
Sudarshan News, a pro-BJP propaganda outlet, tweeted a clip of its broadcast on January 8, where the anchor reading the news refers to the accused as "Jihadi Mohammad Anish" multiple times.
राजधानी दिल्ली के मायापुरी में अब पुलिस भी असुरक्षित... चाकुओं से की गई योद्धा की निर्मम हत्या, जिहादियों की भेंट चढ़े ASI शंभु दयाल#DELHIPOLICE #ASIMurder@DelhiPolice @HMOIndia @VHPDigital pic.twitter.com/p3YHXCjY4W

— Sudarshan News (@SudarshanNewsTV) January 8, 2023
Prabha Upadhyay, whose Twitter bio says she is the state president of Mahila Morcha Jai Bharat Manch (Uttar Pradesh), also shared the news bulletin by Sudarshan News where the anchor says, 'Jihadi Mohammad Anish killed ASI Shambhu Dayal'.
दिल्ली पुलिस के ASI शम्भु दयाल जी नही रहे 😢😢 जिहादी मोहम्मद अनीश ने चाकुओं से किया था हमला दिल्ली के मायापुरी में अब पुलिस भी असुरक्षित, जिहादियों ने ASI शंभु दयाल की चाकुओं से की निर्मम हत्या, ओम् शांति 🙏🏻🙏🏻https://t.co/o9tWIy2URi pic.twitter.com/VYkWZ6JJNo

— Prabha Upadhyay@BJP (@PrabhaUpadhya21) January 9, 2023
Times Now Navbharat also mentioned in its report that a suspect named Mohammad Anis stabbed ASI Shambhu Dayal. (Archive)
#BreakingNow: दिल्‍ली में ASI शंभू दयाल पर हमले का #CCTV फुटेज आया सामने, 4 जनवरी को अनीस नाम के बदमाश ने किया था चाकुओं से हमला @rrakesh_pandey #DelhiCrime #ASI #DelhiPolice pic.twitter.com/QasmDlZdVd

— Times Now Navbharat (@TNNavbharat) January 10, 2023
NDTV in its report on January 10 named the suspect as Mohammad Anish. The caption of the tweet read, '#Delhi : CCTV of attack on ASI Shambhunath surfaced, died during treatment'. The caption called the late officer as 'Shambhunath' instead of 'Shambhu Dayal'. (Archive)
#Delhi : ASI शंभूनाथ पर हमले का CCTV आया सामने, इलाज के दौरान तोड़ा दम pic.twitter.com/ls8mUL5M8g

— NDTV India (@ndtvindia) January 10, 2023
An Aaj Tak broadcast was tweeted by Sanjay Singh of the Aam Aadmi Party. In this broadcast, the host, Sayeed Ansari, calls the suspect 'Mohammad Anis'.
शहीद शम्भू दयाल जी की बहादुरी को नमन। अगर चश्मदीदों ने कायरता का काम नही किया होता तो बच सकती थी बहादुर शम्भू दयाल जी की जान। pic.twitter.com/qJESbS8kSV

— Sanjay Singh AAP (@SanjayAzadSln) January 10, 2023
Other public figures and journalists who have tweeted about the incident and named the suspect as 'Mohammad Anish' or 'Jihadi Anish' include the National Spokesperson of VHP (Vishwa Hindu Parishad) Vinod Bansal, Sagar Kumar of Sudarshan News, Ravi Jalhotra, senior journalist with ANI, Mahesh Kumar Srivastava, a journalist affiliated with Sudarshan News, Ashish Vyas of Sudarshan News, BJP Delhi spokesperson KhemChand Sharma. Ravi Bhadoria who is followed by Prime Minister Narendra Modi, tweeted about the incident as well. He named the accused as 'Anis' in his tweet. [gallery type="slideshow" size="full" ids="142845,142846,142847,142848,142849,142850,142868"] Sudarshan News also published a news report about the incident where they described the accused as a 'Jihadi'. News Track also named the accused the same. [gallery type="slideshow" size="full" ids="142861,142862,142863"]
Fact Check
We performed a keyword search on Google and came across a news report by The Indian Express published on January 9. As per the report, a woman had approached officer Dayal for help after her phone had been allegedly snatched by a man. Taking cognizance of her complaint, he took the complainant to the spot of the alleged crime where she identified the accused. When officer Dayal was taking the accused to the police station, the accused pulled a knife and stabbed the officer. In this report, the suspect is identified as Mayapuri resident Anish Raj (24).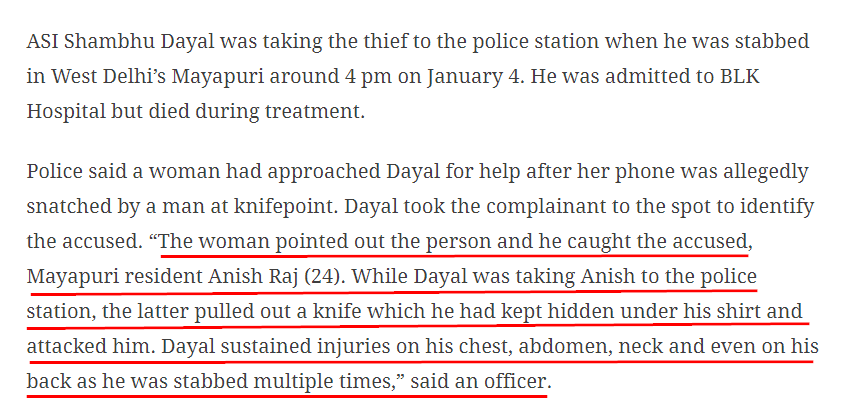 Alt News accessed a press release issued by the Delhi Police via WhatsApp on January 4 i.e., on the day of the incident. As per the press release, the accused is Anish, the son of Prahlad Raj.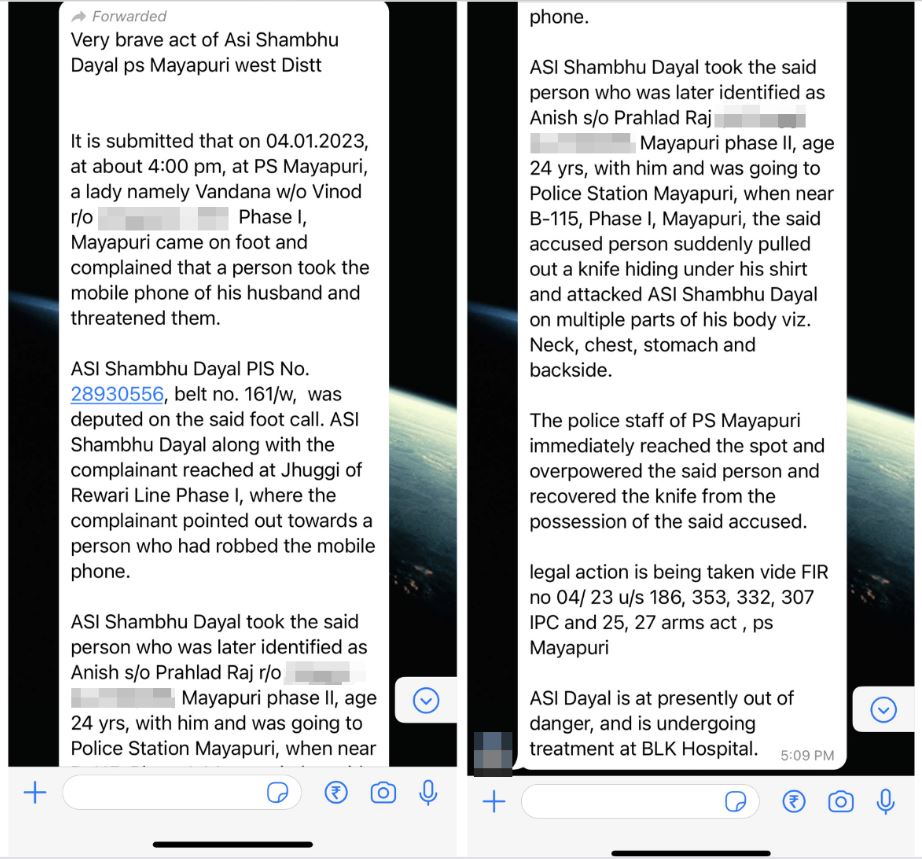 Additionally, Alt News spoke with the station in-charge of Mayapuri West. He confirmed that the accused was a Hindu and there was no communal angle to the incident. To sum it up, the incident of an officer being stabbed in Delhi's Mayapuri was misreported by a number of media houses as they got the name of the accused wrong. Sudarshan News and its journalists communalized the crime by describing the accused as a 'jihadi'. Last year, a similar stabbing case that happened in Delhi's Naraina was given a communal twist by social media users and politicians.