On February 1, journalist and former managing editor of Mail Today Abhijit Majumder tweeted a 43-second clip of a speech by Pirzada Taha Siddiqui of Furfura Sharif in West Bengal and wrote that the cleric was exhorting 'Ms to prepare their children for war against Hs'. (Archive)
Peerzada Taha Siddiqui of Furfura Sharif mazaar, #Bengal, exhorts Ms to prepare their children for war against Hs. pic.twitter.com/nHffOKcDTM

— Abhijit Majumder (@abhijitmajumder) February 1, 2023
The tweet soon went viral and has received close to 1,500 retweets and over 1.6 lakh views. The next day, Twitter user Sourish Mukherjee, who describes himself as the media in-charge of VHP Bengal tweeted the same clip and wrote that Pirzada Taha Siddiqui of Furfura Sharif had urged his community to prepare their children for war against Hindus. 'Provocative hate speeches targeting Hindus are increasing by the day, but how long will these go unnoticed!!,' he wondered. (Archive)
The person in the video is none other than Peerzada Taha Siddiqui of Furfura Sharif, Hooghly..

He urged his community to prepare their children for war against Hindus. Provocative hate speeches targeting Hindus are increasing by the day, but how long will these go unnoticed!! pic.twitter.com/Zodfo8yOlv — Sourish Mukherjee (@me_sourish_) February 2, 2023
Another Twitter handle, @RashtraJyoti, which describes itself as a 'Gems of Bollywood initiative', and is run by Sanjeev Newar and Swarajya Journalist Swati Goel Sharma as per the bio, shared the clip of Taha Siddiqui's speech on February 2 and wrote that the cleric was 'asking Muslims to prepare their children for a war against Hindus.' (Archive)
pic.twitter.com/biabZa7a8b — Rashtra Jyoti (Gems of Bollywood initiative) (@RashtraJyoti) February 2, 2023
Quote-tweeting Majumder's post, senior adviser, ministry of information & broadcasting, Government of India, Kanchan Gupta wrote, "

Years ago I wrote an article headlined 'How green is my Bengal?' which fetched the usual cacophony of

#LeftLiberal

protest and snark. Sadly Bengali 'intellectuals' are collaborators in this hate project. Useful Idiots don't realise the mob will devour them first."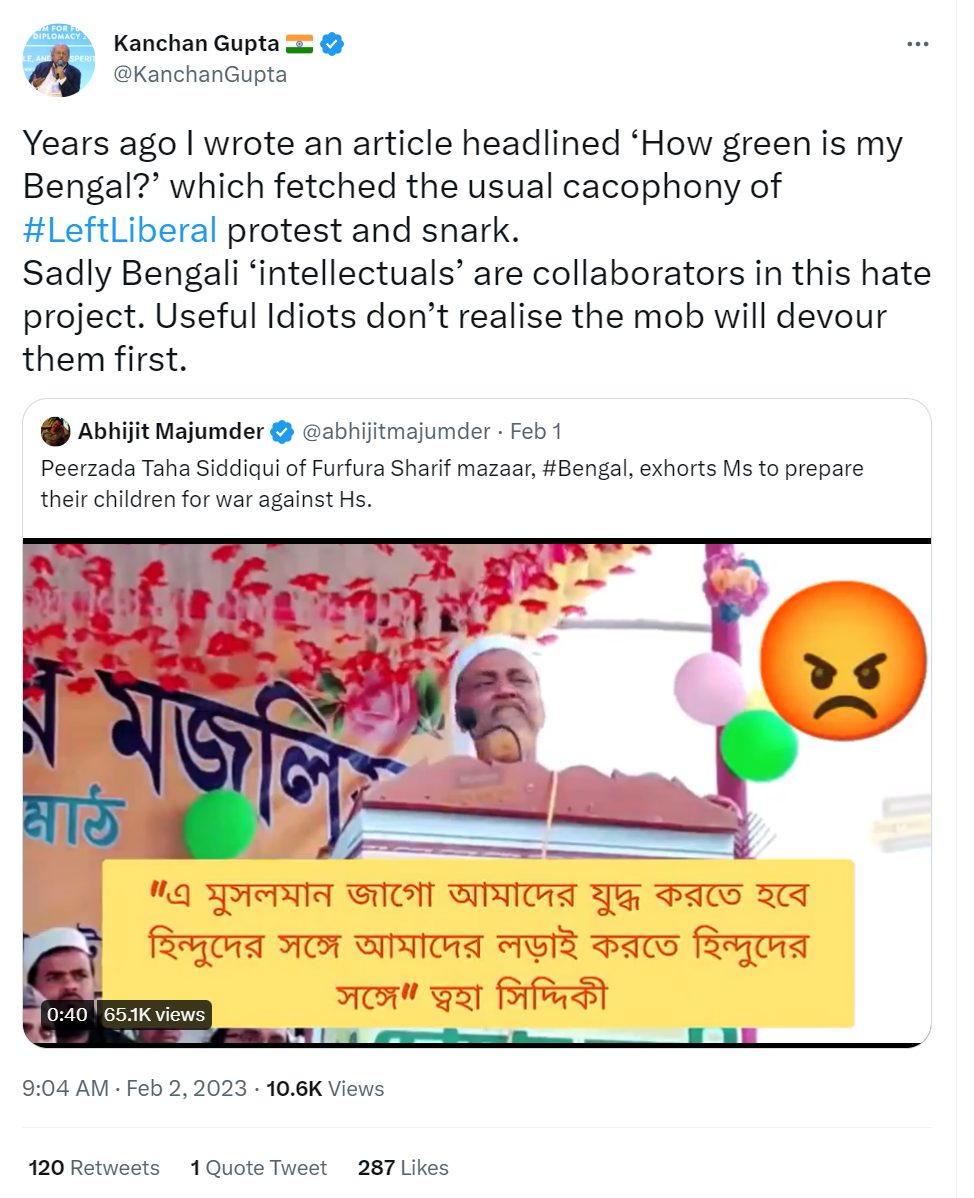 The same video and the same claim were also amplified by users such as Debjani Bhattacharyya, Rakesh Singh, Hindu Genocide Watch, among others.
Fact Check
On doing a keyword search on Twitter, we came across a video of the same speech posted by journalist Tamal Saha. This clip -- running for 2.11 minutes --- is longer than the viral one.
Fact: On Jan 27 Furfura Sharif Pirzada said :Muslims wake up, parents teach your children to fight. Get ready, #Muslim children have to fight a war against #Hindu & #Christian. But that war should not be fought with swords, arms or lathis. That war should be over EDUCATION ..1/2 pic.twitter.com/rerzL1BRT6

— Tamal Saha (@Tamal0401) February 3, 2023
In this clip, addressing a large gathering Siddiqui says in a high pitch, "O Muslims, wake up! teach your sons and daughters to fight. Be prepared. Fathers and mothers, prepare your children. We have to fight against the Hindus." After saying so far, he says in an undertone apparently referring to another occasion, "When I said this, I noticed that the faces of the ministers seated on the dais had shrunk.. everybody was flummoxed.. they started wondering if I had gone there to spread the fire of communalism." Then he switches back to the high pitch and resumes, "I am saying this again. Muslims, be prepared and prepare your children. Teach them to fight against the Hindus and the Christians. But that fight should not be fought with swords, guns or sticks. That fight will be fought over education." Then again he says in an undertone, "The moment I said this, everybody started laughing." Siddiqui then continues, "In Bengal, Hindu and Muslim boys and girls will compete with each other over education and go forward. One day, Hindu and Muslims boys and girls of Bengal will make so much progress that they will together fight against other states over education." So, it is clear that the cleric from Furfura Sharif in Hooghly district of Bengal was not talking about Muslims waging a war against Hindus, but batting for competition among the communities over education, and calling for progress of all. To understand the context of his reference to 'ministers on the dais' in between his exhortation, we looked for the full video and found it on a YouTube channel, Waz Mahfil 21. [youtube https://www.youtube.com/watch?v=QFaOQhU7BEQ] The YouTube video starts with clipped parts from Siddiqui's speech but has the entire speech afterward. At the 14.43-minute mark onward, he starts talking about the need for higher education. Then he says that he had recently gone to Rajarhat (a locality in the northern fringes of Kolkata) and addressed a few thousand Hindu and Muslim students who were to take the secondary and higher secondary examinations. He says that he had said the same things (Hindus and Muslim youths competing/fighting with each other over education) on that day. His words first shocked the audience and the ministers on stage, but then everybody appreciated his comments when they realized he was talking about education. The relevant part can be heard from the 15.34-minute mark in the video. To sum up, several Twitter users shared a clipped part of Furfura Sharif Pirzada Taha Siddiqui's speech to falsely claim that he was asking Muslims to prepare their children to wage a war against Hindus. In reality, he was referring to children of all faiths competing among themselves over education.