Several BJP leaders took part in a march in Mumbai on January 29 christened 'Hindu Jan Akrosh Morcha' that sought to stop 'Love Jihad' and 'Land Jihad', implementation of anti-conversion laws, and a ban on the use of loudspeakers in mosques. Multiple speakers delivered objectionable speeches that can be termed hate speech, where the content ranged from the dehumanization of Muslims to the economic and social boycott of them. The speeches were also laden with misinformation and repeated pejorative references against the Muslim community. The march started from Mumbai's Shivaji Park and was attended by thousands, mostly women. Though the speakers stressed that the rally was meant for ensuring the 'safety of Hindu daughters and sisters', it turned into an occasion for the amplification of several far-right conspiracy theories that have gained mainstream recognition in recent years. The event at Shivaji park started around 10.30 am with a woman delivering a speech in Marathi. After a few chants of 'Jai Sri Ram', she said if Chhatrapati Shivaji had not been there, all Hindus would have been circumcised. Followed by this, she told the crowd that the rally had been organized against 'Love Jihad' and 'Land Jihad'. As she spoke, minors dressed as Hindu deities and historical figures stood next to her.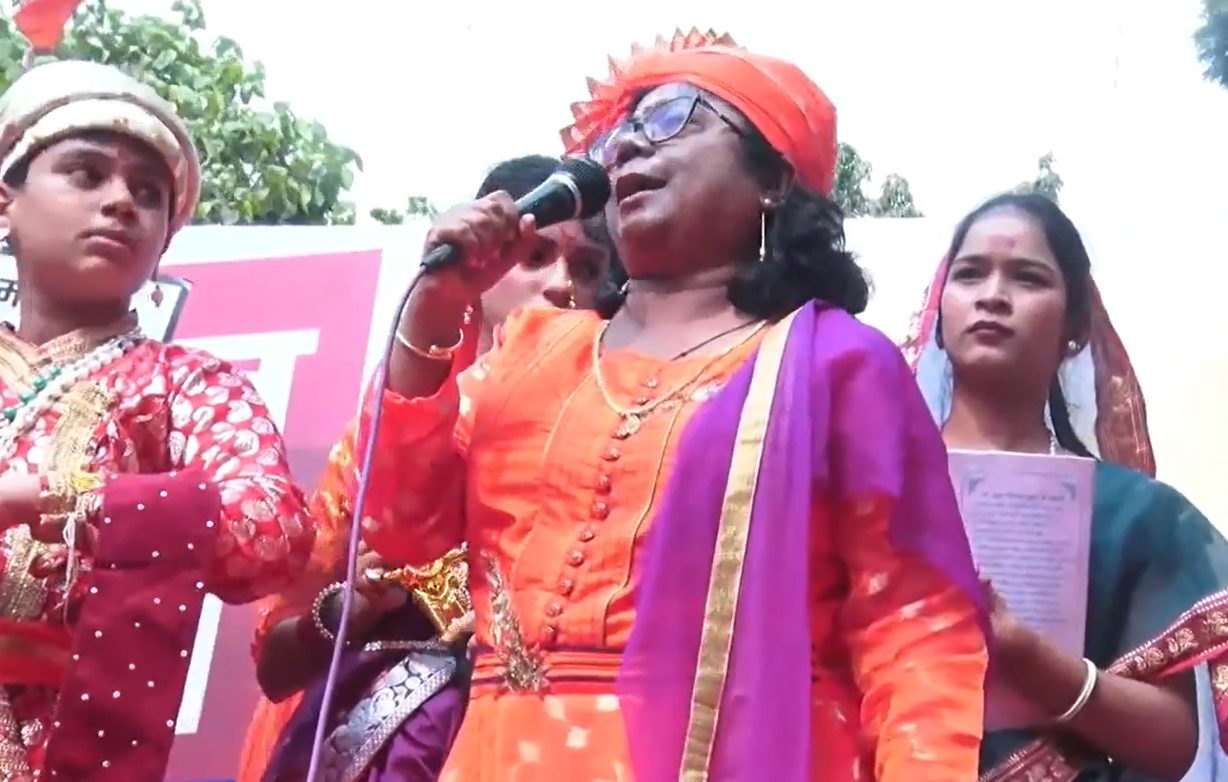 Around 11.20 am, the crowd started walking, and the march took the following route: Shivaji Park Police Station Border - Meenatai Thackeray Statue - Shiv Sena Bhavan - Gokhale Road - Jakhdevi Chowk - Babu Bhallan Chowk - Tilak Bhavan - Kamgar Stadium, a distance of about 2.2 kilometres. The route appears to have been chosen strategically with the message for the Uddhav Thackeray-led Shiv Sena that they have become soft on Hindutva issues. Other than the usual chants of Jai Sri Ram and Vande Mataram, some of the slogans raised from the procession were:
'Ayodhya Abhi Jhaki Hai, Kashi-Mathura Baki Hai'
'Jis Hindu Ka Khoon Na Khole, Woh Khoon Nahi Woh Paani Hai'
'Jo Desh Dharam Ke Kaam Na Aye Woh Bekaar Jawani Hai'
'Jo Hindu Heet Ka Kaam Karega, Wohi Desh Main Raj Karega'
'Abdul Ho Ya Ho Aftaab, Sab Ne Padha Ek Hi Kitaabh'
'Tu Durga Ban, Tu Kaali ban, Kabhi Na Burkhe Wali Ban'
'Dharam Chhod Kar Jaoge, Tukdo Main Batt Jaoge'
'Awaidh Masjid-Kabristan, Land Jihad Ki Yahi Nishan'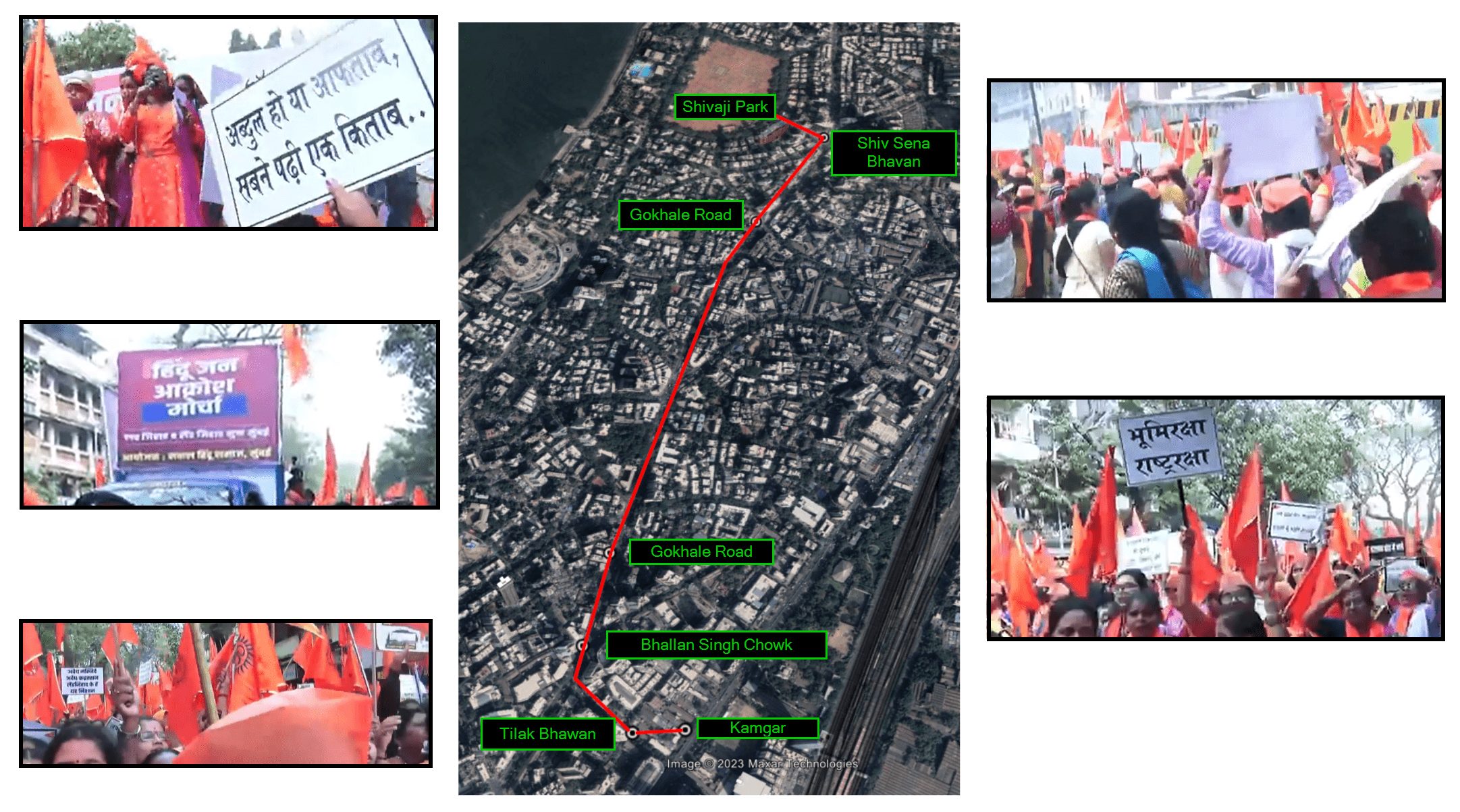 Below we have added a montage of all the slogans heard during the rally https://vimeo.com/795830229 It has been reported that the rally was organised by the RSS, VHP, Bajrang Dal, Vishwa Sanatan Sangha, Vanvasi Kalyan, Rajput Youth Front, Karni Sena and All India Maheshwar Samaj under the banner of the Sakal Hindu Samaj. And as per Mumbai police's estimate, approximately 10,000 to 12,000 people participated in the rally. Alt News found that several BJP leaders participated in the march and/or encouraged citizens to participate via social media posts. Some of them have been listed below: Raja Naval Singh Lodh 'Tiger' alias T Raja Singh (suspended BJP MLA from Telangana), Akshata Tendulkar (BJP leader), Sanjay Upadhyay (BJP leader), Narendra Patil (MLA), Rajeshree Shirwadkar (BJP leader), Niraj Ubhare (general secretary, BJP south-central Mumbai), Ameet Satam (MLA-Andheri West), Pravin Darekar (MLC), Advocate Ashish Shelar (president, BJP Mumbai), Kirit Somaiya (BJP leader), Prasad Lad (BJP Leader), and Sunil Rane (BJP leader). [gallery type="slideshow" size="full" ids="146070,146071,146072,146073,146074,146075,146076,146077,146078,146079"] Akshata Tendulkar addressed the rally once it reached Kamgar Maidan. The chief guest of 'Hindu Jan Akhrosh Morcha' was suspended BJP MLA from Goshamahal, Telangana, T Raja Singh.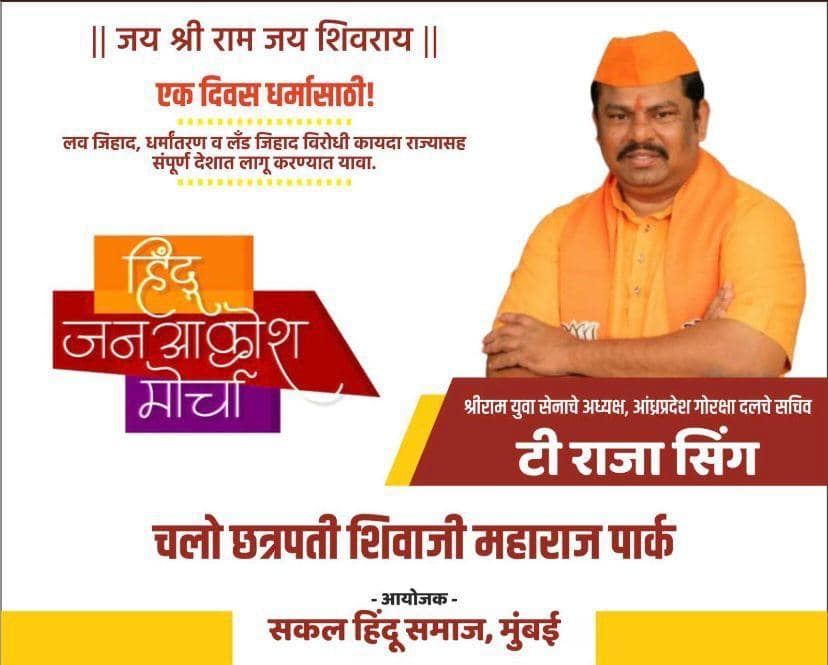 At Kamgar Maidan
At Kamgar Maidan, co-host of the event Umesh Gaikwad addressed the gathering. He reminded the people that it was not a rally for political parties, but an event organised for the protection of Hindu women. He made the demand to bring in laws against 'Love Jihad', and 'Land Jihad', and said the rally was meant for addressing the anger of the Hindu community. He also said women should lead from the front and men should stand at the back. Addressing the women, Gaikwad then said just as they were standing under the scorching sun with no shade, Hindu women were being burnt. He added that the event would be conducted under the boundaries of the law and if the authorities didn't pay heed to their demands, there would be consequences. Followed by this, Gaikwad introduced the guests of the event. The first guest he called on stage was Akshata Tendulkar. He introduced her as a 'Hindu lioness' who successfully tackled 'Bangladeshis, and Rohingya hawkers who occupy the borderline of Dadar, ogle at Hindu women and forcibly occupy public space'. Akshata Tendulkar then addressed the public in Marathi. Below is a summary of her speech: Summary: Muslim invaders inflicted countless atrocities on women which we can never forget. Our forefathers made supreme sacrifices for the protection of the Hindu nation. In Gujarat and Rajasthan, Hindu women jumped into the fire instead of accepting Islam. Mumbai is the economic capital of India and is known for crores of business turnover, but it is sitting on a time bomb of kurta pyjama clad miya bhai (Muslims) with skull-caps who are occupying the traditional markets. I urge the fishing community women that when they chop fish for their daily work, the same must be shown to the Muslims. Is that koyta (knife) just for cutting fish? The time has come to pull out Koytas. The word 'Halal ' has to be removed from India. https://vimeo.com/795836588 Followed by this, the second guest, Karishma Bhosale, delivered her address. Bhosale leapt to fame in 2020 when she visited a locality in Mumbai and asked the mosque in the neighbourhood to lower the volume of azaan (Islamic call to prayer). She was later issued a notice by the Mumbai police. Bhosale too addressed the crowd in Marathi. Here is a summary of her speech: Summary: The right to live peacefully precedes the fundamental right to practice religion. Gulf countries have a ban on loudspeakers. The Supreme Court has set guidelines for the same. Loudspeakers cannot go beyond 55 decibels as ordered by the SC. Police are not enforcing the law when it comes to the mosque loudspeakers. They are soft on Muslims. Hindus, henceforth, will not care for the law. Eighty per cent of those accused of cyber scams are Muslims. The Muslim hawker who whisks away your daughter is not known to the gullible Hindus. Don't test the patience of the Hindus. The Hindus will take a tough stand like Hanuman and set fire to the Lanka of Muslims' Jihadi mindset which is growing. Strong laws need to be enacted by the state. https://vimeo.com/795841573 The third guest, Advocate Neha Patil, too, addressed the crowd in Marathi. She spoke on various issues related to the protection of the land. She also said that Waqf Boards across the country were occupying government properties. In the end, she made the spectators take a pledge to make India 'Jihad Free', and work for the elimination of Jihadi forces in the country for the formation of Hindu Rashtra. https://vimeo.com/795846616 Before the next speaker came on to the stage, the audience was encouraged by the female host of the event to chant the slogan, "Dekho Dekho Kaun Aya? Owaisi Ka Baap Aya". The next speaker was Sakshi Gaikwad. In her speech, she offered a commentary on Muslim men and women. She compared Muslim men to sacrificial lambs. She said, "We see miyas (Muslims) as sacrificial lambs that have beards and no moustache". She says Muslims should stop whatever they are doing or else they will be sacrificed like those lambs. Referring to the movie 'The Kerala Story', Sakshi Gaikwad sais that 35,000 Hindu women had been forcibly taken to the Gulf countries. Alt News had debunked this blatant misinformation that was popularized through the movie. She also compared the uterus of Muslim women to infertile land and says Muslims pursue Hindu women because of this. She later said that she had received a message from a Muslim woman telling other Muslim women about the benefits of being Hindu. One of the benefits, according to her, is that one doesn't have to 'dress like a crow at 48 degree Celsius'. The full transcript of her speech can be read here. https://vimeo.com/795848053 T Raja Singh, who is commonly referred to by his followers as Tiger Raja, delivered the final address at the event. Singh has a history of delivering objectionable speeches. The Print reported that Raja Singh had earned himself a place in Mangalhat police station's list of 'rowdy-sheeters' owing to his incendiary speeches. In 2020, Meta de-platformed the Hindutva leader for violating its policy on hate speech. T Raja Singh was arrested in 2022 for making defamatory remarks against Islam and Prophet Mohammad. He was later suspended from the Bharatiya Janata Party. Later in November of that year, he was released by the Telangana high court on the conditions that he would not 'take out a victory rally on his release, address the media or post any derogatory speech on social media'.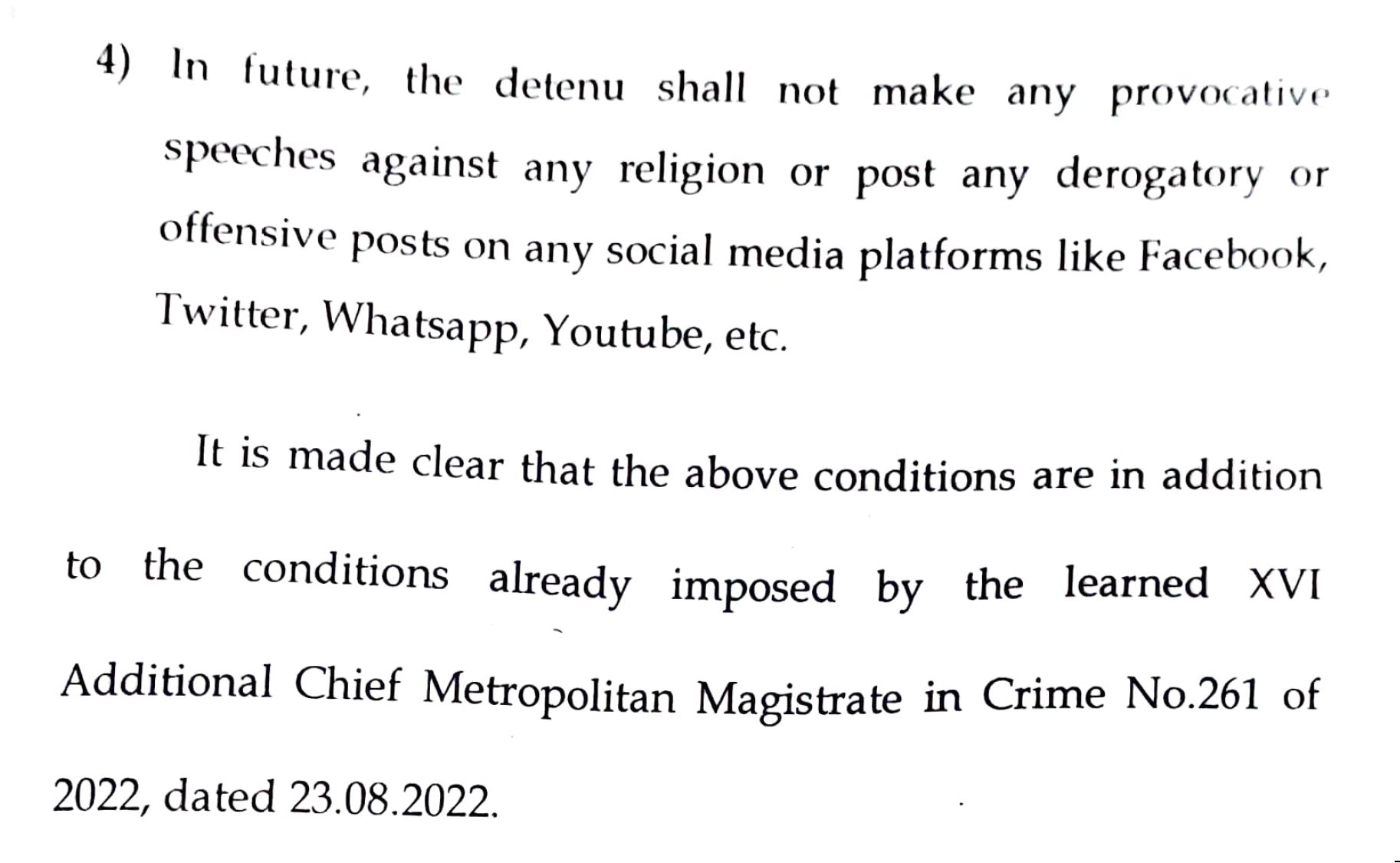 T Raja's addressed the audience at the 'Hindu Jan Akhrosh Morcha' and said the following things: "This Hindu public support here today is testimony that if the centre and state governments don't enact a law on 'Love Jihad' and religious conversion, then this small Hindu spark will turn into a volcano soon. I will tell both governments that when a 'landa (Muslim)' lifts his head Hindus can crush his head. Hindu women must become like Jijata who gave birth to Chhatrapati Shivaji Maharaj to combat Aurangzeb. Today in the name of Love Jihad, the number of Afzal Khans is increasing and we need more Shivaji Maharajs. From whichever house an Afzal khan emerges, he will be torn apart. I appeal to all women to give birth to Hindu warriors like Chhatrapati Shivaji Maharaj. Hindu Gods and Goddesses are being denigrated. Both the governments are silent when it comes to protecting the rights of the Hindus. 3,000 Hindu girls have become victims of Muslims. Learn self-defence, if any 'Landa ' comes towards you, then his neck can be twisted. Hindus must buy all their essentials, however small, from Hindu shops and not from the Jihadis. Buying from Muslims amounts to funding them to attack Hindus. India is not an Islamic state, and halal certification must be banned or removed. Hindu Supremo Balasaheb Thackeray used to say my Hindu should not only ring temple bells, but also smash the landas and Love Jihadis.... (he should be one who) slashes the neck of Muslim butchers. Gear up for the future war and become a Hindu volcano. Don't keep quiet till the law is passed by the government". He also referred to a false Love Jihad rate card in his speech which had been debunked several times in the past. The full transcript of his speech can be read here.
Location: Mumbai, Maharashtra

Hindutva leader & Telangana MLA T Raja Singh gives open call for violence & killing Muslims at the Hindu Jan Akrosh Morcha event organised by Sakal Hindu Samaj. More than 10000 people attended this event on Jan 29. @DGPMaharashtra pic.twitter.com/gqeOVADX7B — HindutvaWatch (@HindutvaWatchIn) January 31, 2023
The link to all the speeches can be found here (1, 2, 3).
Not An Isolated Event
Alt News found that the 'Hindu Jan Akhrosh Rally' has been held across multiple regions of Maharashtra. On December 18, a rally was held in Pimpri Chinchwad, Pune, on December 22, in Dhule, on January 1, in Kolkhapur and on January 22, in Pune. Suresh Chavhanke of Sudarshan News was the chief guest at the rally held on December 22 in Dhule. https://vimeo.com/795826244 As per The Indian Express, the Hindu Jan Aakrosh Morcha had started with a massive rally in the Parbhani district in the Marathwada region in November last year. The report says, "Over the past three months, such rallies have been organised across Maharashtra, in over 20 districts, including Parbhani, Nanded, Ahmednagar, Kolhapur, Gadchiroli, Satara, Karad, Sangli, Solapur, Pune, Dhule, Jalgaon, Nagpur, Amravati, Hingoli, Buldhana and Jalna."
Post 'Hindu Jan Akhrosh Morcha' Mumbai Chapter
T Raja had been issued a notice for an old remark just as recently as January 19 Under the Code of Criminal Procedure (CrPC) Section 41 A (3) and (4). He was again served a notice after last week's 'Hindu Jan Akhrosh Morcha' speech. On February 2, a lawyer requested an urgent hearing in the Supreme Court against the Hindu Jan Akrosh Morcha programme slated for February 5 in Mumbai. He argued that in a similar event held in the city on January 29, there were calls to violence and boycott against Muslims. Later on Friday, the court passed an order permitting the 'Hindu Jan Akhrosh Rally' to be held on February 5. According to LiveLaw, solicitor general Tushar Mehta gave an undertaking in the court that "nobody will make any hate speech and act in defiance of law or disturb the public order".