Trigger Warning: Dead body Several social media users have shared the image of the body of a boy, seemingly a minor, with the claim that he had been murdered because he was a Hindu. The incident is claimed to have taken place in Bangladesh where the majority of the population belongs to the Muslim community. Journalist Ambuj Bharadwaj tweeted the image and claimed that a Hindu school-going boy, Nirab Mandal, had been murdered by 'Mohammad Sohail and his friends'.  (Archive)
बांग्लादेश में हिन्दू होना पाप है !!

ये निरोब मंडल है , इसकी गलती थी कि ये एक हिन्दू था !! बांग्लादेश में मोहम्मद सोहेल और उसके दोस्तों ने मिलकर स्कूल के एक हिंदू लड़के निरोब मंडल को जान से मार दिया।https://t.co/jCdabwYUjy pic.twitter.com/ppOqKM8MDm — Ambuj Bharadwaj (@Ambuj_IND) February 7, 2023
The official Twitter handle of Panchjanya, a weekly national magazine published by the Rashtriya Swayamsevak Sangh (RSS), tweeted the image with the same claim. According to the tweet, Nirab Mandal had been murdered by Mohammad Sohail and his friends in Bangladesh. (Archive)
बांग्लादेश में हिन्दू बच्चे की बेरहमी से हत्या !!

मोहम्मद सोहेल और उसके दोस्तों ने मिलकर स्कूल के एक हिंदू लड़के निरोब मंडल को जान से मार दिया। pic.twitter.com/y2DVOIxKwT — Panchjanya (@epanchjanya) February 7, 2023
Social activist Manoj Singh also tweeted the image with the same claim. (Archive)
बांग्लादेश में हिन्दू बच्चे की बेरहमी से हत्या !!

मोहम्मद सोहेल और उसके दोस्तों ने मिलकर स्कूल के एक हिंदू लड़के निरोब मंडल को जान से मार दिया। pic.twitter.com/uvqysz6Wam — Manoj Singh (@manojkrs29) February 8, 2023
The image has also been shared several times on Facebook.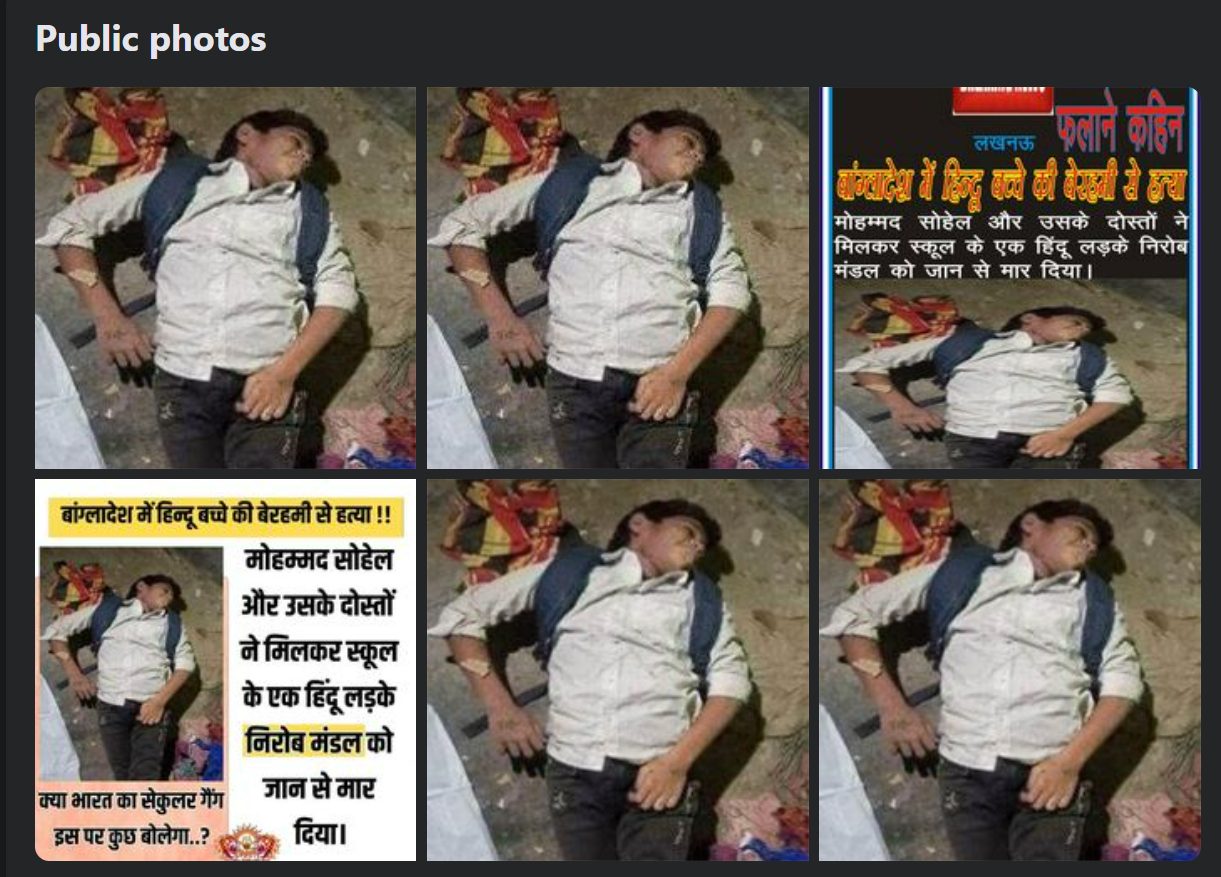 Fact Check
On doing a relevant Bangla keyword search, we found several articles by Bangladeshi news outlets reporting on the incident. According to a Dhaka Times report dated February 3, 2023, five minors were accused of murdering 12-year-old Nirab Mondal. The accused and the victim went to the same school. Mondal's body was recovered from a school located in the Gutudiya Upazila, Khulna District. According to the report, Nirab's family went looking for Nirab when he had not returned home from school on time on February 2.  Around 4:30 pm, Nirab's father received a call on his mobile phone and a ransom of 30 lakh Taka (Bangladeshi currency) was demanded in return for his son. Nirab's father informed the police about the incident. Upon receiving the information, the police started search operations. Nirab's body was found in a classroom at a secondary school in Gutudiya around 1 am. The report states the names of the accused. Four of the five accused belong to the Hindu community while one of them belongs to the Muslim community. Alt News is withholding the names as the accused are all minors.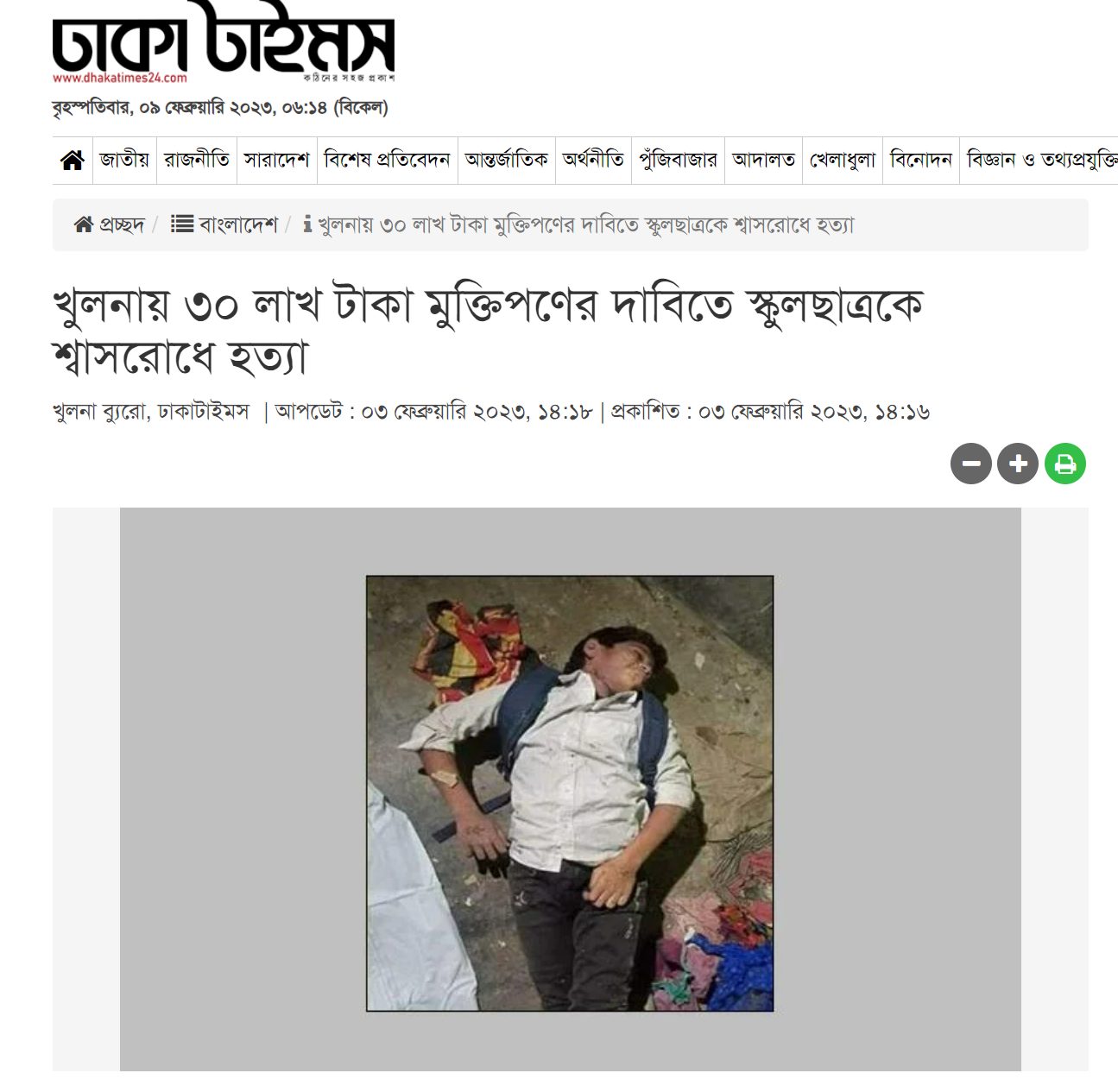 Officer-in-Charge (OC) of Dumuria police station confirmed the names of the accused to the Bangladeshi daily The Daily Inquilab. As per police, on Thursday (February 2), Nirab was taken to an abandoned building behind his school. As soon as he reached the spot, the accused grabbed his legs and tried to shut his mouth. According to the detainees, their plan was only to take money from Nirab's father after Nirab fell unconscious. However, they ended up killing him.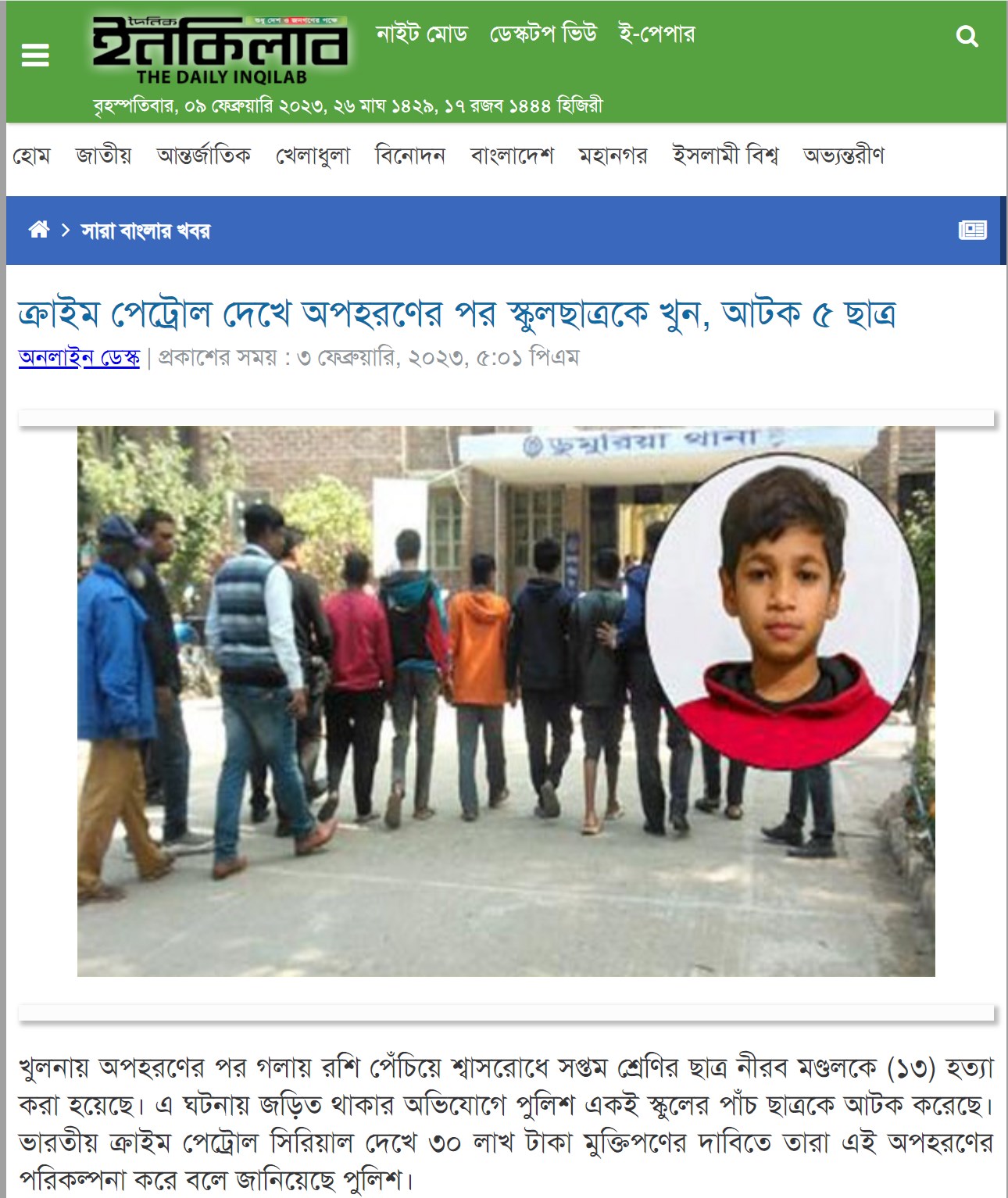 This information was further corroborated by Rtv News Bangladesh. According to their reportage, two of the accused gave a confessional statement to Judge Ronak Jahan. The accused have informed that the plan of the crime was inspired by the Indian crime series Crime Patrol. The accused have been sent to juvenile correctional home. Thus, social media users have given a false communal spin to Nirab Mondal's murder. Mondal was murdered by five minor school students, four of whom are Hindus while one belongs to the Muslim community. The murder was inspired by the Indian TV series Crime Patrol.