A clip of Rahul Gandhi's speech where he apparently measures the country's population in Rupees while addressing a rally is viral on social media. In the video, Gandhi can be heard saying, "Desh ki abadi...Rs140 crores" twice. Mocking the 'blunder', Amit Malviya, the national in-charge of the BJP's IT department, tweeted the video with the caption, 'Imagine being accused of spending crores to malign Rahul Gandhi when all one has to do is listen to his comical speeches'. (Archive)
Imagine being accused of spending crores to malign Rahul Gandhi when all one has to do is listen to his comical speeches… pic.twitter.com/mq1gyIYvzD

— Amit Malviya (@amitmalviya) January 6, 2023
BJP spokesperson Sambit Patra, too, tweeted the video and compared it with the time Rahul Gandhi had mistakenly measured flour in litres.  (Archive)
लीटर में आटा और रूपए में आबादी, ऐसे गजब के महाज्ञानी हैं राहुल गांधी... pic.twitter.com/I3HbWRY1JW

— Sambit Patra (@sambitswaraj) January 6, 2023
The head of social media for the Uttar Pradesh BJP Youth Wing, Dr Richa Rajpoot, tweeted the same video. (Archive

)
देश की आबादी 140 करोड़ रुपए pic.twitter.com/6zvNpJjD2Q

— Dr. Richa Rajpoot (@doctorrichabjp) January 6, 2023
BJP National spokesperson Shehzad Poonawalla also tweeted the video and took a dig at the Congress leader. (Archive)
Atta in Litres Population in rupees

Priyanka didi why will anyone spend ₹1000cr on destroying his image! Bhai toh muft me karta hai ☺️ ((INC leaders will justify the video )) pic.twitter.com/f2vyWA8UAs — Shehzad Jai Hind (@Shehzad_Ind) January 7, 2023
Several other verified handles including BJP OBC Morcha National In-charge Rahul Nagar, Member of Parliament Anurag Sharma, Journalist for RSS-run Panchjanya, Ritesh Kashyap, and RTI activist Amit Kumar tweeted the video. (Archives- 1, 2, 3, 4, 5, 6, 7, 8, 9 ) [gallery type="slideshow" size="full" ids="142696,142697,142699,142700,142747,142748,142749,142750,142751"] The video has also been circulated on Facebook several times. Several users, including verified users, have shared the video, often using the same caption.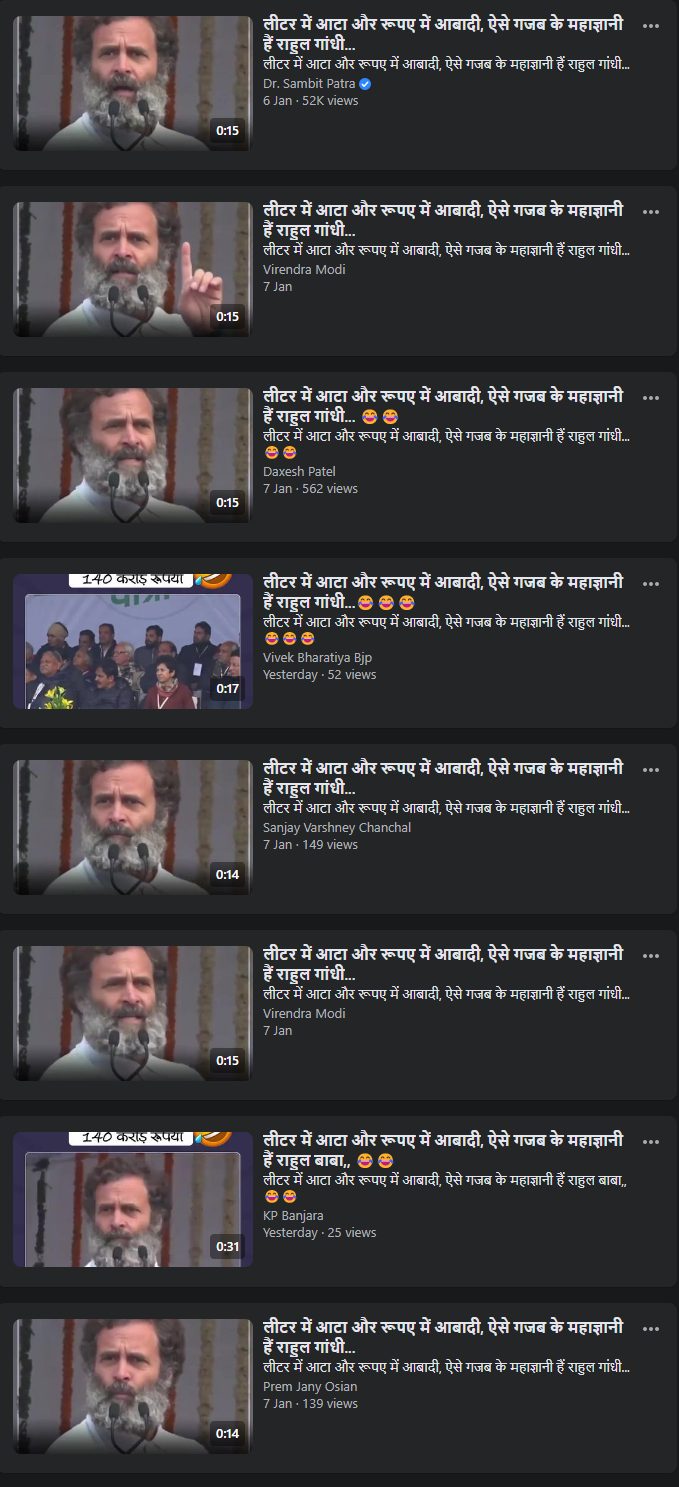 Fact Check
Upon a relevant keyword search, we found a Republic Bharat report titled, "Rahul Gandhi की फिर फिसली जुबान, बोले- 'देश की आबादी 140 करोड़ रुपये" (Translation: Rahul Gandhi's tongue slips again, says- 'The country's population is 140 crores Rupees'). In the article, Republic Bharat reported that the clip was from a speech that Gandhi had made in Haryana. However, it must also be noted that Republic Bharat did not provide any further clarification for the video. The article cites Sambit Patra's tweet and says that Gandhi's opponents have made fun of him for his mistake. Moreover, Republic Bharat found it worth mentioning that Gandhi had made similar mistakes in the past when he measured the price of flour in litres and spoke about making gold from potatoes.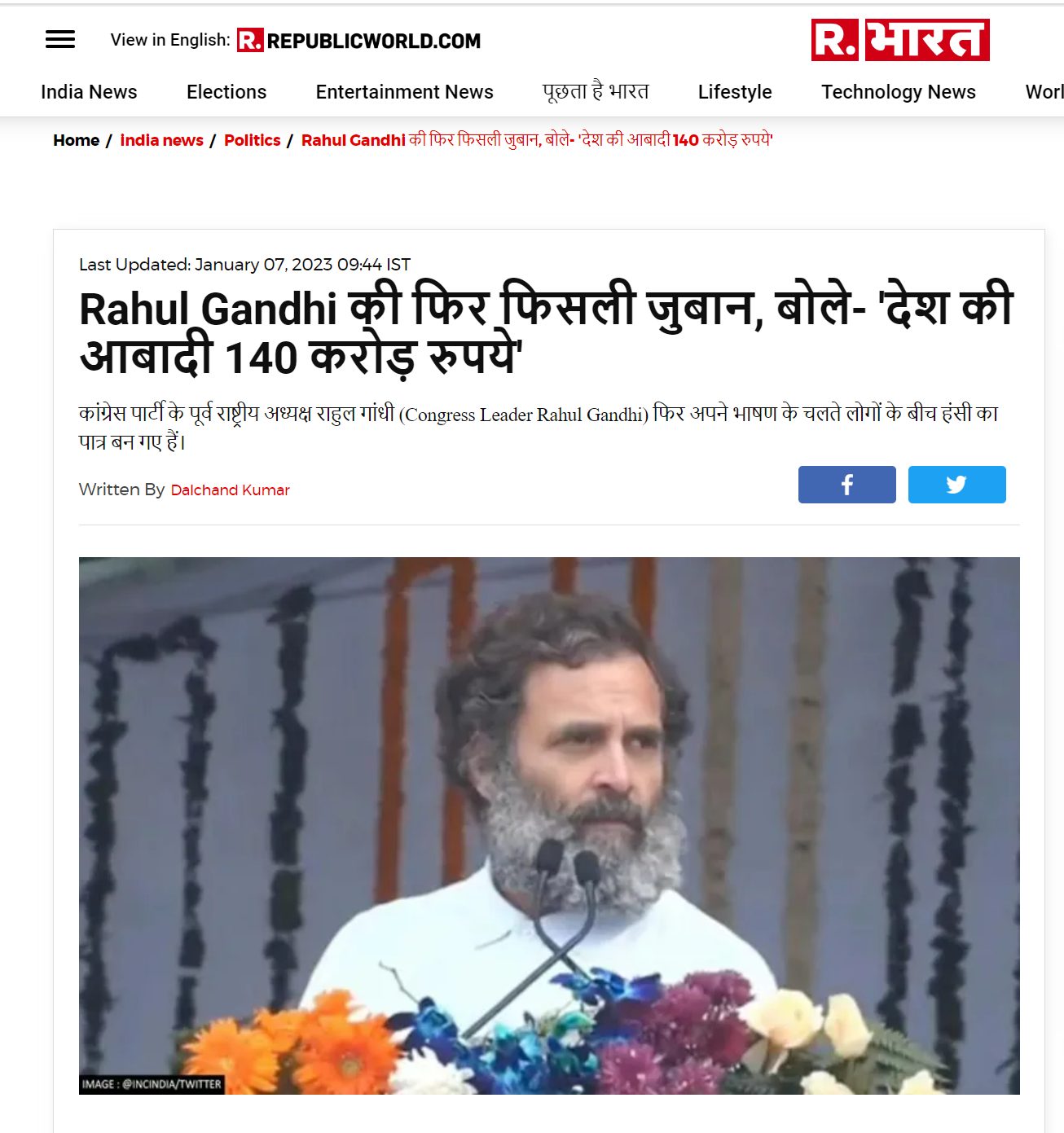 Taking a cue from this, we looked for the full speech by Gandhi. We found a video uploaded on the official YouTube channel of the Indian National Congress. The viral part starts around the 1:54-minute mark of the YouTube video. While it is true that Rahul Gandhi mistakenly said "Desh ki abadi- Rs140 crores", he can be heard correcting himself immediately by saying "140 crores log" and then going on to speak about how the wealth owned by half of the Indian population is owned by the 100 richest persons in the country. [youtube https://www.youtube.com/watch?v=RvKqw52YcLk?start=114] The bit where Gandhi corrects himself has been edited out in the viral clip that has been tweeted by several users, including BJP leaders. [vimeo https://vimeo.com/787572664] Below we have compared the viral clip and the aforementioned excerpt from the full speech that is available on INC's official YouTube channel. [vimeo https://vimeo.com/787572024] Hence, it is clear that the viral footage of Rahul Gandhi measuring the country's population in Rupees that has been circulated by several users on social media, including prominent leaders like Amit Malviya and Sambit Patra, is a clipped video. While it is true that Gandhi did make a mistake, he can also be heard correcting himself immediately.