Clashes broke out between the police and the supporters of Amritpal Singh, the leader of pro-Khalistan outfit Waris Punjab De, outside a police station in Ajnala, Amritsar, on February 23, 2023. The agitators stormed the police station over the arrest of Singh's close aide Lovepreet aka Toofan Singh, and injured several policemen. Lovepreet Singh, who was accused of kidnapping and assault, was released the next day. Against this backdrop, several social media users shared the video of what they descried as an effigy of Prime Minister Narendra Modi wrapped in the National flag in the middle of the road. Users have associated this video with the recent protests. Ashok Swain, professor of peace and conflict studies at Uppsala University, shared this video with a similar claim. The video has crossed 300,000 views at the moment.
Modi's effigy wrapped with national flag is being paraded in Punjab. They sent a contingent of paramilitary forces to Delhi airport to arrest Pawan Khera, but the regime and media are silent about it. pic.twitter.com/2wnTWCDkey

— Ashok Swain (@ashoswai) February 24, 2023
Another handle named GyanGanga also shared this video with a similar claim.
When Effigy of PM Modi was paraded on streets, Punjabi Sikhs were watching it. No sikh on street protested against such Khalistanis

If Sikhs don't wake up, then Punjab will soon become a terrorist state#AmritpalSingh #BhagwantMann Kejriwal पंजाब सरकार Bhindranwale pic.twitter.com/Q1SmUduhVy — GyanGanga (@sarinmall85) February 24, 2023
A handle named World Hindu Council also shared the same video and the caption described this being a 'cowardly act'.
PM @narendramodi gave a safe & dignified life to last surviving Sikhs of Afghanistan in India. See what these people are giving him in return. No words are enough to condemn this cowardly act by these cowardly people.pic.twitter.com/nW0MmEnUgU

— World Hindu Council (@WldHinduCouncil) February 24, 2023
Other handles that shared this video include @ncrsamacharlive, @thesouthaisatim, and @RiffatWani_says. Screenshots of these tweets can be seen here: [gallery type="slideshow" size="full" ids="149591,149592,149593"]
Fact Check
By observing the video closely, Alt News found that the effigy was wrapped with a saffron-colored jacket and not the National Flag of India. Therefore the claims of the effigy of PM Modi being wrapped in the Tricolor are false.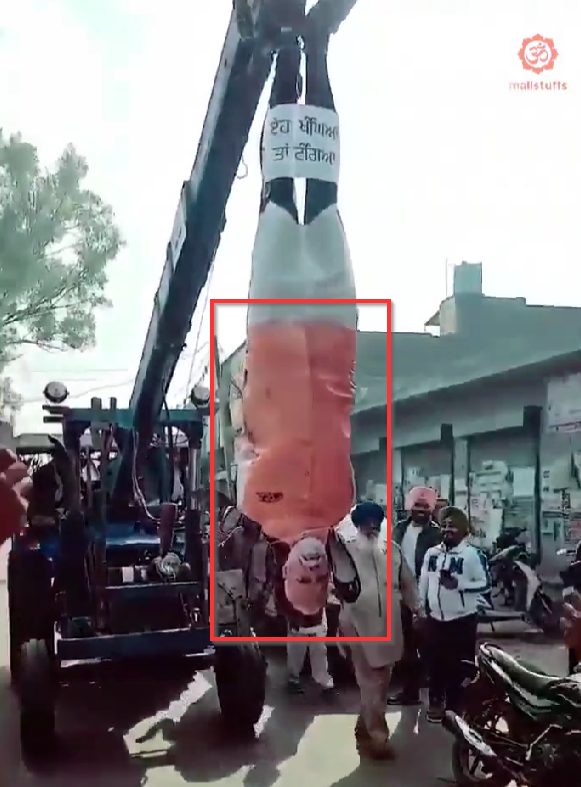 By looking at the very same frame of the video, one can see a poster attached to the effigy. It has something written in Punjabi. We reverse-searched this frame on Google and found the text in Punjabi.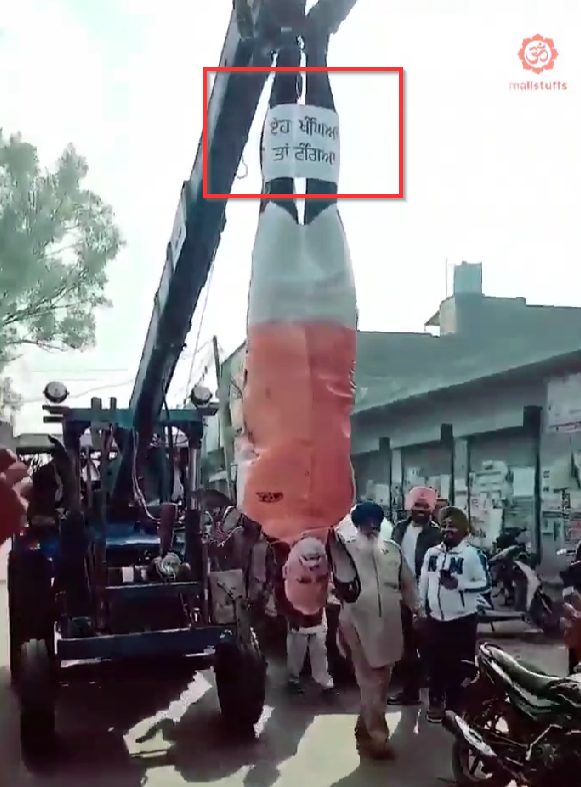 The text said ਇਹ ਖੰਘਿਆ ਤਾਂ ਟੰਗਿਆ, which translates to "he coughed, so hanged". We then used those keywords on Facebook and came across reports by various local news agencies. These reports were from December 2020. Punjab National TV, a regional news channel, reported the incident by posting an image with a caption on their Facebook page. The caption can be translated to 'On the day of India Bandh, farmers hanged Modi's statue in Lohian and wrote on it 'He coughed so hanged' | Punjabi National TV'. This makes it cleaer that the incident took place in Lohian Khas village in Punjab on December 8, 2020. Daily Ajit, a Punjabi daily newspaper, also posted a video report of this incident on their Facebook page. Therefore, claims of Prime Minister Narendra Modi's effigy being wrapped in the Tricolor are false, as one can see in the video that it is a saffron-colored jacket. And the video is not of recent times and not in the backdrop of the violence at Ajnala Police station. The clip is from December 2020. The incident took place in Lohian Khas region of Punjab, as news reports suggest. Vansh Shah is an intern with Alt News.